15 juni 2009
CAI-A Altenfelden 2009 – the traditional International Driving tournament
It is already the 18th time, that the International driving community comes to Altenfelden in Austria from June 28-21, 2009.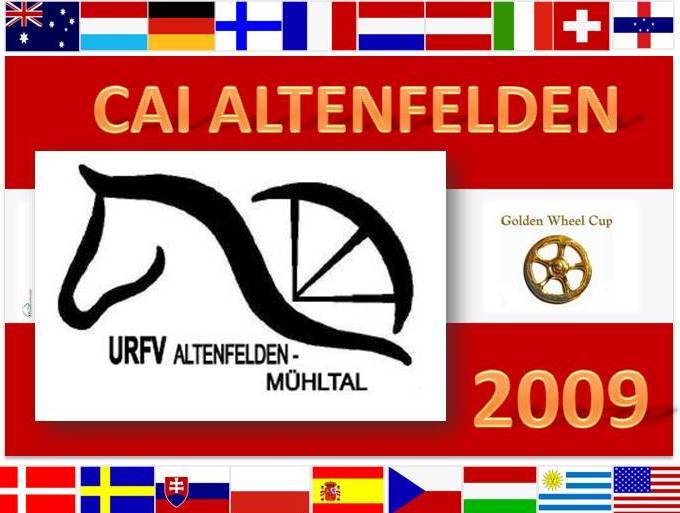 Approximately 300 horses from all over the world are transported to this driving sport highlight and the top notch starter field is suggesting, that we will have another high class event of excellent driving sport.
Over 120 competitors representing 20 Nations have registered to participate. Altenfelden is awaiting World Champions, International Top drivers and the entire Austrian Driving Elite.
Drivers with Pony and Horses will compete in Singe, Pairs and Team competitions and have the target to win the Golden Wheel Trophy 2009.
Since years the CAI A Altenfelden represents for all Nations an important qualification and pre-screening event for the upcoming World Championships. Points will also be awarded towards the ranking in International driving series', the FEI World Cup and the FEI Top Driver Award.
The CAI Altenfelden is also part of the European Golden Wheel Cup series, whose idea was born in Altenfelden. Points towards the Cup ranking will be awarded in each horse driving categories (singe, pair, teams) and all three driving parts (dressage, marathon and obstacle driving).
The high caliber starting field is the guarantee for impressive dressage performances, amazing fights about centimeters and seconds at the marathon, and exciting moments between the cones during the deciding obstacle driving on the last day.
Tradition is key in Altenfelden: also in 2009 Helmut Rath will be the course designer of the CAI. As in all the previous 17 editions of this tournament, he will be responsible for this important task.
Another highlight, which is impressive each and every year for competitors and spectators alike: the Scenery of the Panorama driving court. The green field in Altenfelden is not only setting the stage for great Dressage and the final Obstacle driving, but is also – with its incredible view over the scenic Austrian quarter (Mühlviertel), with the green fields and the great air quality – the base for the special "Altenfelden-Feeling".
Additionally to the sports activities the CAI A Altenfelden is also known for Austrian Hospitality, great food and social activities including great partys.
The organising club, Union Reit-und Fahrverein Altenfelden-Mühltal, is delighted to welcome all friends to the 2009 edition of "our" CAI-A and we are looking forward to great days of good driving sport.
A very warm Welcome in Altenfelden 2009 !