15 juni 2015
Cees Meeuwis new president of Outdoor Brabant
A press conference was held today in the charming Oude Stadhuis in Breda where the new president of Outdoor Brabant, Cees Meeuwis was introduced. The former mayor of Breda accepted the symbolic torch, in the form of a computer mouse from past president Ton Overeem.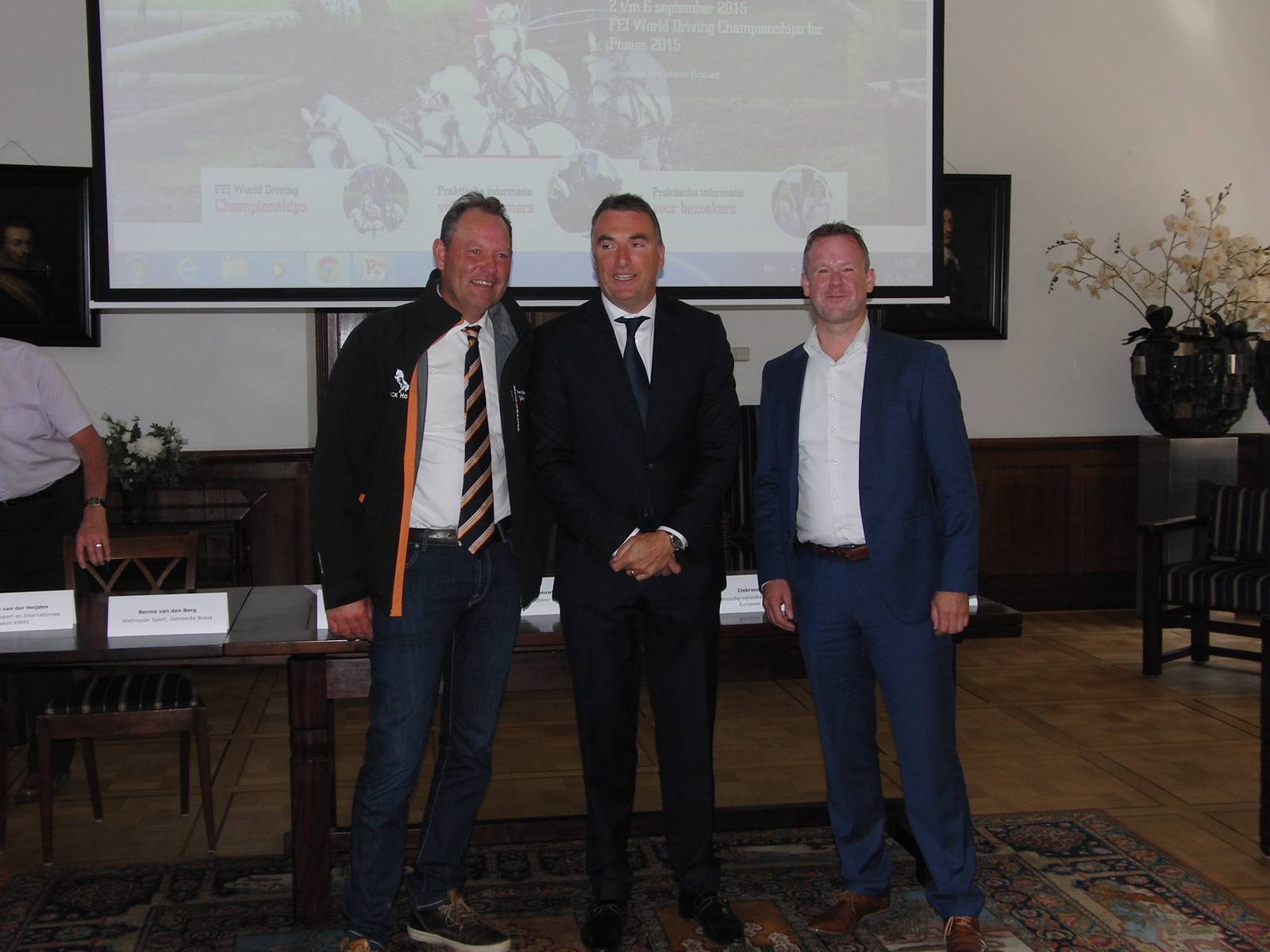 Meeuwis told the press that it was his intention to make the equestrian sport event Outdoor Brabant the ideal platform for local businesses in West Brabant, from Breda to Rotterdam to Antwerpen. Meeuwis: "The potential for this event is big, and for this region is it the ideal platform for local businesses to come into contact with relevant clients, businesses and regulators from and around the region."
In addition to this it was his intention to give Outdoor Brabant a more established feel, with the encouragement of equestrian sport not only over the five days of international competition but also during the rest of the year by offering smaller competitions, congresses, equestrian demonstrations and a sport gala.

IJsbrand and Bram Chardon were also present at the press conference to tell of their plans for 2015 and 2016. Both have the ambition to become World Champions. Bram is planning on defending his World titles from 2011 and 2013 with his four-in-hand of ponies one more time before making the step over to four-in-hand horses. With the added pressure of defending his title on home ground, he is grateful for the support of his two sponsors which will be supporting him for the coming two World Championships. The competition in Minden in July will be a good opportunity to see how he measures up to his international rivals.
Alongside his ponies, Bram is also busy putting together a four-in-hand of horses which he plans to bring out soon. He knows that there is only a small chance of earning a place on the team for the World Championships, to compete alongside and against his father, but if that doesn't work out he will be a part of his fathers team for the Worlds.
IJsbrand made it clear that he will be stopping with the four-in-hand competitions at the end of the 2016 season. The coming two years he will be sponsored by Black Horses. The dutch team of Chardon, De Ronde and Timmerman are stronger than ever and have not been beat since 2007. "We would like to be nominated for the "Sport team of the Year", he joked.
At the closing of the press conference, the new logo's for the World Championships and Outdoor Brabant were presented where both and equestrian theme and the dutch flag colours are used.