25 november 2009
Chardon, Brasseur and Schrijvers with draft horses in Mechelen
Before the warm up competition of the FEI World Cup Driving in Mechelen on Tuesday 29th Dcember, the spectators are treated to a special show.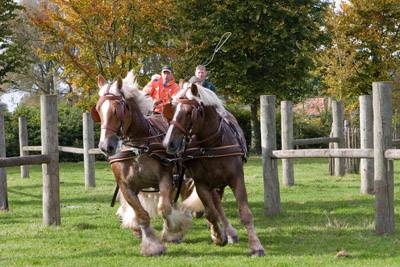 Four times World Champion IJsbrand Chardon, double World Champion Felix-Marie Brasseur and multiple Belgian Champion and successful World Championship competitor Gert Schrijvers will compete against each other with teams of draft horses.
IJsbrand Chardon will drive the team of the Belgian brewery PALM. Felix-Marie Brasseur will take up the reins of the team of Steenhout Stables of Dominique Declerck and Gert Schrijvers will compete with the draft horses of his sponsor Willy Naessens.
The World Cup competition is scheduled for Wednesday 30th December. IJsbrand Chardon, Koos de Ronde, Theo Timmerman, Christoph Sandmann and Tomas Eriksson as well as wild card drivers Gert Schijvers and Boyd Exell will compete in the Nekkerhal.
More information on Jumping Mechelen