10 december 2008
Chester Weber Drives Tiny Team
Wellington, FL –Spectators at the Holiday & Horses Show in Wellington were treated to some holiday cheer recently when World Four-in-Hand 2008 Silver Medalist Chester Weber drove a team of four perfectly matched Miniature Horses – dressed as tiny reindeer and complete with Santa Claus in the carriage – at the Palm Beach International Equestrian Center. Weber, Santa, Santa's helper Timmy Dutta and the team of Miniature Horses welcomed the enthusiastic crowd to the International Ring and the Dressage Grand Prix freestyle at the holiday show.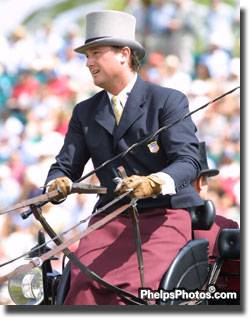 (Photo courtesy of 2008 Ken Braddick-HorseSport USA)
"It was a lot of fun bringing in the big guy with these little horses," Weber said. "These may have been the littlest horses I've ever driven."
The matching chestnut Miniatures are three-time World Champions owned by Linda Kern of Caribbean Dreams Miniatures in Loxahatchee, Florida. The team has represented the American Miniature Horse Registry at this venue four times.
Weber enjoyed driving the tiny team and getting everyone in the holiday spirit, but his expertise is definitely with his larger team of Dutch Warmbloods. In 2008, Weber became the first American ever to win an individual medal in the Four-In-Hand at the World Championships in The Netherlands. Weber also holds the National Championship Four-in-Hand title — a title he has won six consecutive years in a row.
"I am a competitor at heart and I love to drive, big or small equines," said Weber, who got his start driving draft horses. "It was a great weekend all the way around. My wife, My Elisabeth, was showing at the Holiday & Horses Show and she was champion in the Amateur Owner jumpers."
Kern, the owner of the miniature horses, was thrilled to have Weber holding the reins of her tiny team. "Chester is my driving idol so this really was a treat. The children were thrilled to see the Miniature Horses, Santa and Chester, it was a wonderful experience and a great way to kick off the holidays," she said.