8 november 2015
Dan Naprous wins the qualifying ticket for Olympia
The third and final qualification event for the British four-in-hand drivers was held at Addington Equestrian Centre Buckinghamshire, with Daniel Naprous from Buckinghamshire stealing the wild card ticket from favorite Dick Lane from Surrey and with Karen Bassett with her working Funeral horses making the trip down from Nottingham. Karen and her team showed improvement on their Bury Farm outing with a change in line up using Gigant and Virgi in the lead with Nard and Dioin the wheel finishing third in the series.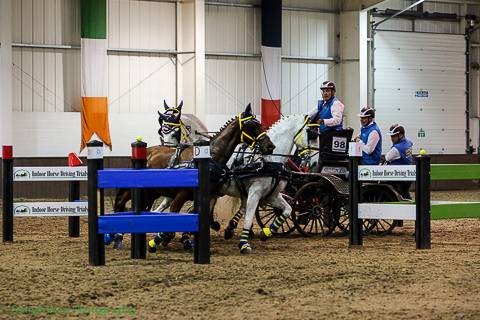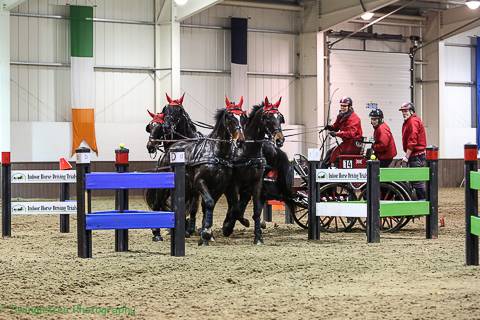 Overseen by FEI Judge and President of the Jury Andrew Counsell, Course designer Steve Lucas backed up by Dick Carey and the Indoor Driving UK team produced a technical yet entertaining course with many options for the drivers to shave those vital seconds.
Dick and his horses were up for the challenge right from the start of the evening with his trotter leader jumping the first cone and winning the first round of the evening by 3 seconds.
Daniel with what is becoming his indoor team laying the gauntlet down in the second round leaving Dick needing to complete the round in just 130 seconds. An error in the second and final obstacle saw Dick having to have a second go at the 'E' gate.
With final scores of Daniel 272.11, Dick 296.18 and Karen 296.18, Daniel took the ticket for Olympia. The third and final showcase non qualifying round started with Karen driving her best round with a 144.8, next came Dick with his fastest round of 134.82. Then Daniel came into the arena. Boosted by his qualification he started his round by telling the crowd if they wanted him to go faster they would have to make some noise and he didn't disappoint with a time of 128.28
The prizes were presented by Joanna Sloan-Holler who enjoyed a ride on Daniels carriage in the final show boating demonstration.