21 July 2019
Aachen 2019: Gold for Boyd Exell and TeamNL
It remained exciting until the very last second during the final cones competition in Aachen this morning. Last starter Boyd Exell from Australia won the prestigious CAIO Aachen for the ninth time in his career, while the Dutch team won the Nations Cup for the 12th time in a row.
Sweden's level 4 Course Designer Gunnar Larsson had laid out a challenging course, which none of the 25 world's best drivers managed to complete without penalty points. For a long time, second starter this morning Jérôme Voutaz from Switzerland stayed in the lead with only 3 points for a knock down within the time allowed.
Koos de Ronde was in third position after his marathon victory and drove a magnificent round, in which he only added 0,73 for exceeding the time allowed. De Ronde herewith put the pressure on this team mate IJsbrand Chardon, who only had an advantage of 1,08 points when he entered the arena. Chardon knew what he had to do and passed the finish line within the time allowed, but one knock down dropped him to the third place and Koos de Ronde moved up to the second position.
Leader of the standings Boyd Exell had an advantage of 7,90 points to Koos and the reigning World Champion emphasized his status as world class driver again. Boyd drove a clear round and only picked up 2,37 time penalties, herewith securing his ninth win in Aachen.
Chester Weber finished in fourth place, ahead of best French driver Benjamin Aillaud and best German driver Mareike Harm. Thanks to his 5th place in the marathon, Belgium's Edouard Simonet finished in 7th place overall, just ahead of his compatriot Glenn Geerts. With the very strong performing individual driver Anna Sandmann on the 9th place, the Germans had two leading ladies in the top 10. Third Belgian driver Dries Degrieck contributed to the bronze team medal with a good cones round.
Being the winner of both the Top Score competition and the Drive-Off of the Cones today, Thibault Coudry proofed to be a valuable member of the French team, who won the silver team medal.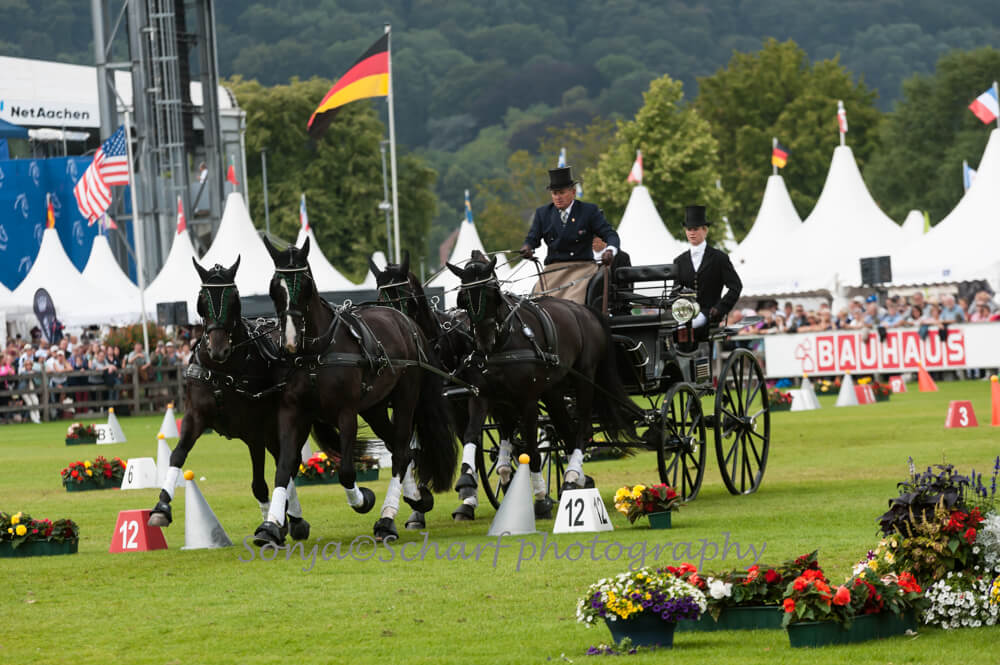 Boyd Exell
Photo:
Sonja Scharf
Results
Individual:
1. Boyd Exell (AUS) 158,57
2. Koos de Ronde (NED) 164,10
3. IJsbrand Chardon (NED) 166,02
Nations Cup
1. Netherlands 330,12
2. France 377,43
3. Belgium 381,21
Copyright reserved. Acquisition without acknowledgment and permission from info@hoefnet.nl is not allowed.