18 July 2019
Aachen 2019: Boyd Exell and Team NL in the lead
The Driving Stadium in the Aachener Soers was reserved today for the driven dressage, which counts towards the individual and team results. Reigning World Champion Boyd Exell was unbeatable again today and has taken the lead in the individual standings with a score of 31,86. The Dutch team are in the lead of the Nations Cup with only one point ahead of runners up United States of America.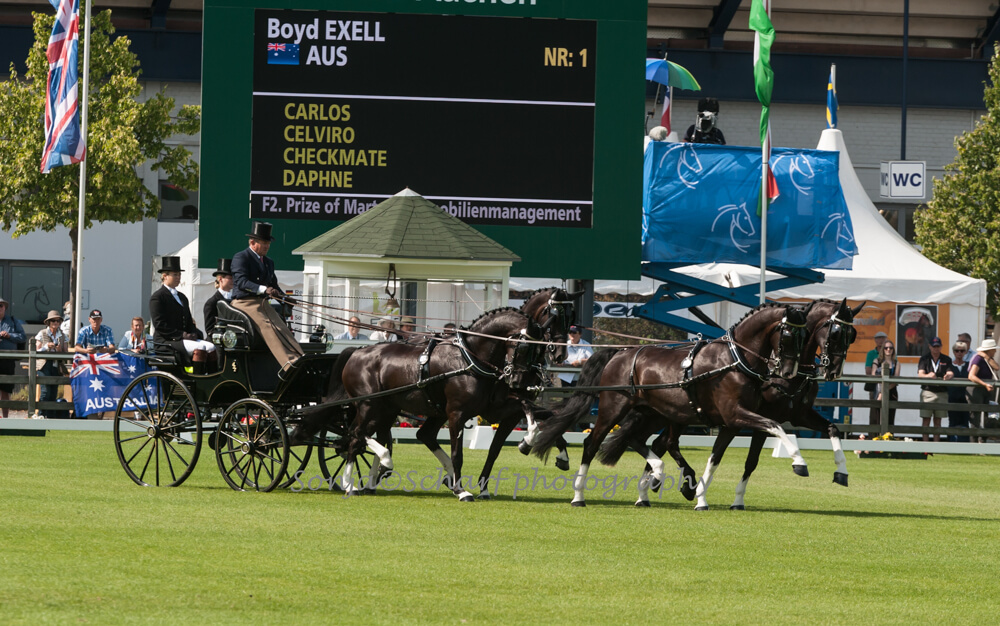 Boyd Exell
Photo:
Sonja Scharf
Heavy marathon
Boyd Exell was the second driver who entered the arena this morning and set the standard. The Judges, who gave him a score of 31,86, unanimously awarded his lovely test with the first place. USA's Chester Weber followed with a good test in second place with a score of 38,52. Leading man of Team NL and winner of the CAIO Aachen 2018 IJsbrand Chardon had some tension in the second walk when of his leaders started to trot, but finished in third position with a score of 41,98, just ahead of his son Bram.
Team France is currently in third place thanks to the good performances of Benjamin Aillaud (5th) and Thibault Coudry (11th). Mareike Harm was the best German driver today, she finished in 8th place.
The four-in-hand drivers will compete in the Top Score competition tomorrow, which does not count towards the individual and team rankings.
Saturday is reserved for the heavy marathon with eight long obstacles, designed by Sweden's level 4 Course Designer Gunnar Larsson.
Click here for all starting orders and results
Copyright reserved. Acquisition without acknowledgment and permission from info@hoefnet.nl is not allowed.