20 July 2017
Aachen: Exell takes the lead
Reigning World Champion Boyd Exell has taken the lead in the individual competition at the CAIO Aachen. Boyd won the dressage with a small difference to USA's Chester Weber. Koos de Ronde put down the best Dutch performance and finished in third place.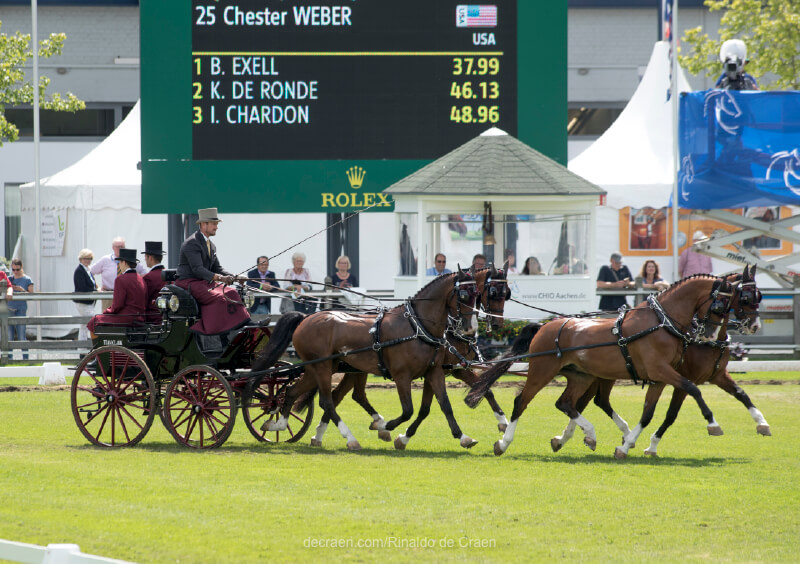 Chester Weber finished just behind Boyd Exell on the second place
Photo:
Rinaldo de Craen
After the heavy rain showers and thunder last night, the footing of the dressage arena in the Driving Stadium was very deep, which caused somewhat disappointing results for a few drivers. Boyd had made a change in his team after yesterday's dressage in which one of his horses got lightly injured. The seven-times Aachen winner drove a nice test with his team of KWPN and Swedish horses and was awarded a score of 37,99 points. Last starter Chester Weber won Aachen in 2014 and also showed a very good test and finished with just 0,88 points difference on the second place. This will ensure a very tight battle in Saturday's marathon competition.
With three Dutch drivers in the Top Five, the Dutch team has taken the lead in the Nations Cup and they are heading towards their 10th consecutive victory in the CAIO Aachen. France is the runner up thanks to the sixth place of Benjamin Aillaud in today's dressage test. The Belgian team is on bronze at the moment with the marathon and the final cones competition still to go. Host nation Germany is on the fifth place.
On Friday morning at 10 am, the drivers will compete in the Top Score competition, which does not count for the individual and team classification.
Click here for the starting orders and results.