30 June 2019
Beekbergen 2019: Major shake-ups after cones, Koos de Ronde Dutch Champ
Both Chester Weber and Koos de Ronde had a sizeable lead over the rest of the competition Saturday evening, but a difficult cones course proved to be a challenge for more than just one driver. Benjamin Aillaud was quite literally a dark horse and with a strong cones result charged up the leaderboard to take the overal win in the four-in-hand division.

Surprises
The cones was won by the Belgian Dries Degrieck, who was the only team driver to leave all of the balls standing and remain within the time allowed. This moved him up to second place in the final results. Benjamin Aillaud who was starting from third place also did not have a knock down, but with a fraction of a time penalty managed to stay in front of Degriek by just a few points.
Koos de Ronde didn't have the best day with a round that delivered 10,98 penalties and a very unusual fourteenth place. "I wasn't very happy with how it went today", he tells. "It was a very difficult course with an oxer placed very close to the fencing which tripped me up. When I drove faster to try to make the time another mistake was made. But that happens in cones, if it isn't going well all of a sudden you have a bunch of penalties."
National Podium remains unchanged
The podium for the Dutch Championship was a carbon copy of 2018. Koos de Ronde built on his lead after dressage and was named Dutch Champion for the fifth time. Mark Weusthof with just one ball down in cones came very close to unseating the champion, but had to settle for silver. Peter de Ronde once again took bronze.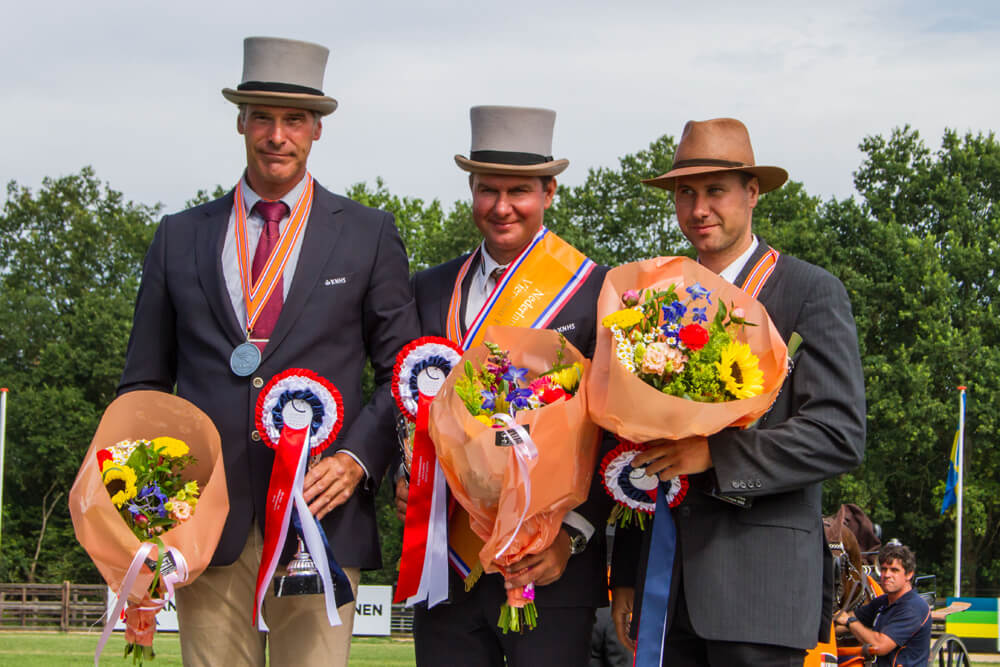 The Dutch Champions 2019: Koos de Ronde (gold), Mark Weusthof (silver) en Peter de Ronde (bronze)
Photo:
Wilco van Driessen
Martin Hölle once again dominates
The cones course proved difficult for the pair drivers, with only Danish driver Hans-Henrik Nielsen driving a double clear. Antonie ter Harmsel managed to drive a clear course, with just a few time penalties which brought him up to second place in the final results. Ter Harmsel also brought home the Van Tergouw plaque for the best Dutch driver of the show.
Reigning World Champion Martin Hölle remained throughout the competition the unbeatable leader in the division. His eleventh place in the marathon and third place in cones cemented the win for the Hungarian driver. Hölle's team mate Kristof Osztertag finished in third place just in front of Theo Timmerman.