2 December 2018
Budapest 2018: Bram Chardon wins
Bram Chardon performed very strong this evening in the FEI World Cup™ Driving leg in Budapest, Hungary. The 25-year-old driver won the competition ahead of Switzerland's Jérôme Voutaz and home driver József Dobrovitz.
Hungarian level 4 Course Designer Gábor Fintha had made a small change in the course compared to the first day, which resulted in a more spectacular, nice and fluent course with enough technique. The many enthusiastic spectators were able to enjoy spectacular and exciting driving sport in the Laszlo Papp arena.
Bram Chardon did what he wanted to do and drove two steady and fast rounds with the same team as with which he won the first competition in Lyon. Bram Chardon, Jérôme Voutaz and József Dobrovitz had qualified for the drive-off over the same course, in which they started from zero again.
Voutaz was the first man in the arena, but knocked two balls down and finished in second place: "My team was fast enough, I just made two mistakes. Last week in Maastricht I was not feeling well myself, I had the flu. Today it all went much better, my horses are in good form and I am looking forward to Geneva next week where I will compete with a wild card."
József Dobrovitz wanted to win in front of his home crowd and took every risk, but this resulted in no less than 20 penalty seconds. This took the pressure a bit off Bram Chardon's shoulders: "I decided not to change my plan, especially after I saw Voutaz' times. Half way through the course I had one ball down and I knew I could not take any risks, but that was not necessary. With this speed I could actually have two balls as it turned out afterwards. My team went really well in both rounds, even though the footing had become very heavy. This gives me a good feeling for Geneva next week."
Glenn Geerts finished in fourth place; ahead of IJsbrand Chardon and wild card driver József Dobrovitz jr. Chardon's team broke out of the speed box for which the jury had to ring the bell. This resulted in 10 extra penalty seconds added to the two knock downs he already had, which dropped him to the fifth place.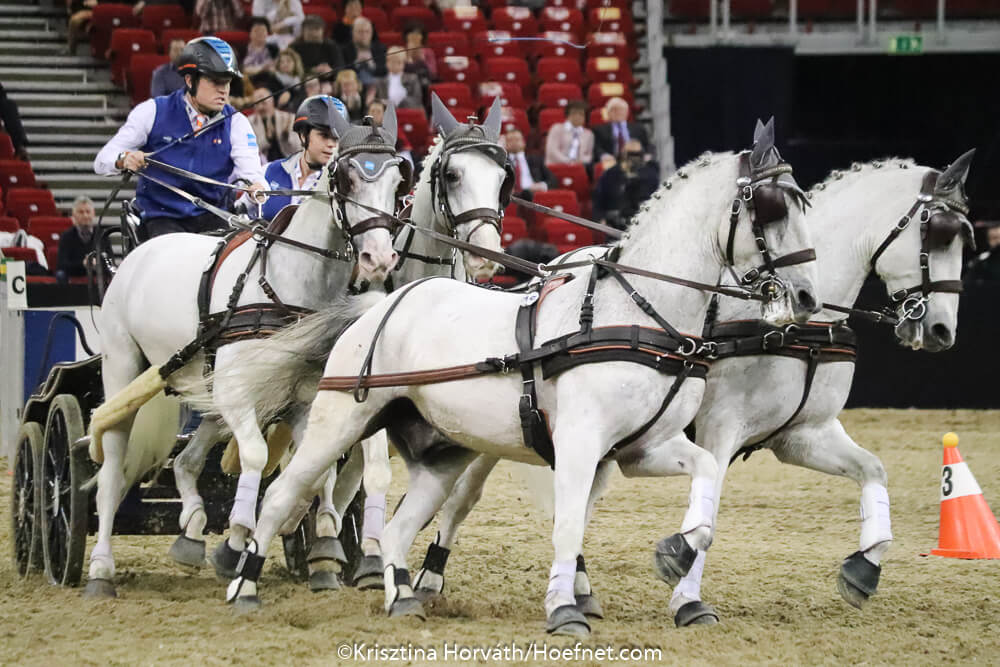 Bram Chardon
Photo:
Krisztina Horváth
Results
Results FEI World Cup™ Driving Budapest 2 December 2018:
Bram Chardon (Den Hoorn) 131,57
Jérôme Voutaz (SUI) 137,57
József Dobrovitz (HUN) 152,87
Glenn Geerts (BEL) 139,05
IJsbrand Chardon (Den Hoorn) 148,74
József Dobrovitz jr. (HUN) 153,18
StandingsFEI World Cup™ Driving 2018/2019 after 5 of the 9 competitions:
1         Boyd EXELL                                     AUS            22
2         IJsbrand CHARDON                          NED            19
2         Jérôme VOUTAZ                              SUI             19
4         Bram CHARDON                               NED            15
5         Koos DE RONDE                              NED            14
6         Glenn GEERTS                                BEL            13
6         József DOBROVITZ                          GER           13
8         Chester WEBER                                USA            11
9         Edouard SIMONET                          BEL            5
10       Benjamin AILLAUD                          FRA            2