15 September 2018
Drebkau 2018: Martin Hölle increases lead
Today's marathon at the international driving competition for horse pairs in Drebkau took place under ideal weather conditions. The leader in the standings after dressage, Martin Hölle drove a very good marathon and won this phase as well, staying ahead of the best German driver Dennis Schneiders and host Sandro Koalick.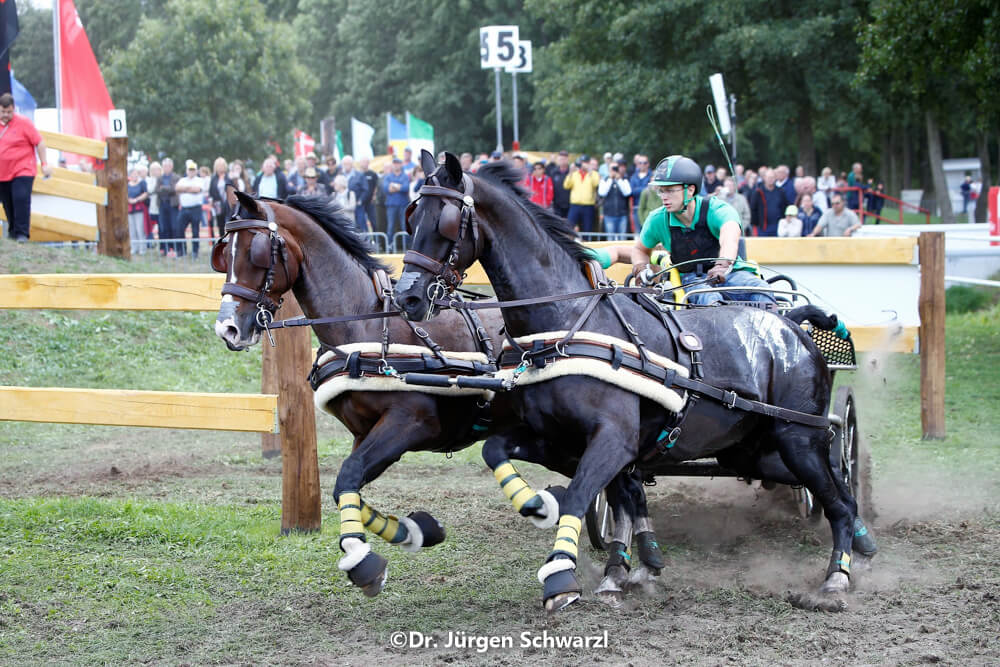 Martin Hölle
Photo:
Dr. Jürgen Schwarzl
Martin Hölle drove the 11-year-old KWPN gelding Cheron along with his all-rounder Gabber and drove top times in the eight obstacles, designed by his compatriot Gábor Fintha. Cheered on by the many spectators in Drebkau, Dennis Schneiders and Sandro Koalick also put down excellent performances, resulting in very small differences in the final results.
Martin Hölle has increased his lead to an advantage of over 14 points to Sandro Koalick and Marco Freund. Schneiders has climbed up to seventh place in the standings.
It was a very enjoyable day for the spectators in Drebkau, where this weeks impressive competition is used to finalise the details for the World Championships for horse pairs from 11th to 15th September 2019 in the castle park Raakow in Drebkau.
The competition starts on Sunday morning with the cones for the national single and pair classes. The international pair drivers will enter the main arena from 13.00 onwards. The differences between the drivers at the top are very little, which promises an exciting competition.