21 February 2022
Lipica Driving Clinic: How World Champions Prepare In A World Championship Year
From March 11th through 13th, the Lipica Stud Farm in Lipica, Slovenia, is organizing an international driving clinic with World Champions Boyd Exell and Martin Hölle. A great number of drivers, trainers, grooms, and fans from many countries have already applied to participate in this unique clinic. During this clinic Boyd and Martin will, amongst other subjects, give a behind-the-scenes look at how World Champions prepare in a World Championship year.
For five-time World Champion Boyd Exell, the Four-in-Hand Driving World Championships in September this year, in Pratoni del Vivaro, are on the calendar. Last September, Martin Hölle captured the Pair Driving World Championship title for the third year in a row. 2022 is not a World Championship year for the Horse Pairs. Pair drivers are preparing for the following year, September 2023, when their World Championship will be held in Le Pin au Haras. During the clinic in Lipica, these two top drivers will show how they prepare for their respective World Championship years.
Bits by Boyd
The program in Lipica already starts on Friday evening, March 11th, with a lecture from Boyd about driving bits. Among other things, Boyd will outline which bit works best for which horse, what the effects are from the use of certain bits, and how to get the best results with the correct bit. Together with World Championship judge Andrew Counsell, Boyd will give a short overview of the FEI rule changes pertaining to bits and harness.
Pairs in the Picture
On Saturday morning the program starts in Lipica's beautiful main arena, where Martin Hölle and others will drive the new pairs dressage tests. Afterwards in the comfortable conference room, Andrew will show videos of the new dressage tests and discuss them. There will be time for questions and discussion. After lunch different driving combinations will come into action in the main arena and be taught by Boyd, Martin and Andrew. The outdoor program on Saturday will finish off with a demonstration by the Lipica Stud farm, where Boyd and Martin will lend a hand in their special way.
After dinner there will be an open discussion about the Direction of the Driving Sport in the comfortable dinner room.
Regulations
On Sunday morning Andrew will give an explanation about the most important FEI rule changes. Afterwards he will hand the microphone over to Martin and Boyd for their presentation about how World Champions prepare in a World Championship year. Lastly on this busy day, there is time for practice. In this last part of the program Boyd, Martin, and Andrew will focus on cones driving.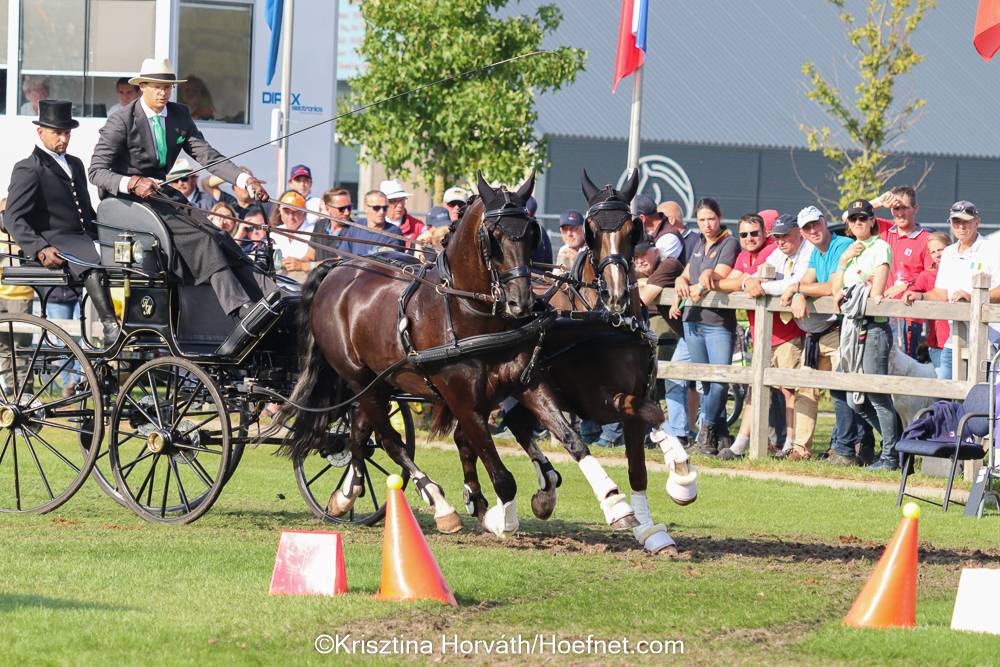 Photo:
Krisztina Horváth
Information
The cost for this unique clinic is € 299,00 per person and includes 2 hotel nights in the on site completely renovated Maestoso Hotel, 2 x breakfast, 2 x lunch, coffee breaks and 2 x dinner (excl. drinks).
It is possible to apply for education without an overnight stay, price 199.00 € / person for the educational part.
Translators will be present for the Hungarian participants.
Please submit your entry before 25th February via this link.
Click here for more information and the provisional programme.