25 November 2022
FEI Course for Driving Officials in Portugal
The beautiful Lezírias in sunny Portugal is hosting an FEI Course for Driving Officials from 11 to 14 January 2023. The Course is open for Judges, Stewards, Course Designers and Technical Delegates for Maintenance or Transfer up, furthermore observers for the different courses are welcome as well.
The theoretical parts of the course will be held at the Leziria Parque Hotel in Vila Franca de Xira just outside Lisbon. The hotel is just a short drive from the venue of the 2012 FEI Driving World Championships for Singles, the wonderful Companhia das Lezírias Stud Farm where all the practical parts of the course is planned for the participants.
The Course starts Wednesday afternoon 11 January with the Stewards and the Course Designers, who will be following their courses until Friday 13 January. The Judges and the Technical Delegates start their programme on Thursday afternoon 12 January and finish on Saturday 14 January.
The Course Directors are Joaquín Medina García (ESP) for the Judges, Martin Röske (GER) for the Stewards, Richard Nicoll (USA) for the Course Designers and Philip Bateman (GBR) for the Technical Delegates.
Application
The deadline for application is 11 December 2022. All FEI Officials wishing to take part need to apply through their National Federation. Non-FEI Officials who would like to participate, please apply through the Portuguese Equestrian Federation by sending an email to brunopires@fep.pt. The Course Fee is €225.
Because of the special price arrangement all hotel reservations should be made through the Portuguese Equestrian Federation: frandrade@fep.pt. The costs for the hotel accommodation for 2 nights is €225 per person (including 2x breakfast, 2x lunch and 2x dinner).
The closest airport is Lisbon Airport (30 km). Shuttles to the venue may be arranged on demand.
Click here for the official invitations.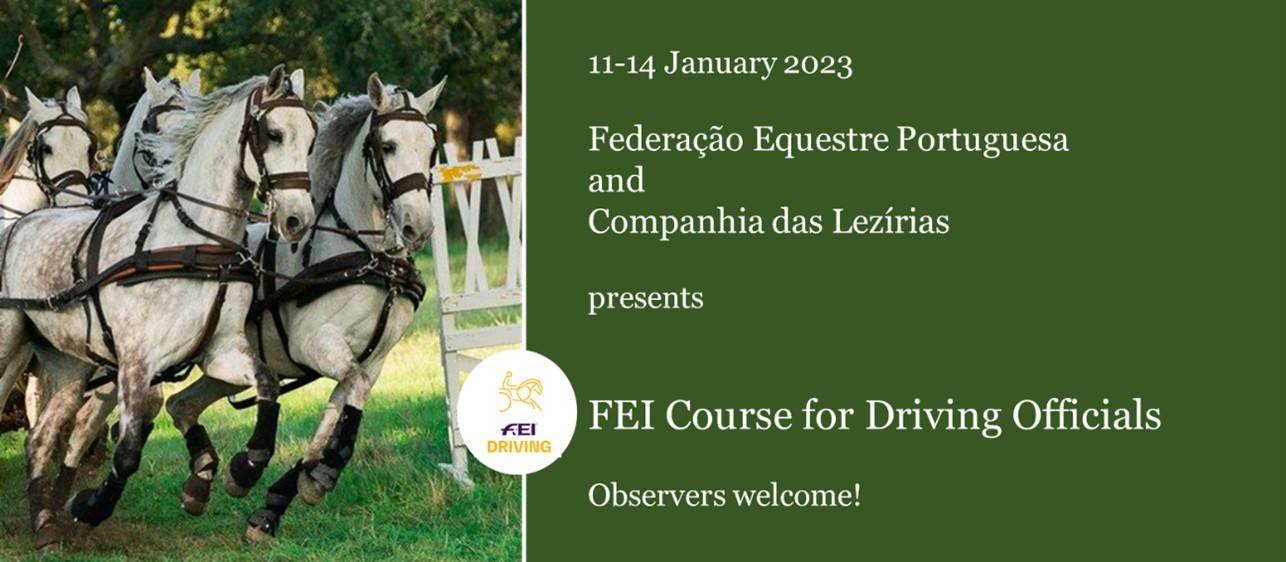 Copyright reserved. Acquisition without acknowledgment and permission from info@hoefnet.nl is not allowed.