25 February 2017
Gothenburg: Super start for Jérôme Voutaz
Switzerland's Jérôme Voutaz had a super start this afternoon in the first competition of the FEI World Cup™ Driving Final in Gothenburg. Voutaz won and left József Dobrovitz and favourites Boyd Exell and Koos de Ronde behind him.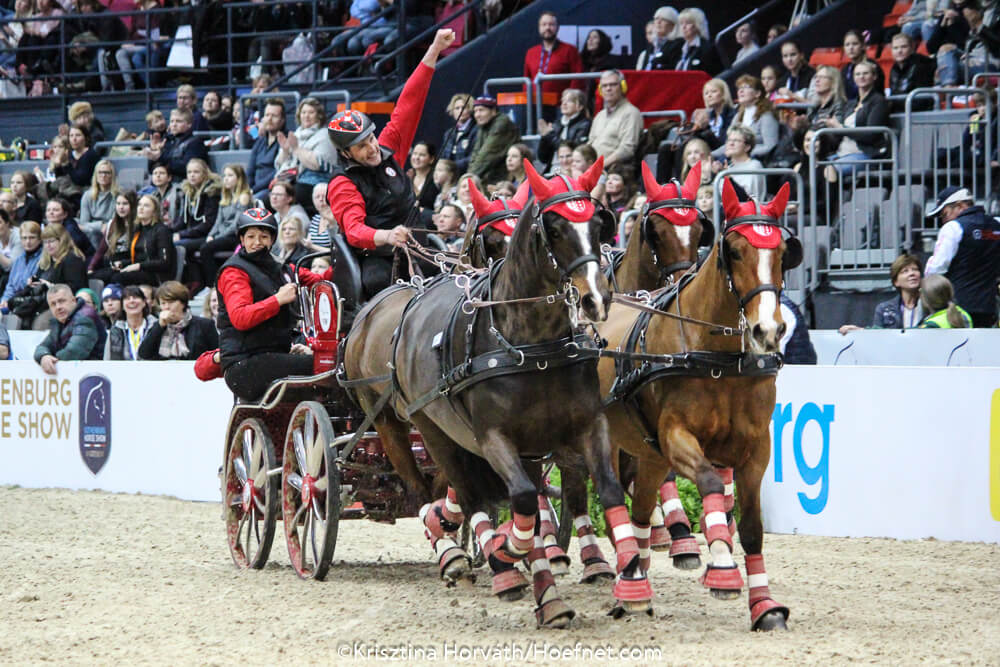 Photo:
Krisztina Horváth
Voutaz was the third man in the course of Johan Jacobs and set the time to beat. The Swiss auto mechanic drove his small Freiberger horses fast and correct through the obstacles and only had one knock down at the last gate: "I am very pleased with my performance and with my horses. I was surprised that I won, but I am also very happy! But tomorrow is another day and it is my first ever win at a World Cup event, so for me it will be a great adventure."
Dobrovitz also had one ball down and finished very closely behind Voutaz, driving a team of horses which he only put together for this event: "I am using two new horses but it worked out very well for me. I am super happy with my team." The difference between Voutaz and Dobrovitz is only 0,12 seconds, which will promise an exciting competition on Sunday.
Boyd Exell set the fastest time of the day, but had two balls down and finished in third position: "I didn't know that I had a ball in the first half of the course. I slowed down in the last obstacle, but lost rhythm there and I had another knock down." Exell is convinced that it will be a tough competition tomorrow: "IJsbrand and Koos will drive very fast and I am only a little over a second and a half behind Voutaz, so anything can happen!"
Koos de Ronde finished in an unusual fourth position after he had one knock down, using a different leader horse in his team: "I thought this horse would be better in this course than my usual leader, but I will do some thinking tonight to see if I will change them back again."
Wild card driver Fredrik Persson felt a little rusty during the course as he had not been competing for the last two months, but he expects to be much better tomorrow. Georg von Stein came sixth today, just ahead of title defender IJsbrand Chardon. The four times World Champion had three unfortunate balls down and will have to make up seven seconds on Voutaz in order to enter the top three.
Click here for the full results
Click here for the photoalbum.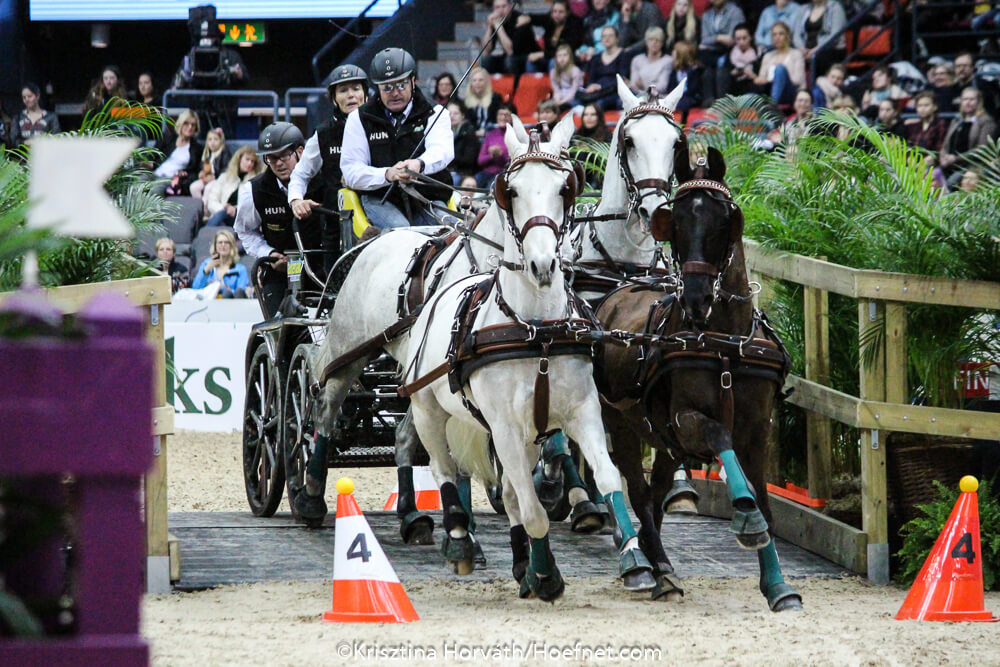 Photo:
Krisztina Horváth