15 December 2020
In Memory of Rudolf Temporini
Rudolf Temporini passed away unexpectedly in the night of 15 December 2020. For years he was an active driver and official at competitions and he was an active member of the German Equestrian Federation in Warendorf, where he had been acting as chairman of the driving commission since 2017.
Hoefnet-editor
Rudolf (1944) wore many hats. He graduated with a degree in equine husbandry and management, was a successful pair and four-in-hand driver (and was awarded the prestigious "Goldene Fahrabzeichen"), was a member of the German team and was also driving instructor, trainer, judge, course designer at the highest level and organizer of various international competitions. Respect and appreciation for him extended far beyond the borders of his native Germany. As a journalist he wrote for a number of prestigious equine magazines such as the Reiterjournal and for Hoefnet. His competition analysis in German was objective but could also be critical when it was needed.
Author
As an author Rudolf Temporini wrote a number of books on the education of both driver and horse including, "Der sichere Weg zum Fahrabzeichen", "Fahrpferde ausbilden" and the portret "Michael Freund – Ein Leben für den Fahrsport". For his huge contribution to the driving sport as member of the driving commission in Hessen since 2013 and as vice-chairman for the national driving commission of Germany, he was awarded the "Deutsche Reiterkreuz in Bronze" in 2017 from the German Equestrian Federation.
Emphasis on youth
Above all, the guidance of the young drivers was very important. He was pivotal in implementing the German Championships for young drivers which was first held by his driving club in Viernheim in 2010. At the drivers meeting in Warendorf in 2017 he was unanimously nominated as the replacement for Felix Auracher. The DOKR followed this example and also named Rudolf Temporini as their new chairman of the national driving commission. Following in the footsteps of Falk Böhnisch Rudolf Temporini took over the organization of the international driving competition in Donaueschingen. He was also behind the World Cup drivers being able to start in the Frankfurter Festhalle. Even in January of this year he was instrumental in the success of the Süddeutsche Fahrsport Forum.
New Vision Team
It was Temporini's initiative to form the four-in-hand team "New Vision" which included Michael Brauchle, Georg von Stein and Markus Stottmeister. Michael Freund was named as "team captain" and New Vision as sponsor. Thanks to his serious nature, his purposefulness and his far reaching knowledge he was able to attract a larger public to 'his' sport. The drivers in Germany and internationally will miss him as a 'fighter for the driving sport'.
The loss of Rudolf has left a large hole in the Hoefnet team. We will miss him enormously.
Our thoughts go out to his family and friends.
Eberhard Platz & Cindy Timmer
Photo right side ©Sonja Scharf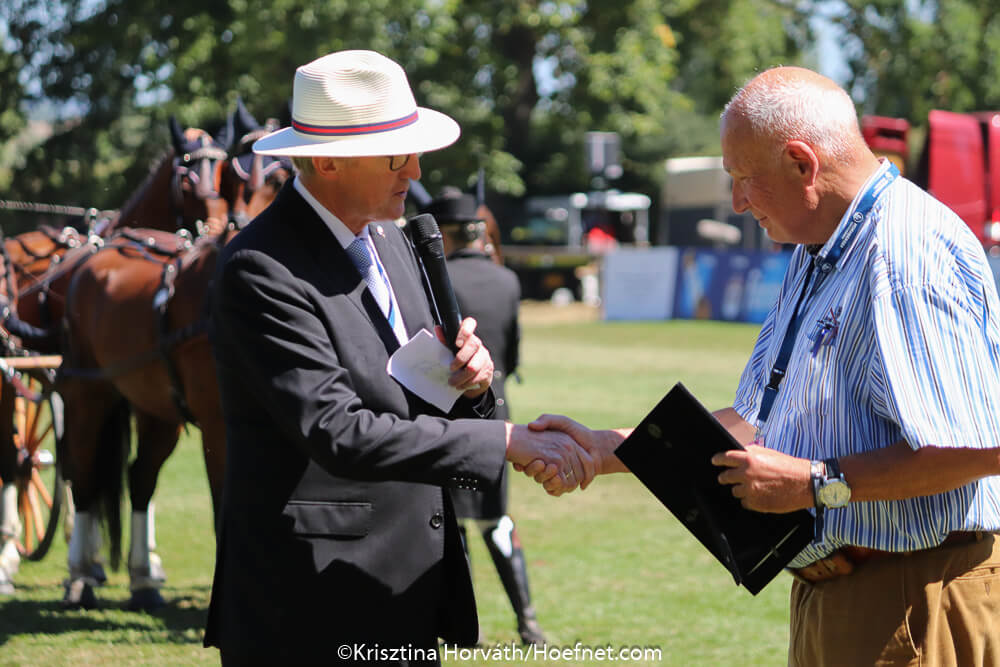 Competition organizer Kaspar Funke thanks Rudolf Temporini at the 2019 European Championships in Donaueschingen for his years of service
Photo:
Krisztina Horváth
Copyright reserved. Acquisition without acknowledgment and permission from [email protected] is not allowed.