29 April 2019
Keispelt offers discount for early entries (May 8th)!
The organiser of the CAI2* and CAI3* Keispelt in Luxemburg is offering a special discount for competitors who enter early (before May 8th) for the competition, which takes place May 22nd to May 26th, 2019.
Free boxes
The first 4 Horse Teams who enter before May 8th will get 3 boxes for free! The first 6 to 10 Horse Teams who enter before May 8th will get 2 boxes for free.
The first 10 Horse Pairs who enter before 8th May will get 1 box for free.
Marathon on Sunday
The competition in Keispelt is a two-and three-star competition for all classes: horses and ponies, singles, pairs and teams and also Young Horses.
The event starts on Wednesday May 22nd with the Horse Inspection, followed with the Dressage on Thursday and Friday. The Cones competition is scheduled on Saturday and the Marathon will be the final phase of the competition on Sunday.
Strong Judges Group
The Ground Jury is chaired by level 4 Judge Anne Marie Turbé from France and is further composed of level 4 Judges Andrew Counsell (GBR) and Reiner Wannenwetsch (GER) and level 2 Judges Ad van Roon (NED) and Beat Schenk (SUI).
The Course Design is in the capable hands of level 3 Course Designer Kurt Seidl from Austria. Recently promoted level 4 Technical Delegate Jeannie Lane (GBR) ensures that the technical side of the event is run smoothly, while Katy Stewart (GBR) is in charge as Chief Steward.
Click here for more information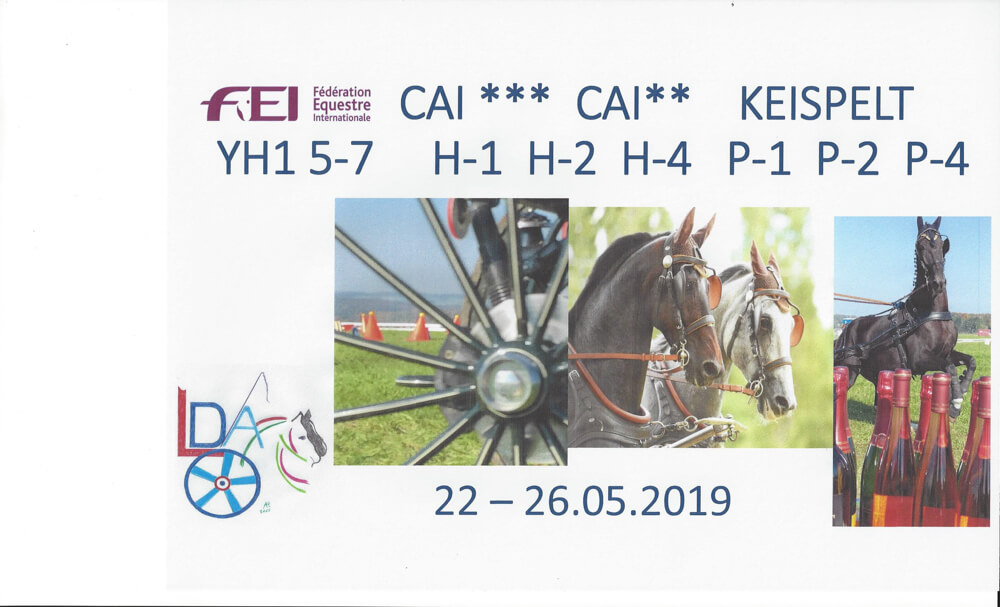 Copyright reserved. Acquisition without acknowledgment and permission from info@hoefnet.nl is not allowed.