16 August 2018
Kisbér-Ászár 2018: Bücker and Lenormand take first dressage wins
Under summer skies, the fourth European Youth Driving Championships kicked off in Kisbér-Ászár, Hungary this morning with the dressage for Children and Juniors. The Childrens division was dominated by the German drivers. Tom Bücker lead the division with teammates Pia Schleicher and Lea Voskort in second and third. In the Junior single pony division Valentine Lenormand (FRA) had the best drive and was followed by Bartosz Zloty (POL) and Nea-Renee Bonneß (GER).

13 year-old Tom Bücker drove 17-jarige Joldis Giuseppe from his father's four-in-hand to the win in the dressage
Photo:
Krisztina Horváth
Early this morning the pony of German individual driver Ann Christin Leeser was accepted for competition, bringing the tally of competitors up to seventy-seven.
After the completion of the first few drives of the Childrens division (ages 12-14 years with single pony) it was decided that two minutes extra would be given to the competitors than originally planned. This avoided unnecessary waiting times, and with high temperatures it was appreciated by everyone.
The Junior pair pony division begins tomorrow morning, followed by the Young Drivers single pony, Young Drivers single horse and the CAI3* four-in-hand pony competitors.
Click here for the starting orders and results.
Click here for the photo album.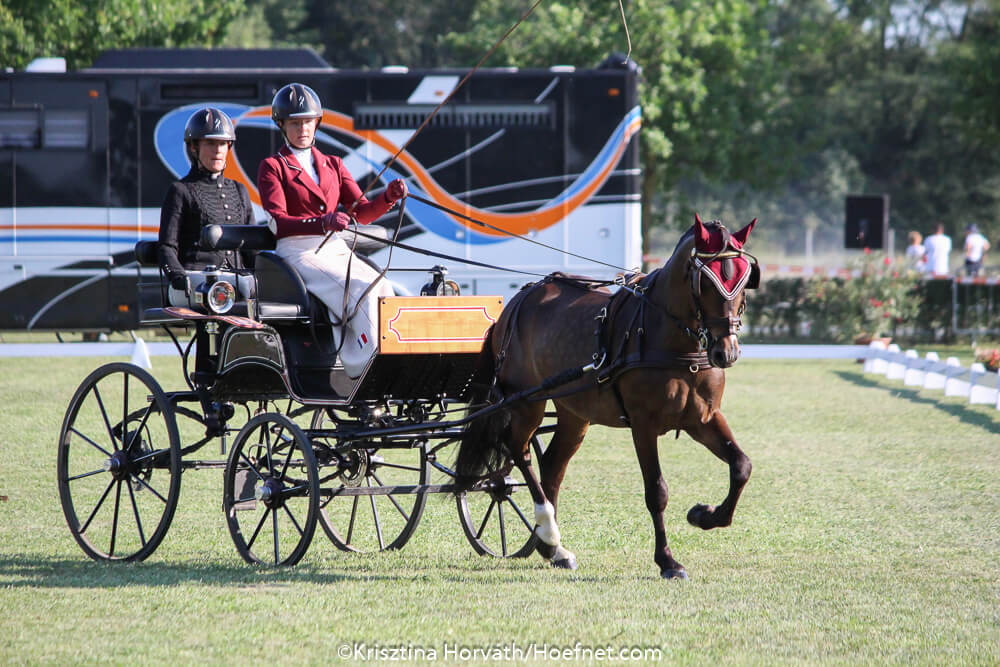 18 year old Valentine Lenormand is once again on track for gold with her pony Uderzo des Templiers.
Photo:
Krisztina Horváth