21 January 2018
Leipzig 2018: Voutaz wins, Geerts to the Final
After a thrilling competition, Jérôme Voutaz won the last FEI World Cup™ Driving leg in Leipzig this afternoon, cheered by the super enthusiastic crowd in an electric atmosphere. Last starter Glenn Geerts put everything at stake and finished in second place despite two knockdowns, which got him a place in the Final in Bordeaux. Boyd Exell had to be content with the third place today.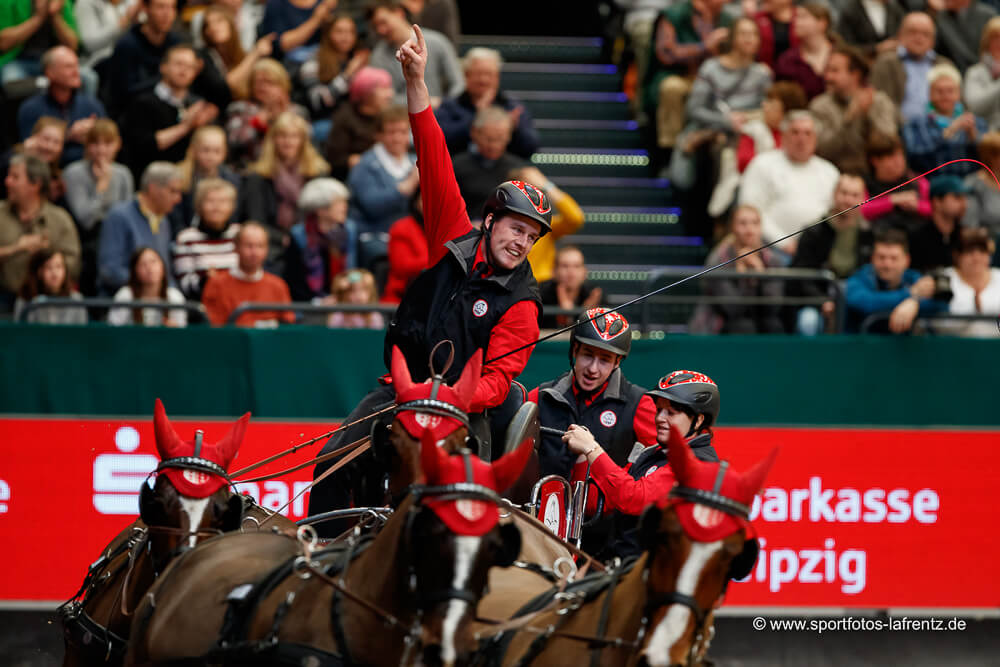 Jérôme Voutaz
Photo:
Stefan Lafrentz
Voutaz, Geerts and Exell qualified for the winning round over the shortened nice course, designed by level 4 Course Designer Dr. Wolfgang Asendorf. The results of both rounds were added together, which resulted in an amazing competition in which the drivers had to give everything in both rounds. First starter Boyd Exell lost precious seconds when he missed a gate in one of the marathon obstacles and he knocked one ball down on the last set of cones: "One of my leader horses is relatively new and he just missed a bit of experience. But other than that my team went very well," said Boyd.
Jérôme Voutaz got the crowd really going with his faultless and fast clear round, taking the shortest turns possible with his lovely team of Freiberger horses: "I did what I could with my horses," tells Voutaz. "We are quite new tot his game so we are still learning, but it all worked out well here in Leipzig."
Voutaz took over the lead from Exell and after that, it was all-in the hands of the last man in, Glenn Geerts. Geerts knew he had to win or finish in second place in order to qualify for the Final. After he set the fastest time in the first round, Geerts gave everything he had and set the best time again. Two knock downs prevented him from victory, but with his second place he got just enough World Cup points to finish on the sixth place in the standings and to qualify for the Final: "I did not believe that this could happen," says a very excited Glenn. "I would have been happy with the third or fourth place as well, but I am extremely happy to be able to go to Bordeaux. This is a very young team of horses, they keep growing every competition and so do I."
In the Final in Bordeaux on 3rd and 4th February, Glenn will compete in a very strong field of competitors with Boyd Exell, Jérôme Voutaz, IJsbrand Chardon, Koos de Ronde and Bram Chardon.
Wild card driver Georg von Stein was on the sixth place in the standings before Leipzig and knew he could loose his ticket to the Final when Glenn would finish in first or second place. Georg however acknowledged that Glenn was better than him and was happy with his fourth place in the Leipziger Messe. Dutch competitors IJsbrand Chardon and Koos de Ronde did not have their best day in Leipzig. Chardon had one knock down and finished in fifth place. De Ronde used two horses from the team of his brother Peter to create more harmony and speed, but this did not work out the way he would have liked it to and finished in sixth place, ahead of second wild card driver Chester Weber.
Results CAI-W Leipzig 2018:
Jérôme Voutaz (SUI) 278,45
Glenn Geerts (BEL) 286,91
Boyd Exell (AUS) 287,03
Georg von Stein (GER) 149,62
IJsbrand Chardon (NED) 151,42
Koos de Ronde (NED) 170,65
Chester Weber (USA) 173,39
Standings after 7 competitions (top 6 are qualified for the Final):
1       Boyd EXELL                           AUS         30
2       Jérôme VOUTAZ                    SUI         24
3       IJsbrand CHARDON                NED         22
4       Koos DE RONDE                     NED         20
5       Bram CHARDON                     NED         18
6       Glenn GEERTS                       BEL         16
7       Georg VON STEIN                   GER         15
8       Edouard SIMONET                  BEL         12
9       Chester WEBER                     USA         11
10     Benjamin AILLAUD                 FRA         7