18 December 2021
London: Excel excels in the ExCel arena
In the fourth World Cup competition of this season it was Boyd Exell again who took the win. He got the biggest competition from Koos de Ronde. Boyd put two old horses in the lead today and was slightly faster in both rounds.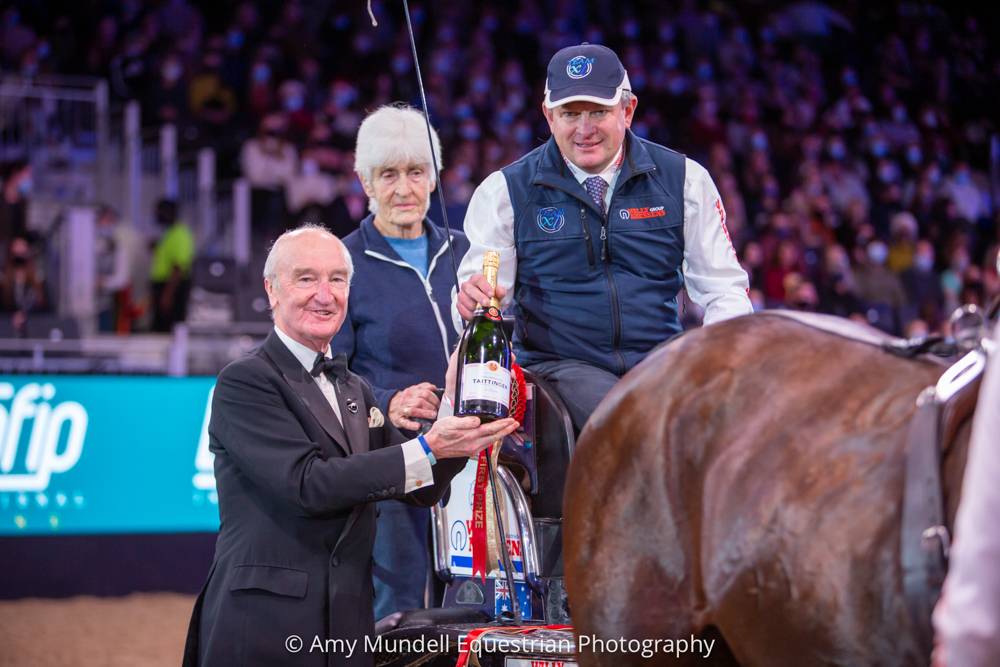 Boyd Exell wins again
Photo:
Amy Mundell
"Sometimes you have to get back to the old horses," he reveals his tactics afterwards. "I took Mad Max out and put one of the wheelers horses in the lead. That was indeed a tactical move. These leaders respond very well to my vocal aids. That is something I once learned from George Bowman, who is also here."
Mareike Harm surprises
In the first round three drivers drove clear and they also had the best finishing time. They were Mareike Harm, Koos de Ronde and Boyd Exell. Mareike Harm was the big surprise. She clocked a good time of 144.41. It seems as if her team is gaining speed with each competition. With 140.10, Koos de Ronde became second. His team ran like a train and in the marathon obstacles Koos drove very sharply. Boyd was a fraction faster with 139.74. He made up for a lot in the last line from gate 12.
Just like yesterday, Jérome Voutaz fell just outside the winning round. He already had a ball at the start of the course. IJsbrand Chardon didn't make it either. His course was much smoother than yesterday and in obstacle 5 he turned very short. But on gate 12 a ball rolled and he wasn't fast enough.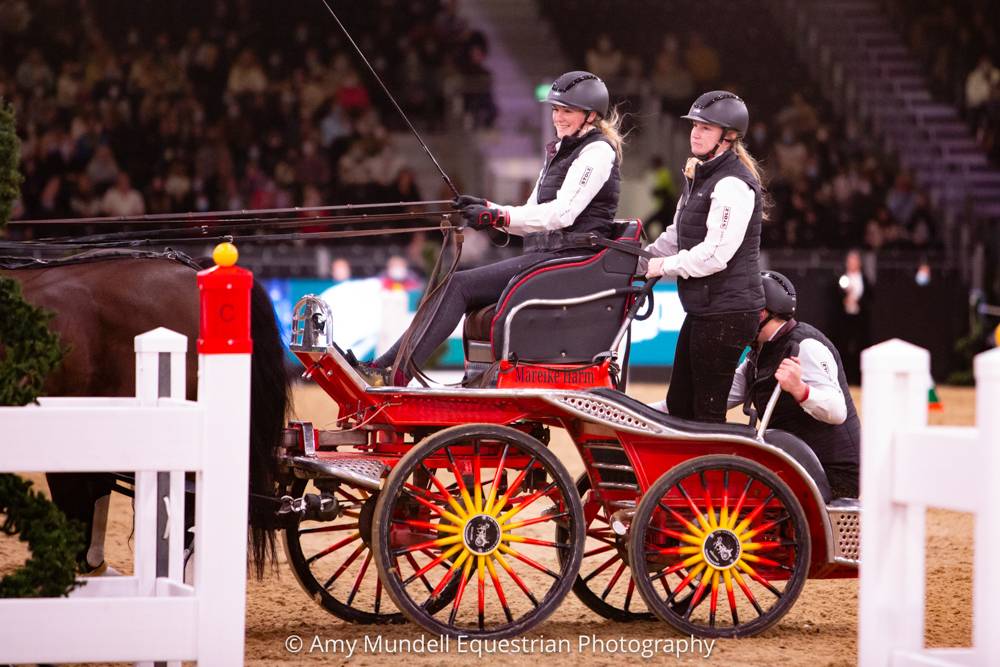 Mareike Harm was happy with her performance
Photo:
Amy Mundell
Faster in the winning round
In the winning round, the 3 finalists started with a clean slate and the course was unchanged. Mareike Harm was again clear and improved her time to 143.70. She rode the marathon obstacles wider than Koos and Boyd. Koos drove a great lap in 137.25. That was faster than Boyd in his first course. But on his way to obstacle 9 he hit gate 3 which added 4 seconds. But Boyd drove clear and crossed the finish line in 134.38.
The audience at the new competition location in the ExCel arena held the world champion in their hands. "You can feel the atmosphere, it's great. I felt carried by the cheers of the crowd at every gate." As the Australian drove a wild card, he did not earn any World Cup points with this win, but he is in the lead in the standings.
Standings World Cup after 4 competitions:
Boyd Exell (AUS) 27 points
Koos de Ronde (NED) 15 points
Dries Degrieck (BEL) 12 points
Mareike Harm (GER) 11 points
Bram Chardon (NED) 10 points
Glenn Geerts (BEL) 10 points
Michael Brauchle (GER) 10 points
Jérome Voutaz (SUI) 5 points
József Dobrovitz (HUN) 5 points
IJsbrand Chardon (NED) 3 points
Copyright reserved. Acquisition without acknowledgment and permission from [email protected] is not allowed.