3 November 2018
Lyon 2018: Super start for Bram Chardon
Dutch top trio Bram Chardon, Koos de Ronde and IJsbrand Chardon dominated the first competition of the FEI World Cup™ Driving leg early this morning in Lyon. Bram Chardon drove two excellent rounds and will be the last man in the arena tomorrow. Koos de Ronde finished in second place, IJsbrand Chardon came third.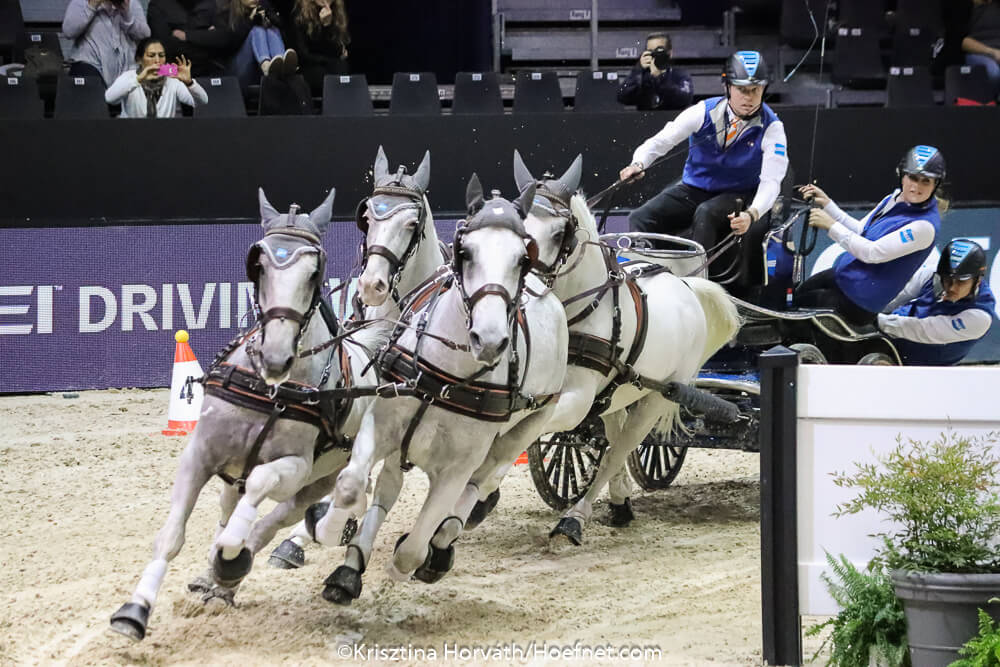 Bram Chardon
Photo:
Krisztina Horváth
Happy winner Bram Chardon tells: "During the competition at Koos de Ronde's place two weeks ago I drove this setup in my team for the first time. The wheelers are the same as last season and I now used my experienced outdoor marathon leader Pandur. I was confident about this team when we came here and it went really well in both rounds this morning. The horses are very good together, I had full control and they had a lot of power until the very end. When I had a knock down in the second round I put the throttle on even more and took a bit too much risk, but that was a good test for myself for tomorrow. For tomorrow it is important that I drive a clever first round because the speed is good. And then try to get into the top three."
International level 4 Course Designer Jeroen Houterman had laid out a nice, long course in the big arena of the Euroexpo hall where the spectators created a very good atmosphere. Although they were not present in very large numbers due to the early start time, the crowd was very enthusiastic. It is the first time that Lyon hosts the World Cup Driving and on Sunday, the competition is scheduled at 5 pm.
Switzerland's Jérôme Voutaz finished in fourth place, followed by wild card driver Chester Weber, József Dobrovitz and second wild card competitor Benjamin Aillaud.
Click here for the starting orders and results