30 October 2021
Lyon: First World Cup win for Dries Degrieck
After almost two years of no indoor competitions, the new World Cup season for the four-in-hand drivers started in Lyon today. World Cup debutant Dries Degrieck surprisingly won the first competition and referred Koos de Ronde and Boyd Exell to the second and third place.
"I didn't expect it at all," Dries says afterwards. "This is new for the horses and for me." The Belgian four-in-hand driver has been working with his indoor horses for about two months. "They are two horses from my father and two horses from clients. And my fifth horse from the outdoor season was one of te leaders." He says about the preparation: "Of course I trained at home. Normally we would also have participated in Zwartewaal, but that didn't work out. So I went to train with Boyd (Exell, ed.) again."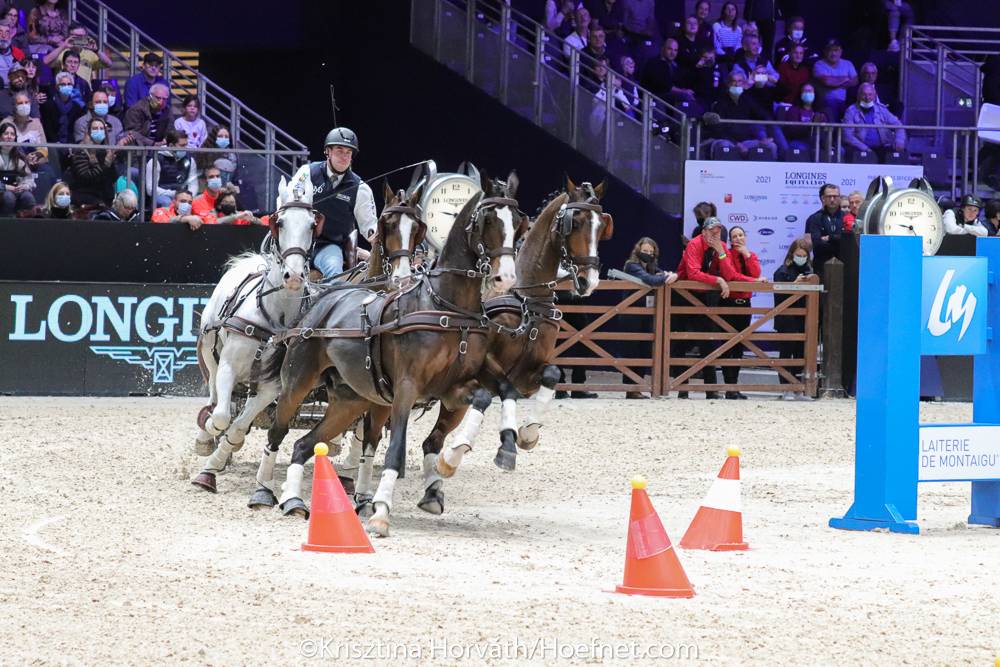 Dries Degrieck won vandaag de wedstrijd
Photo:
Krisztina Horváth
Early
The match started at half past eight this morning. Nevertheless, the atmosphere was great. There was an audience: the first people were already in the stands at 8.15 am. The speakers did a good job and involved the audience in the game in a nice way. The course that Jeroen Houterman had designed was beautiful and intended to get back into the race rhythm. Koos de Ronde also thought so. "It was a nice course. Not the hardest we have ever ridden, but that must have been a conscious plan of Jeroen. Everyone has been out for almost two years and that way we can start again."
No double clear rounds
Already in the first round Dries Degrieck was by far the fastest, with one ball going off. None of the riders could hold the zero. Koos de Ronde and Boyd Exell also dropped a ball in the first round, clocked fast times, but were slower than the Belgian. The trio then qualified for the second round, where the course was slightly shorter due to the omission of gates 2 and 10.
Two mistakes too many
Boyd Exel was the first to go and he chose to take a short way. But that risk resulted in two balls dropping. Boyd eventually finished third. "Overall I'm happy. We had two mistakes too many," he explains. "The second lap was good, then we had rhythm. I didn't realize there was a ball at the bridge. That other ball was part of the risk I took: sometimes it works and sometimes it doesn't." The world champion also has to get back into the rhythm. "Last year Demi retired. Mad Max is his replacement and is right back. At home in training he is doing very well. He is now getting into his rhythm more and more and has to gain competition experience. In the second round he went much better than in the first. Overall, I am satisfied. We all have to get back into the indoor rhythm." Boyd can be very fortunate that Dries won the first competition: "Last week Dries was at my house to train and I am happy that someone I work with is achieving immediate results."
Koos de Ronde came in second and was very satisfied with that. "I had a ball that was not necessary, but I had a nice ride. The horses on the right are new and I am happy with my second place. Dries drove very well and tomorrow I will go for it again. The top 3 were in good shape today."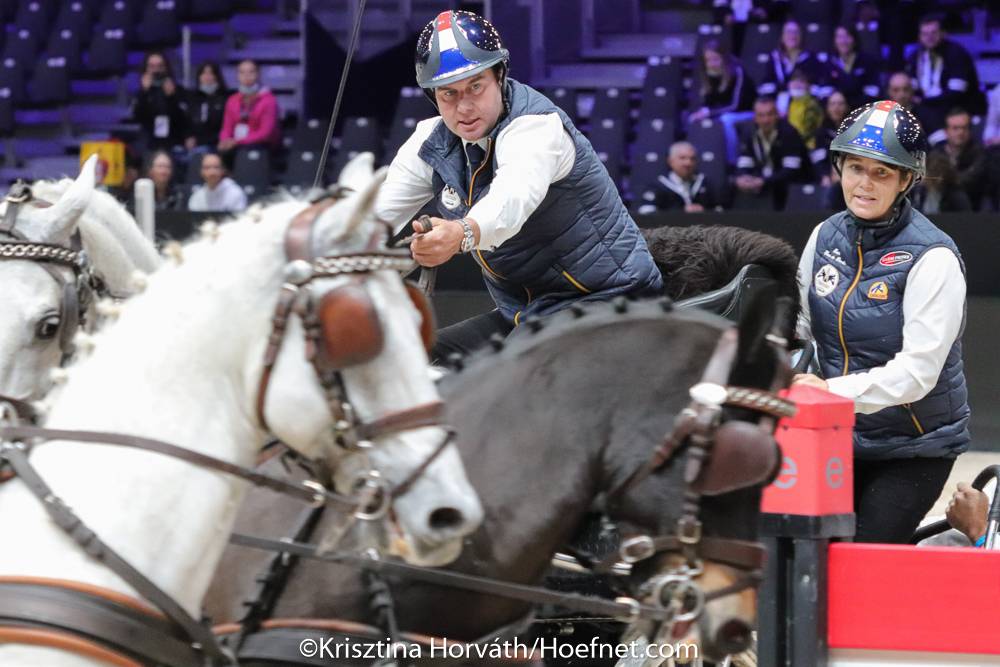 Koos de Ronde
Photo:
Krisztina Horváth
Tomorrow will be exciting
Tomorrow at 4.40 pm is the deciding competition. Then everyone starts again from zero. Dries Degrieck has already profiled himself as the man to beat, but Boyd Exell and Koos de Ronde will certainly go the extra mile. The starting order will then be in reverse order of today's race standings. You can follow it via a 
livestream
.
Click here for the photo album
Copyright reserved. Acquisition without acknowledgment and permission from [email protected] is not allowed.