29 December 2018
Mechelen 2018: Exell beats a fast Chardon
Boyd Exell was a convincing winner this afternoon at the first competition of the FEI World Cup™ Driving in Mechelen, Belgium. Bram Chardon was the only one who managed to drive faster times than the reigning World Champion, but unfortunately had several balls down falling behind Boyd who remained clear in both rounds.
Home favourites Edouard Simonet and Glenn Geerts were the first drivers in the arena, but lacked the necessary speed.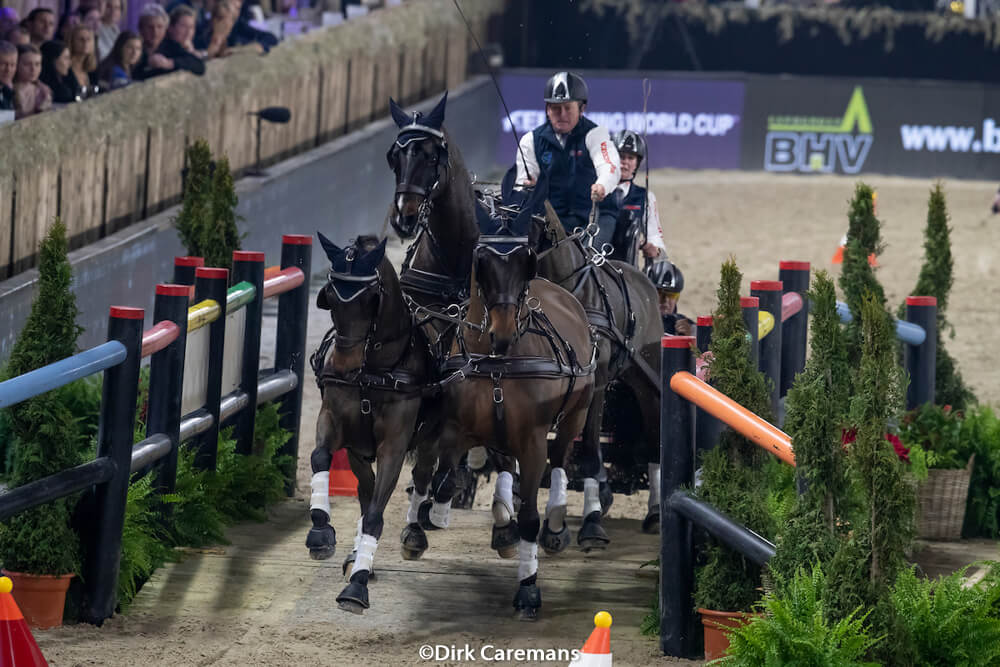 Boyd Exell
Photo:
Dirk Caremans
Creative course
International Course Designer Johan Jacobs had designed a course with several tricky cones and two marathon obstacles. The first line was a long, bowed line which caused problems for some of the drivers, when their horses had trouble finding the right line. The speed box was situated in the middle of the arena with two sets of cones. The bridge did not cause any problems, but several balls were knocked down on the last line to the finish.
All or nothing
Boyd Exell, Bram Chardon and Chester Weber qualified for the drive off over a shortened course in which the two rounds were counted together. Chester Weber was the first driver in and finished under 140 seconds, with two knockdowns. Bram Chardon was one second faster than Boyd in the first round and was determined to beat Boyd's time again in the drive off. He turned up the throttle and took a lot of risk. Despite turning short and keeping his speed in the speed box, the four mistakes were just too costly. Last starter Boyd Exell not only drove fast, but also drove a very controlled round. He was only a fraction of a second slower than Bram, but he did not make any mistakes and was the deserved winner.
Results 1st Competition Mechelen, Saturday 29th December 2018
Boyd Exell (AUS) 267,86
Bram Chardon (NED) 286,68
Chester Weber (USA) 303,03
Benjamin Aillaud (FRA) 157,51
Jérome Voutaz (SUI) 159,95
Glenn Geerts (BEL) 163,48
József Doborovitz (HUN) 169,83
Edouard Simonet (BEL) 171,59
Click here for more information
Copyright reserved. Acquisition without acknowledgment and permission from [email protected] is not allowed.