28 October 2022
New International Driving Competition to be held in Windsor
In 2023 a new international CAI2* and CAI3* event will be held for the first time from May 4th through the 8th in Windsor Park. The show will take place the week before The Royal Windsor Horse Show, within Great Park in Windsor. The aim is to provide two back to back FEI events for athletes wishing to cross the channel to compete in the UK. The classes for this new FEI event will be for horses and ponies, Singles, Pairs and Four-in-Hands.
The Windsor Park Equestrian Club has their own obstacles, stabling area and facilities and will be able to offer a very good marathon within the Great Park. They already run up to seven national level events throughout the summer season. The new international event should become an annual event going forwards, to be held the week before RWHS. It is a very short journey from the RWHS show grounds to Great Park.
Program
Due to King Charles III and Queen Consort Camilla's Coronations that will be taking place on Saturday May 6th, this years competition schedule will be slightly different. Dressage will be on Friday May 5th, the marathon on Sunday the 7th, and the cones driving on Monday the 8th. This leaves the officials and athletes free to celebrate on Saturday and raise a glass to the new King.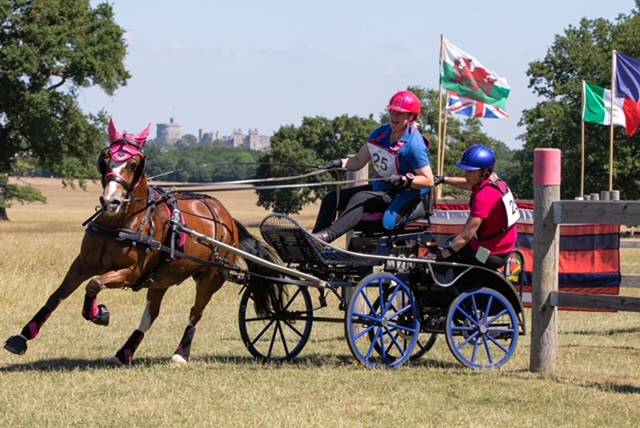 Lucy Scott in Windsor Park
Photo:
Sara Jane Hayes