18 June 2018
A change of colour for Koos de Ronde's indoor team
Since the middle of May, Dutch champion Koos de Ronde has had four Lipizzaners in his stables. Yesterday he debuted his new indoor team during Outdoor Zuid Holland in Strijen, NL where he gave a demonstration and had the chance to test his new horses in a show environment.
'My indoor team was beginning to get to an age where I was beginning to keep my eyes open for a younger team', tells Koos. 'Lipizzaners are the ideal choice for the indoors: they are fast and handy'. Koos was able to find the horses through a Hungarian connection. The horses have experience in a pair, so it will be on Koos to make them into a functioning four-in-hand. 'It is definitely an advantage that they have been around the block and have some show experience. They range in age from 9-13 years old, so they are in their prime and I hope to have the pleasure of driving them for many years to come. And…' he added: 'this doesn't necessarily mean that the other indoor horses will go. They are still fit enough and I definitely want to see what fits where the best.'
Aachen
The first impression from the drive yesterday was good. 'You can train at home what you want, but it is not until you get in front of a crowd that you really know how they are going to react.' he explains. Koos has been invited to participate as the only Dutch driver in the spectacular 'Jump and drive' in Aachen on 21 July. This is a team competition where a number of four-in-hand drivers are teamed up with a top show jumper and eventer to form a team. The teams compete against each other in a combined competition where the riders ride their respective courses and then jump onto the carriage to groom for a mini-marathon.
Koos will be using his Lipizzaners in Aachen where he will go up against Jérôme Voutaz, Benjamin Aillaud, Georg von Stein, Glenn Geerts and Chester Weber.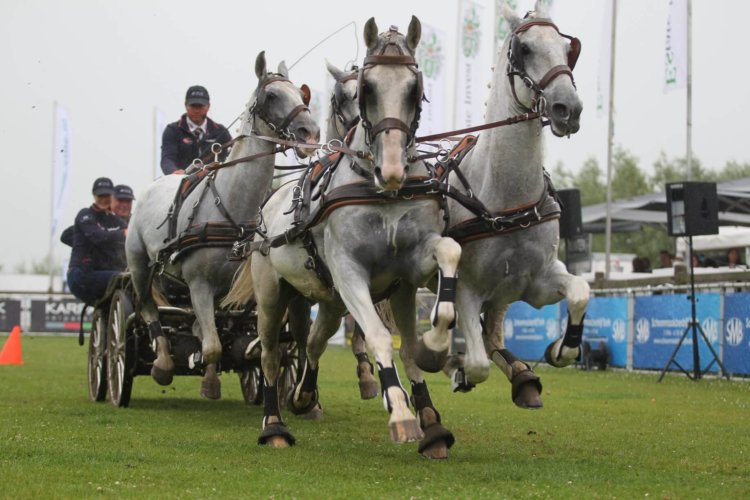 A 'test drive' during a demo at Outdoor Zuid Holland
Photo:
Marie de Ronde-Oudemans