5 August 2022
Strong Dutch team for Pratoni del Vivaro World Championships Four-in-Hand
The national coach of the Dutch team, Ad Aarts, has announced his team for the FEI World Championship Four-in-Hand, which will be held from September 21st through 25th in Pratoni del Vivaro, Italy. The team consists of Bram Chardon, IJsbrand Chardon and Koos de Ronde. "It is a very strong team with a lot of experience," says the national coach.
The selected TeamNL drivers also formed the Dutch team that won silver at the last World Championship in Tryon (2018).
"We had some minor setbacks in the first half of this season for various reasons, but the team composition is not an issue for me. These are the three strongest drivers who have a lot of experience and good horses. Even if they have to use their sixth horse, they are in the top three", the national coach explains his choice. "I hope we can earn medals both individually and as a team. I have a good feeling about it, and it would be nice if we can live up to expectations."
Individual drivers
In addition to the three team members, another three TeamNL Four-in-Hand drivers may compete individually in Pratoni. Ad Aarts selected Mark Weusthof, Hans Heus and Antonie ter Harmsel for this. Ad Aarts: "Mark Weusthof is reserve for the team. He performed well at the National Championships in Beekbergen, even though he had to use a younger horse. Appointing him as team reserve was therefore an easy choice for me. With this selection I can send six drivers who can represent our country well."
In addition to the drivers and national coach, team veterinarian Albert van Unen and team manager Monique van der Heijden accompany the selection.
Preliminary program World Championships Pratoni:
Wednesday September 21st : 09:00: veterinary inspection
Thursday September 22nd : 10.00 am: dressage day 1
Friday September 23rd: 10.00 am: dressage day 2
Saturday September 24th: 10:00 am: marathon
Sunday September 25th: 10.30 am: cones
Click here for more information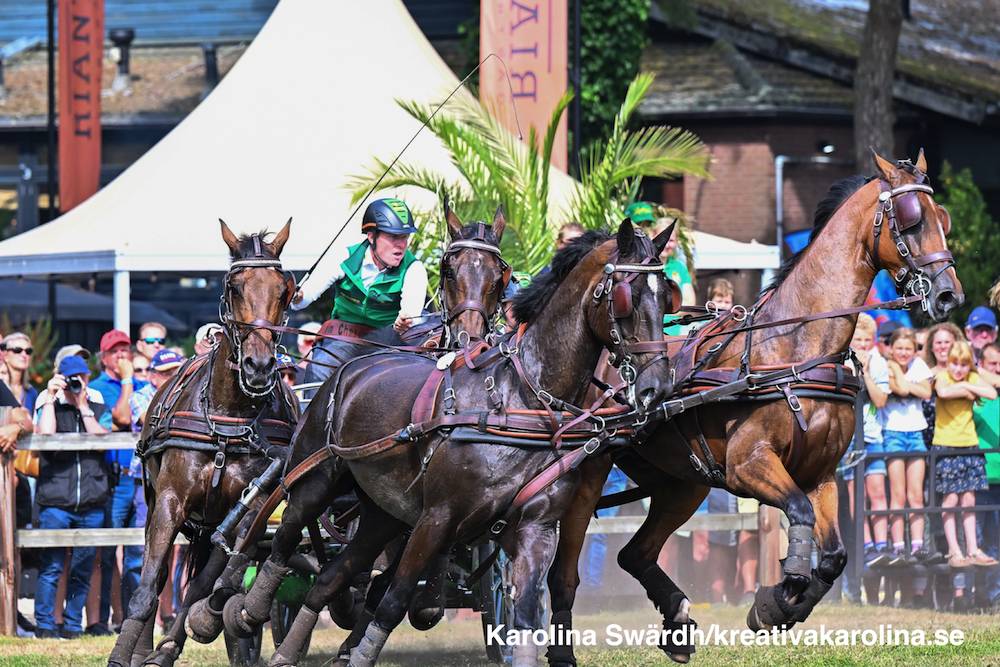 Photo:
Karolina Swärdh