16 November 2018
Stuttgart 2018: Glenn Geerts happy with first victory
Belgian four-in-hand driver Glenn Geerts won the first competition of the FEI World Cup™ Driving in Stuttgart this evening. Geerts drove two very good rounds and stayed ahead of Boyd Exell and IJsbrand Chardon. It is Glenn's first victory in his World Cup career.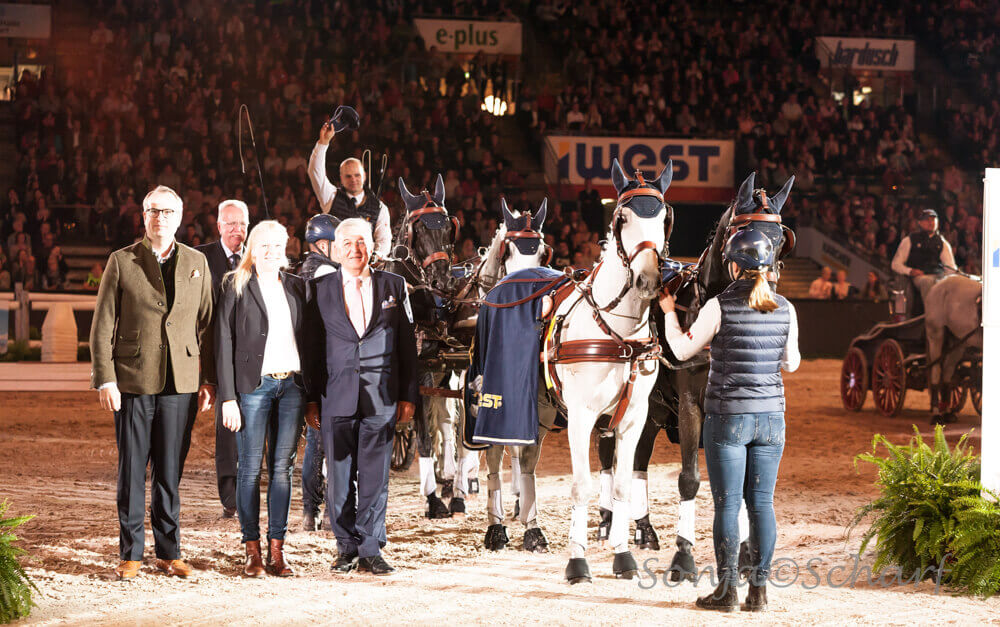 Glenn Geerts
Photo:
Sonja Scharf
Geerts kicked off his World Cup season in the Schleyer Halle where the enthusiastic public cheered the six drivers in the nice but technical course designed by German level 4 Course Designer Dr. Wolfgang Asendorf.
Glenn and Boyd both drove clear in the first round and Glenn drove very well in the second round, in which all drivers started again in the shortened course: "My plan was not to drive too wild in the second round," tells a very happy Glenn. "I wanted to do it just as good and did not want to improve myself and that worked out well. I did have a few little mistakes, so there is room for improvement tomorrow. My team goes really well between the cones but can be more fluent in the obstacles. I had actually walked the long lines, but I decided last minute to change and drive the short routes. To win today, however, is great, but I will have some more pressure tomorrow."
Boyd had an unusual driver mistake in the second round: "I was ahead for a quick turn to B in the first marathon obstacle when I twisted my wrist too early. They then took the early signal and it happened. It was my mistake." Exell, however, kept on driving but missed the victory by a split second after he knocked a ball at the bridge down. The difference between Boyd and Glenn was only 0,16 second in the end.
IJsbrand Chardon drove the fastest time in the second round, but had four knockdowns and finished in third place: "My leader horses were not forward enough in the first round and they became too strong in the second round. My right leader horse started to push and became too strong. Hopefully, I will be able to solve this tomorrow by changing his bit."
Jozsef Dobrovitz finished in fourth place, ahead of Chester Weber and wild card competitor Georg von Stein.
Copyright reserved. Acquisition without acknowledgment and permission from [email protected] is not allowed.