16 November 2019
Stuttgart 2019: Huge applause for Mareike Harm
They blew the roof off Schleyer Halle in Stuttgart this afternoon during the third FEI Driving World Cup™ competition of this season. Boyd Exell was the clear winner ahead of Chester Weber, but it was home favourite Mareike Harm drew the loudest cheers and applause as she gave the boys a run for their money with two very good rounds and a third place finish.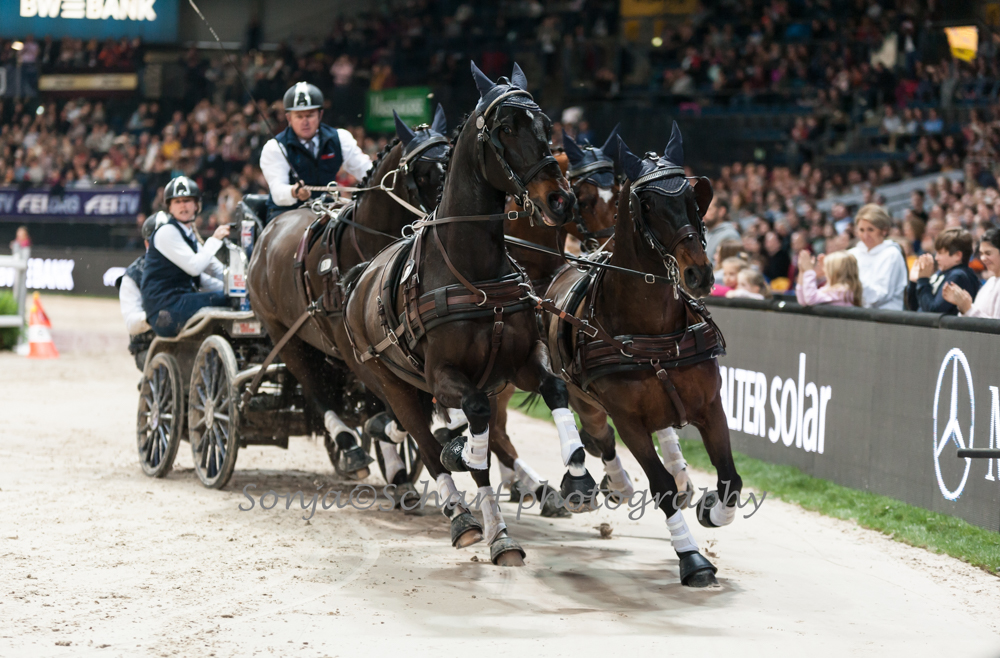 Boyd Exell
Photo:
Sonja Scharf
Steady rounds
After Harm performed very well during the first competition on Friday, she, along with Boyd Exell and Chester Weber qualified for the second round in which the drivers started from zero again. Unfortunately she hit a ball in the second round, but this did not hinder her performance. Mareike competes with three horses of her outdoor team and the grey horse El Chico who some might recognize from the former team of Dutch four-in-hand driver Mark Weusthof: "It was never my plan to qualify for the World Cup, it just happened!  My horses know each other really well and they form a good team," tells Mareike. Both in Maastricht and in Stuttgart she impressed with well-driven rounds: "I try to drive a steady first round and take a bit more risk in the second round and this works out well." Her performances were very much appreciated by the enthusiastic German spectators.
Chardon helps Chester
Chester Weber drove a fast and clear round on the course designed by Hungary's Gábor Fintha and was four seconds faster than his first round. Weber is trained by IJsbrand Chardon who was present in Stuttgart to give the American drivers tips and advice: "IJsbrand and the whole Chardon Family are very helpful," tells Weber whose indoor horses are stabled at Chardon's place in the Netherlands. "I usually arrive on Sunday or Monday before the competition, IJsbrand takes care of the fundamental training of the horses in between, which works out well."
Super crowd

Last starter Boyd Exell drove the same team as on Friday with one new leader horse and set amazingly fast times. The knock down at the water passage in the second round did not endanger his first place at all: "The crowd in Stuttgart is super, the atmosphere was exhilarating. Because the competitions follow each other week after week, I drove my B-team in Stuttgart with two different horses, amongst which a new horse, Orias. He was very fast, sometimes even a bit too fast," says Exell, who has now got the maximum number of 30 World Cup points and thus is certain of a place in the Final.
Benjamin Aillaud drove his team to the fourth place today and has received the points for the third place, since Mareike Harm competed with a wild card. József Dobrovitz finished in fifth place, ahead of Glenn Geerts.
Results
Results CAI-W Stuttgart 2019:
Boyd Exell (AUS) 138,74
Chester Weber (USA) 144,29
Mareike Harm (GER) 153,25
Benjamin Aillaud (FRA) 154,60
József Dobrovitz (HUN) 156,80
Glenn Geerts (BEL) 157,47
Standings after 3 out of 9 competitions:
1       Boyd EXELL                            AUS         30
2       József DOBROVITZ                   GER         8
3       Bram CHARDON                      NED         7
3       IJsbrand CHARDON                  NED         7
3       Chester WEBER                       USA         7
6       Koos DE RONDE                      NED         6
7       Mareike HARM                         GER         5
7       Benjamin AILLAUD                   FRA         5
9       Glenn GEERTS                        BEL         4
10     Jérôme VOUTAZ                      SUI          2
Click here for the full results
Copyright reserved. Acquisition without acknowledgment and permission from [email protected] is not allowed.