3 June 2016
Topolcianky: Top placings for Warneck and Lázár
The international driving event in Topolcianky was the stage for the dressage competitions for the horse pairs and horse teams today. The nice and sunny weather with only some light rain every now and then, contributed to the good performances of the 40 drivers in the arena. Sebastian Warneck put down the best test in the horse pairs class, while Zoltán Lázár won this first phase in the horse teams class.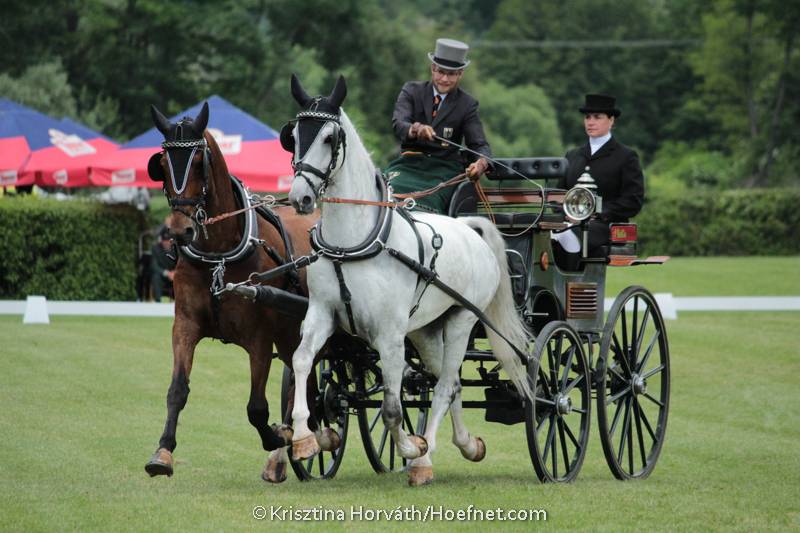 Photo:
Krisztina Horváth
Photo:
Krisztina Horváth
Warneck drove a nice test with his spectacularly moving KWPN-geldings Balos and Beat Me Okydo and was unanimously awarded with the first place by the five members of the Ground Jury. With a score of 44,48 penalty points he was able to keep his opponents Lászlo Farkas and Mario Bezzola at distance. The silver medallist in Topolcianky 2013 drove his second pair to the seventh place.
The top four of the Horse Teams was dominated by the Hungarian drivers with Lajos Moro, Jozsef Dobrovitz jr, and Jozsef Dobrovitz as the runners up.
They will for sure try their best in tomorrow's nice marathon with seven obstacles, designed by Hungarian World Championship Course Designer Gábor Fintha.
Click here for the startng orders and results