22 September 2018
Tryon 2018: Koos de Ronde wins marathon
Today's marathon at the FEI World Equestrian Games in Tryon resulted in a fantastic battle with many ups and downs. Koos de Ronde took revenge after his disappointing dressage test and won the very heavy marathon. Not even broken brakes could prevent Boyd Exell from tightening his grip towards a fifth successive individual gold medal as the driving marathon test delighted the packed crowds in Tryon today.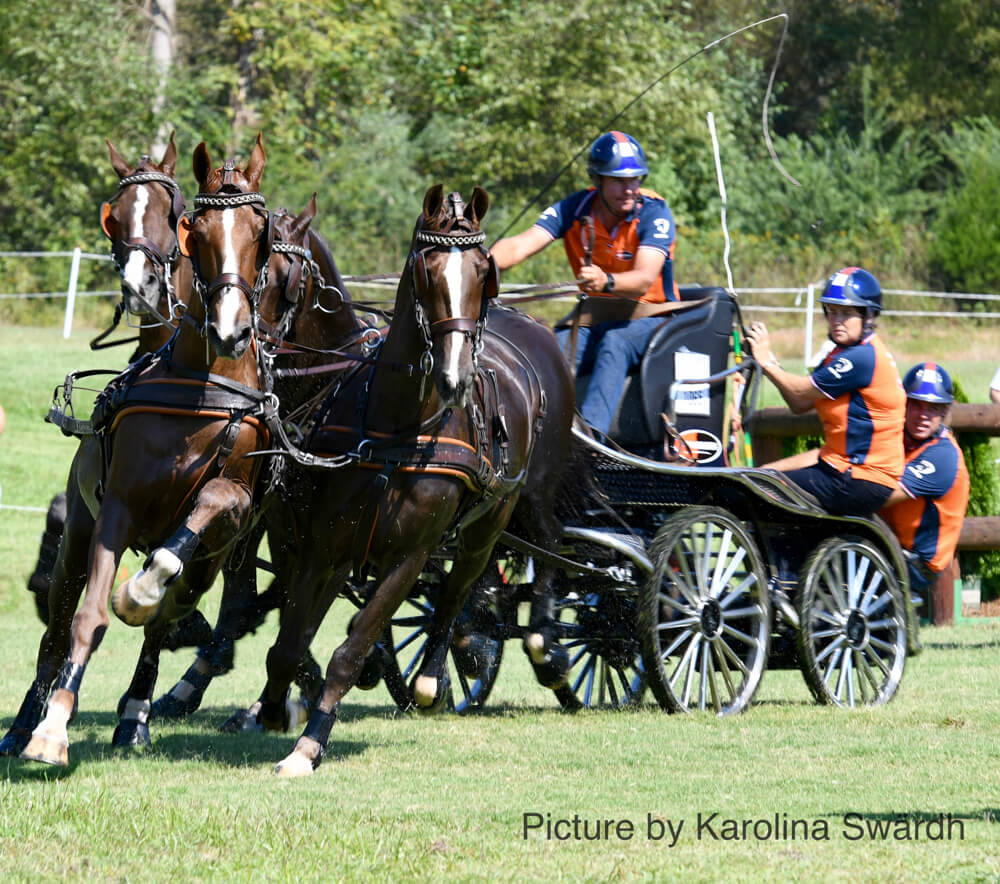 Koos de Ronde
Photo:
Karolina Swärdh
Koos De Ronde won the day with his score of 117.28 points, helping him jump 10 places in the overall individual standings to sit fourth with just the cones test to come. But nothing could stop the relentless Exell from once again grabbing the headlines.
Door het stof
The Australian noticed early on that his braking system was compromised and yet still the 2010, 2012, 2014 and 2016 individual champion managed to get round the Richard Nicoll-designed course in a score of 121.93, the third best of the day. That was enough to extend his overall lead to 7.00 points over second-placed Chester Weber.
"It caused a problem in hazard one, we came in hot because there is a big long gallop into gate A and we drifted too wide and they (the horses) looked to the left rather than being able to square up the turn – that was a bit disappointing hazard one, gate A, first mistake," Exell said, with a wry smile.  "Hazards three, four and five are all up and down dips, so the reins were around my head one moment and then on the floor and then round my neck. But we fought. We didn't give up; we kept fighting all the way."
Home favourite Weber
Home favourite Weber kept up the pressure on the all-conquering Australian with a controlled display, backed up by an intricately planned strategy designed to combat the searing heat and humidity.
"We have done a lot of studying of lactate levels and heart rates to try and get the horses ready for this," Weber explained. "When the temperatures get hotter, the heart rates get higher and lactates grow. We trained them at home with gallop sets – you can actually train them to drop their heart rate."
Hitting his pre-planned targets all the way round, Weber brought home his carriage in 125.51, the fifth best score of the day. The 29-year-old Belgian Edouard Simonet sits just behind him in the overall standings, after adding a confident marathon drive to his solid dressage score.
A protégée of Boyd Exell's, Simonet is a real threat to the big two with his favoured cones test to come."I love the game, so let's play tomorrow," Simonet said.
Disastrous day for the Chardons
Dutchman De Ronde's magnificent drive saved what was otherwise a disastrous day for the men in orange. Father and son, Ijsbrand and Bram Chardon both made significant, uncharacteristic errors dropping the Dutch, winner of the team competition in 2010, 2012, 2014 and 2016, down to third in the standings. Team USA lead on 338.55 points, more than 15 points clear of Team Belgium.
"It was terrible. It's a big disappointment for us both but eventually it will make you stronger and for now we have to keep the team together," said Bram Chardon. Both Dutch drivers drove a wrong gate in one of the marathon obstacles and they each got 20 penalty points added to their score.
Switzerland's Jérôme Voutaz drove his fast Freibergers to a well-deserved second place in the marathon.
For Germany's leading driver Christoph Sandmann the marathon ended in obstacle five when is left wheeler horse Wanita fell down, was winded but uninjured in the fall. The 15-year-old mare was cooled down at the site of the incident and recovered prior to being transported back to her barn.