5 January 2021
Out of the Shadows: Edwin Weusthof
In the sport of combined driving there are many people constantly active behind the scenes. Driving is a discipline of equestrian sport that you just can't do alone. Support from family, a partner or friends is indispensable for active competitive drivers and the competitions themselves are run thanks to the dedication and hard work of enthusiastic organizers and volunteers. In this series of articles 'Out of the shadows' Hoefnet will be shining a light on the people who play such an important role in the background of our sport.


Grooms are indispensable in a driving team. Edwin Weusthof has been the 'backstepper' for team driver Mark Weusthof from the very beginning. The team called 'Twents vierspan' are fine tuned machine and have worked together for years. Though their shared last names would lead you to believe that they are related, Edwin and Mark are just friends; Weusthof is just a really popular name from that area in the Netherlands. 'Everyone knows Edwin and Edwin knows everyone,' says Mark.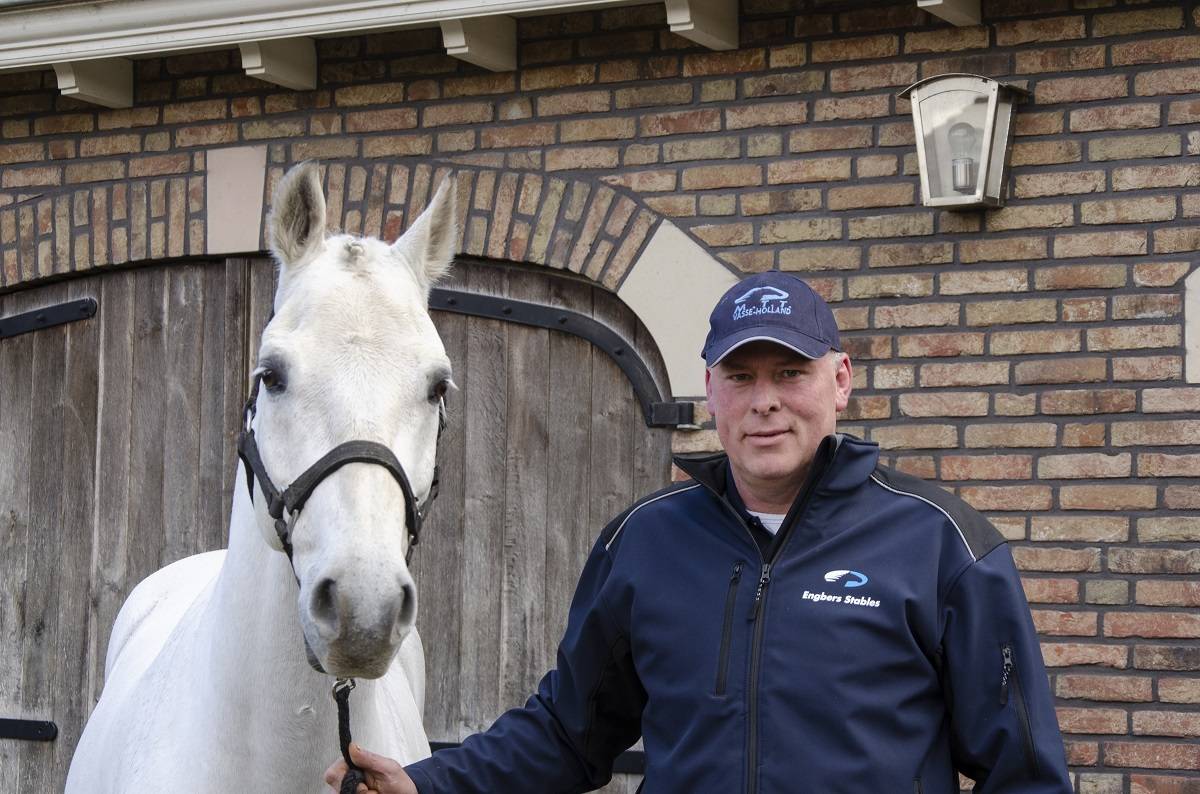 Photo:
Gerben Olthof
The truck
When Mark took over the reins from his father Theo in 1996, Edwin began grooming. 'I was there right at the beginning. That is already 25 years ago… time that I stop,' jokes Edwin. 'Mark was my brothers roommate,' he tells. But we also knew each other from football, Edwin was once even the captain of Marks team.
The 52 year-old Edwin is a mechanic and it was through his profession that he got his introduction to driving. When Marks father Theo had problems with their horse truck, Edwin came to help them out. Theo was competing in the World Championships in Riesenbeck and one night in the pub, Edwin and a few friends decided that they would go and visit. Upon seeing his first competition he was sold. And the rest is history. Edwin started going with Theo to competitions as his truck driver. When Mark began his team driving career in 1996 Edwin made the transition from truck driver to groom.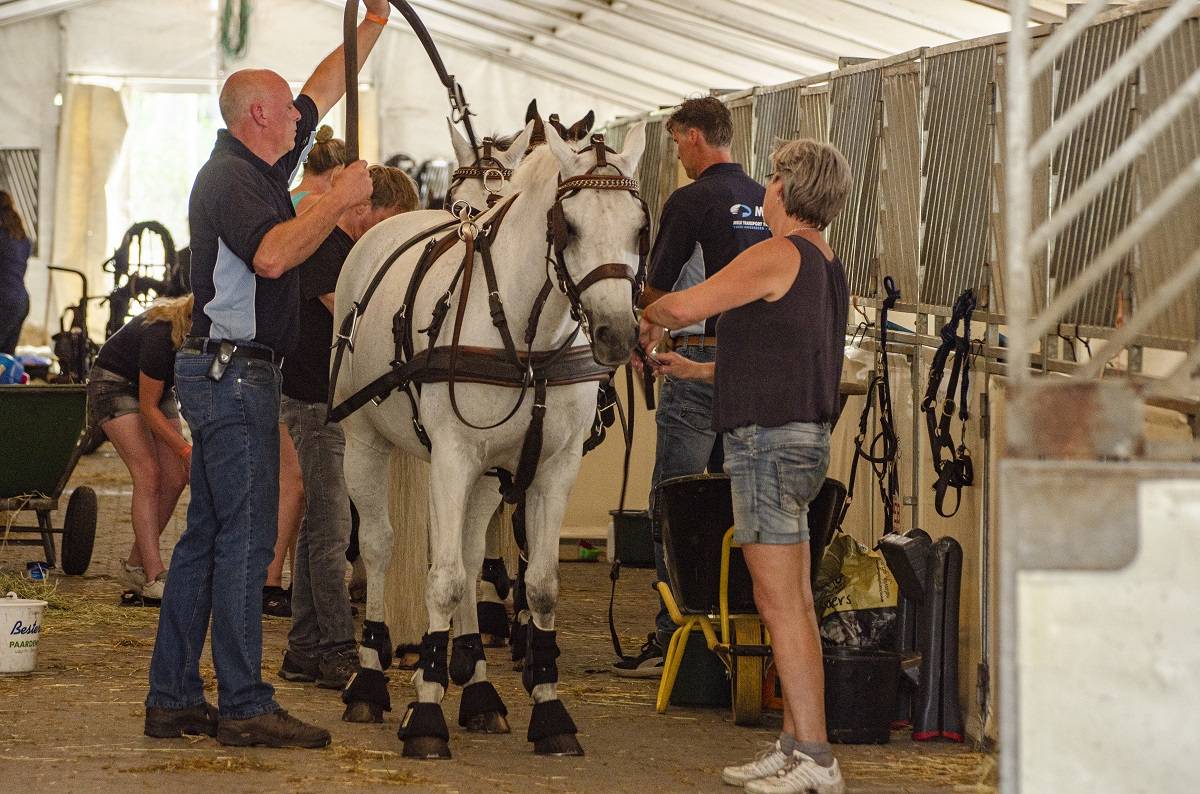 Every member of the team knows exactly what they need to do
Photo:
Gerben Olthof
Fine tuned team
The team 'Twents vierspan' is a well oiled machine. In the over 20 years that they have been active everyone knows what needs to happen and what their job is. Edwin: 'We do everything together, looking after the horses, everything that needs to happen. And of course I'm there for the marathon.' He smiles: 'I don't want to think about what it would look like with me sitting on the carriage for the dressage.'  Walking the marathon obstacles is done together and then it is discussed as a team. 'I will give my opinion, but Mark has to drive,' says Edwin. 'On course I don't say a lot as I'm on the back step. If everything is going well I don't need to say anything. Sometimes I will take a second look at an obstacle to see how others are driving it and then we will discuss how we will approach it.'
For many drivers it is not easy to find people who are so dedicated to the sport. People who are willing to give up their vacation for it. Edwin has been working at the same company for more than 30 years so taking days off is luckily not too much of a problem. 'There is always something that can be arranged if I need a day at short notice.'
Horse riding daughters
Edwin and his wife Paulien are both horse lovers. Their daughters are 12 and 14 years old and are both active show jumpers. Their oldest daughter is now riding a horse and is also competing in eventing. 'Earlier I drove with Mark during the week, but since my daughters ride that doesn't happen as often,' he tells. He goes with the girls to competitions and if he himself has a competition with Mark, Paulien goes with them.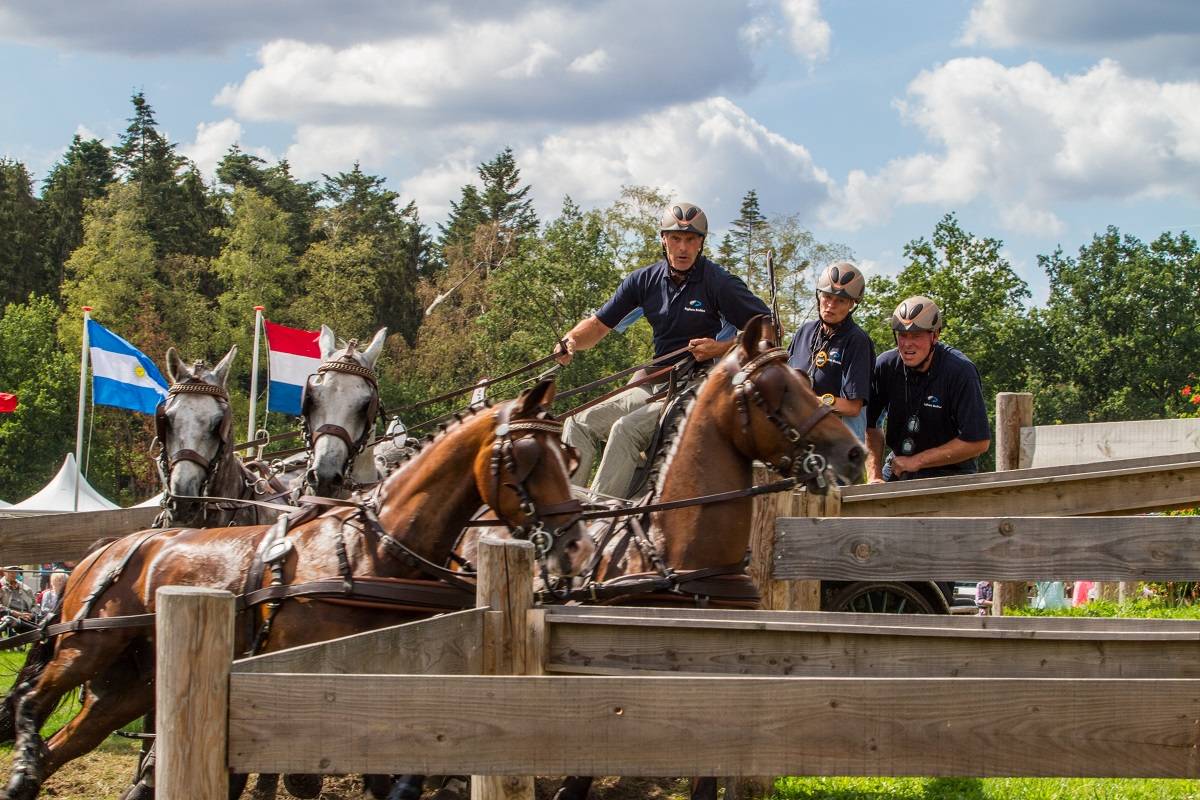 Photo:
Wilco van Driessen
Highlights
Over the years Edwin has experienced a lot with the Twents vierspan team. 'The World Championships are always highlights. Our first World Championship was in Wolfsburg in 2000 and that was so much fun. The World Championship in Jerez de la Frontera two years later was a unique experience. We were away for two and a half weeks as the trip there and back took three days each way'. On top of that Mark along with Ton Monhemius and IJsbrand Chardon won the team gold. 2002 was a wonderful year for the team. 'We drove in Aachen for the first time and placed second, which was unbelievable. The public at the 2004 World Championships in Hungary was amazing too and the 2008 Championships in Beesd was also great. We are always motivated to go to a competition but you still need to have a bit of luck. Sometimes you just sit in a flow where everything works out.'
A skipped year
There are not many competitions where Edwin was not part of the team. But in 2016 after the season opener in Horst he had to take a step back. 'I had to undergo a heart procedure and quadruple bi-pass', he tells. It was the year of the World Championships in Breda and Edwin had to be satisfied with watching from the sidelines. 'I didn't have a hard time accepting the situation because your health always comes first. But I'm not sure if the situation was less stressful, I'm much more relaxed when I am actually on the carriage.'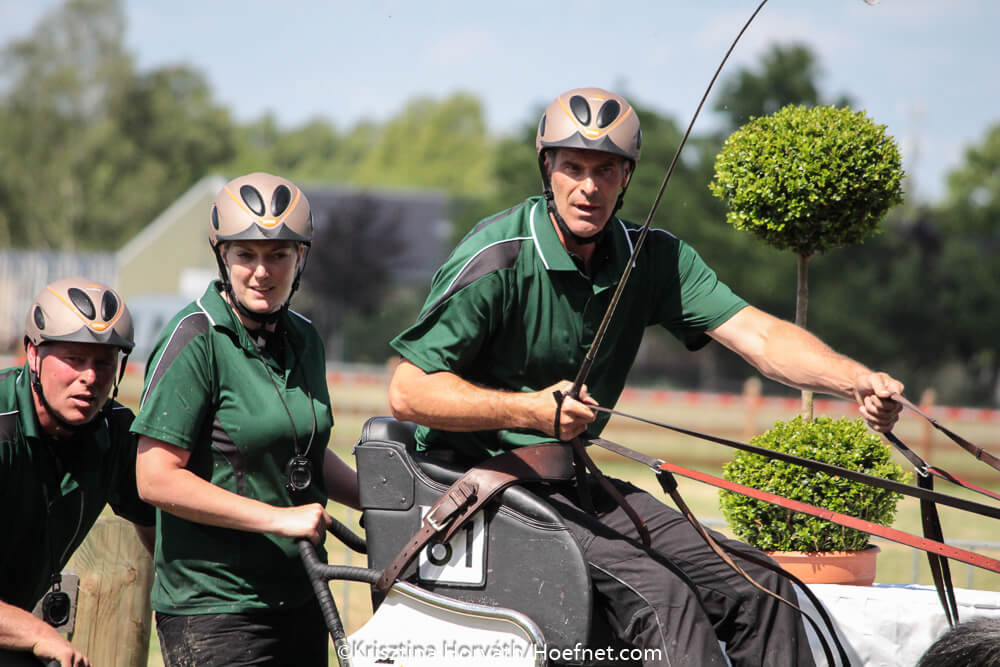 Photo:
Krisztina Horváth
Edwin on Mark
As is the case for many horse people the competitions are a fun outing: 'You are with your entire team, we know each other, it is fun and you're never bored.' But he remains humble: 'I'd rather not be in the spotlight, we all know that the driver can't do this alone.' And what are Marks best qualities? 'Mark is a great driver. With the material that he has he does exceptionally well, and he is always good in the marathon.'
Mark on Edwin
Mark feels pretty lucky to have a groom like Edwin. 'Edwin has been with us since the beginning. We have been through everything together and know each other through and through. Edwin can really survey a competition, whether it is an indoor, cones, or the marathon. He gives his opinion on what he thinks the best routes are and 99 out of 100 times is he right. He knows the marathon obstacles well, and if I don't know something or have doubts about a line then I can send him to check it out. I know that if he comes back and says something I can trust it. That comes from years of working together and continues to make us better.'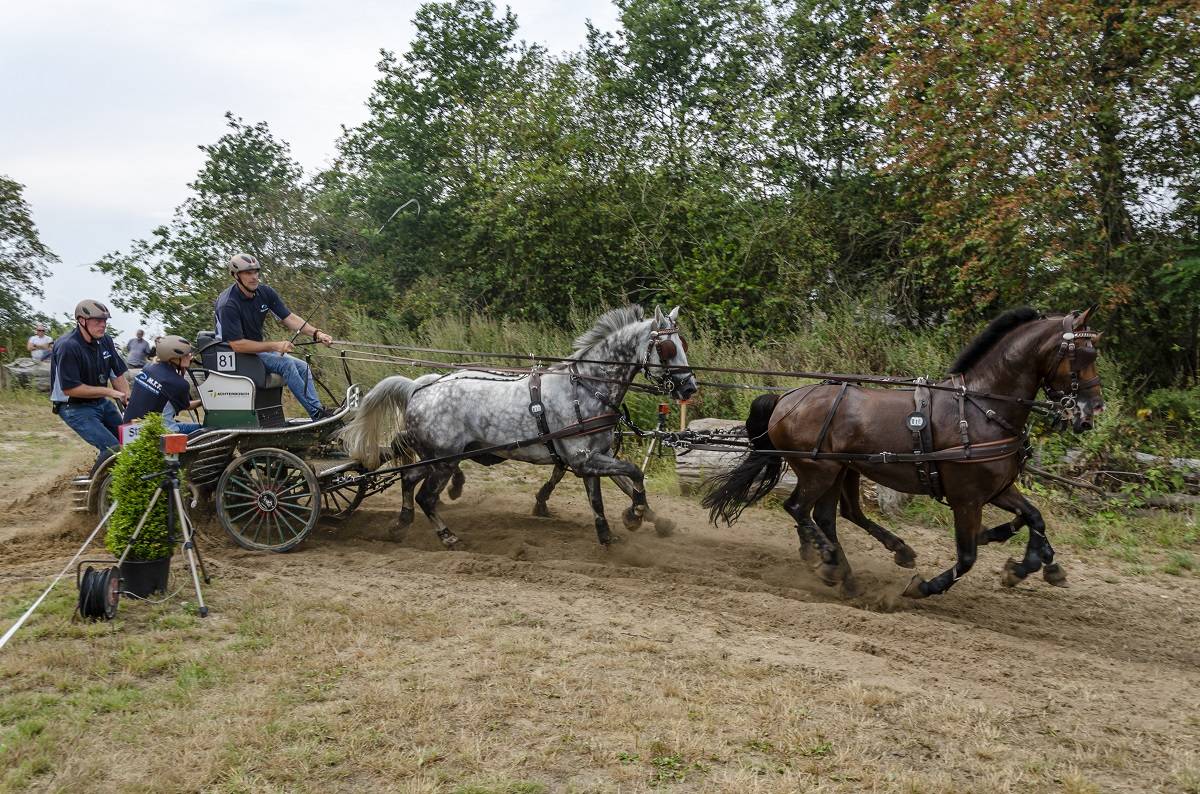 Photo:
Gerben Olthof
Copyright reserved. Acquisition without acknowledgment and permission from [email protected] is not allowed.