1 June 2019
Valkenswaard 2019: Glenn Geerts dominates in the marathon
A massive group of spectators turned out in Valkenswaard today to enjoy the sunny weather and to watch the marathon. The obstacles were challenging, varied and beautifully decorated. It was literally a day of many ups and downs.

The German four-in-hand driver Michael Brauchle and Belgian pair driver Wim Heylen both didn't make the finish line. For Wim Heylen it just wasn't his weekend as he not only had one of his horses not pass the veterinary inspection Wednesday, but he also had a turn over in obstacle 3. The driver was rushed to the hospital and was treated for a broken leg, and luckily did not suffer any further injuries. Marathon specialist Brauchle met his Waterloo in obstacle 1.
Jump in the leaderboard
Raymond Letteboer was in form and won the pair horse marathon setting the fastest times in six of the eight obstacles. Stan van Eijk (NL) and Franck Grimonprez (FRA) followed in the results with rounds under 100 penalty points. After two days of competition Grimonprez stands on top of the leaderboard with Letteboer tied for second with Lars Schwitte and Stan van Eijk in fourth.
Belgian Winner
Glenn Geerts' chestnut horses had wings today. The Beligian driver had the fastest time in three of the eight obstacles with Koos de Ronde and Boyd Exell breathing down his neck. De Ronde was faster than Geerts in obstacles 3 and 7 but it was not quite enough to top Geerts who ultimately won the marathon. With this result the Belgian team consisting of Geerts and Dries Degrieck climb to second place in the Nations Cup behind the Netherlands. In the individual standings host Boyd Exell leads the division with a third place finish in the marathon, with IJsbrand Chardon in second and Geerts in third. With very close scores between rankings three to five, tomorrow promises to once again be an exciting day as the drivers drive their cones courses.
Click here for the photo album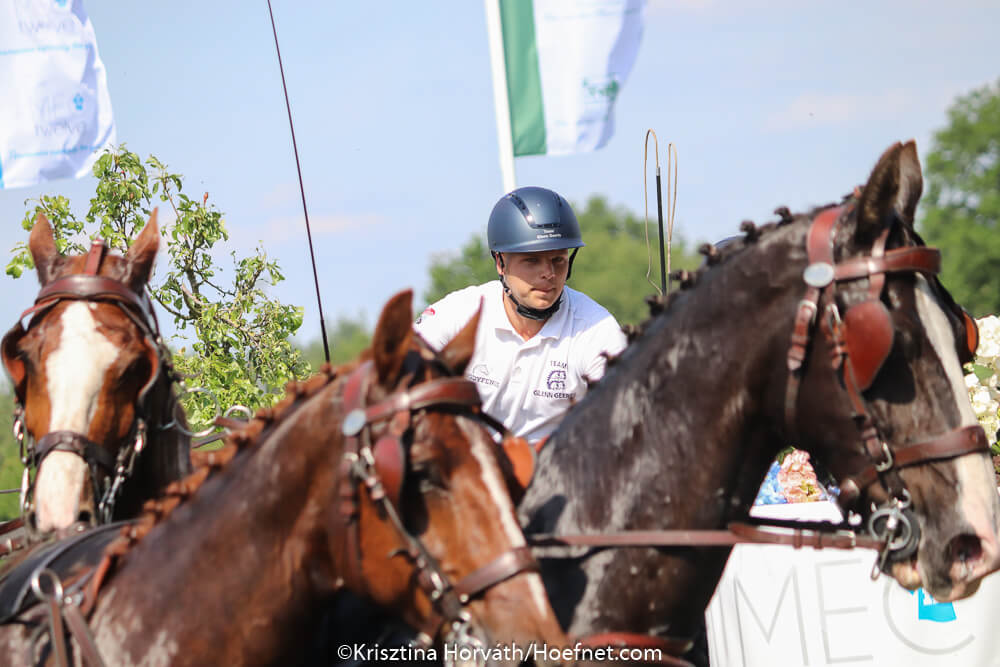 Copyright reserved. Acquisition without acknowledgment and permission from info@hoefnet.nl is not allowed.