1 August 2021
Valkenswaard: Exell wins, Dutch team take Nations Cup
On paper the results of the four-in-hands don't look too surprising, but the cones was still exciting and the perfect finish to a successful weekend.
Over the course of the afternoon rain began to fall which had a detrimental impact on the footing. Despite this, the course was still good to drive, but there were a few muddy places in the arena. The time allowed played little role in the results an five double clear rounds were achieved by the drivers. Anthony Horde (FRA) was the fastest and therefor winner of the cones. All three Dutch team members were double clear cementing their win in the Nations Cup and giving IJsbrand and Bram Chardon a place on the individual podium.
Organizing and competing
Boyd Exell had a substantial lead and didn't let it out of his grip. From gate 3 to 4 it was dicey for a moment. "The horses accellerated unexpectedly," he tells. "I had to make a quick correction as it was a difficult turn." That ended up accumulating in time penalties, but the overall win was his. The World Champion looks back on a successful weekend. "It is not easy running a show and at the same time having to compete," he says. "I am so happy to have such good people around me. They make sure that the horses are well taken care of and ready." His groom Emma Olson also received a prize at the awards ceremony.
Boyd used this competition to educate a young horse in his team. "This was the first competition for the left leader in the marathon and cones. He hasn't had any competition experience in that position and this was a great chance to train as he needs to learn from the experienced horses. I'm so happy with how my horses performed."
For videos check out our Facebook page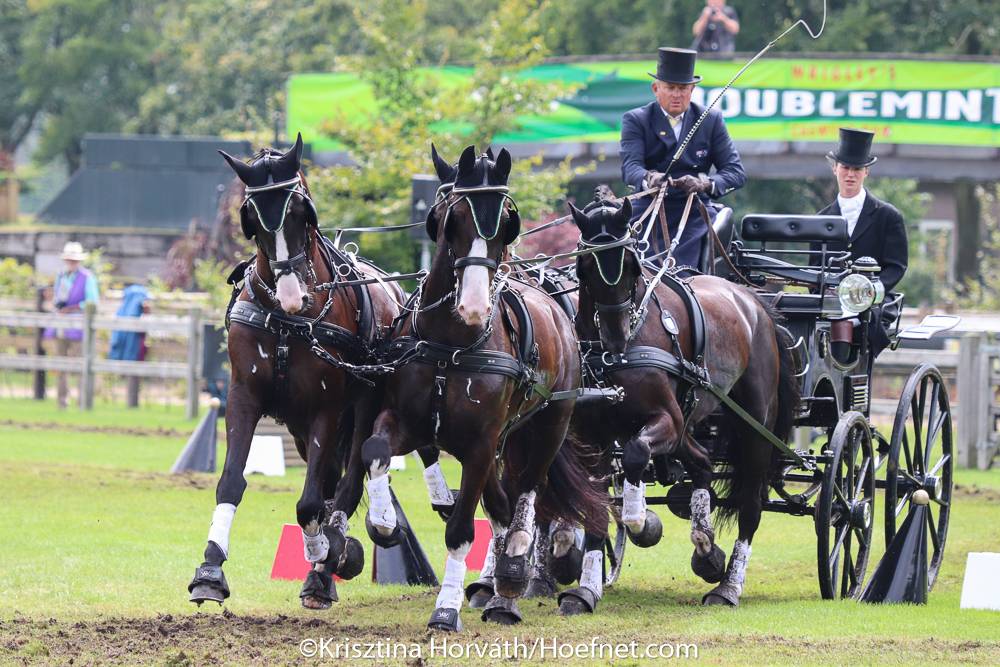 Boyd Exell kon zich de tijdfoutjes makkelijk permitteren en won de wedstrijd
Photo:
Krisztina Horváth
Photo:
Krisztina Horváth
Copyright reserved. Acquisition without acknowledgment and permission from [email protected] is not allowed.