5 November 2023
World Cup win in Lyon for Boyd Exell
The first competition of the World Cup season is over and that means that the first points have been distributed. Boyd Exell (AUS) achieved the best result today and earned his first ten World Cup points. Second place goes to IJsbrand Chardon (NED) and Dries Degrieck (BEL) completes the podium in third.
Eerste ronde
It remained exciting in Lyon until the end. Wild Card participants Anthony Horde (FRA) and Benjamin Aillaud kicked off the event. Three balls fell for Anthony, Benjamin left all the balls up. Still, his time of 181.78 was not good enough to keep him in front of the rest.
After the two Frenchmen it was the turn of Glenn Geerts (BEL). He drove a tight, clear round and a time of 175.29. Jérôme Voutaz (SUI) then managed to come close to Glenn's time, but for him a ball fell in obstacle three. He was quickly on his way to make up for the dropped ball, but due to a miscommunication when leaving obstacle 10, where the leaders were unsure which line was expected of them, the speed was lost for a while. As a result, Jérôme ultimately finished with a time of 175.23. This resulted in a total of 179.23 penalty points due to the dropped ball.
Dries Degrieck (BEL) then drove a textbook lap. He drove aggressively, sharply, fluently and, especially on the long lines, his large galloping horses were lightning fast. He left all the balls up and recorded a time of 168.10 seconds. IJsbrand Chardon (NED) then drove a time of 172.02 and was thus definitively selected for the Drive-off, together with Dries Degrieck. Boyd Exell was the last starter today due to his result yesterday. He remained just over 2.5 seconds faster than Dries Degrieck.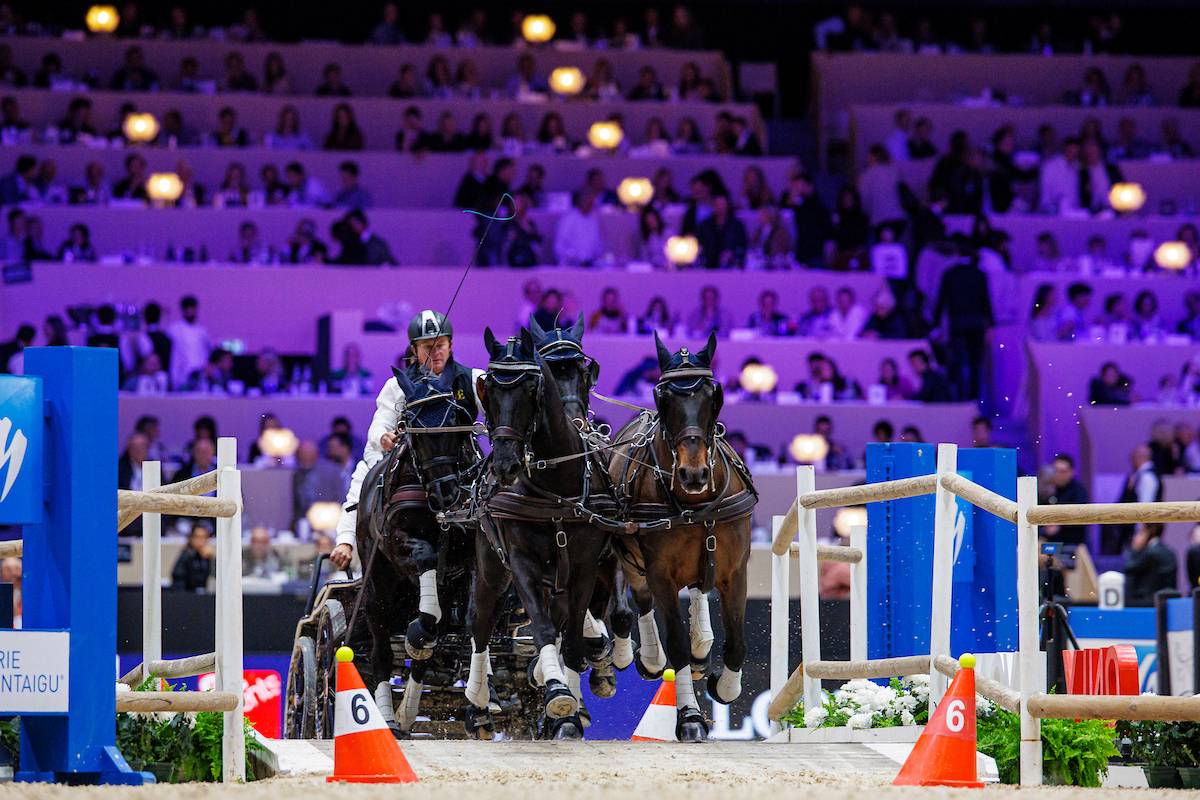 Boyd Exell in Lyon
Photo:
DigiShots
"Time to give a bit extra"
IJsbrand started first in the Drive-off. Just like in the first round, he encountered a small hiccup when finishing obstacle 10. With his time of 168.62 seconds, he significantly improved his first time, although his competition had already shown himself to be able to be faster in the first round. The course for rounds one and two were exactly the same. So the question was whether Dries Degrieck and Boyd Exell could set such a time again!
After IJsbrand, Dries Degrieck again got off to a flying start. In obstacle three, as he passed through the D gate, he looked like he was going to hit the white D on the left. Backstepper Frederik de Bruyne saw it coming and moved the carriage, but that was just not enough to avoid a ball. Dries knew that he had to improve his time from the first round to stay ahead of IJsbrand. That seemed to work, but unfortunately another ball fell at the very last gate. With his time of 167.59 he was faster than IJsbrand, but due to the two dropped balls he had to settle for third place.
Boyd Exell started last. A ball also fell for him in obstacle 3. "One of the leading horses hit the ball with his nose. I steered him very sharply to the obstacleTime t, that is a bit of the risk of indoor marathons. I took care of the horses yesterday by not driving at top speed. So I said, 'Come on guys. Yesterday I saved you, now it's time to give a bit extra.' They did a great job. I was able to speed up really well." Boyd managed to record an extremely fast time of 158.76 seconds. Due to the dropped ball, this ultimately became 162.76 penalty points, but he still had six penalty points fewer than IJsbrand Chardon, the number two. It is the fourth time that Boyd Exell has won the Lyon World Cup competition.
Click here for the photo album
Jumping Indoor Maastricht
The next World Cup competition is scheduled for next week in Maastricht. There Koos de Ronde, Mareike Harm, Michael Brauchle, Glenn Geerts and Georg von Stein will compete for the World Cup points. Bram Chardon and Boyd Exell participate with a Wild Card. Click here for more information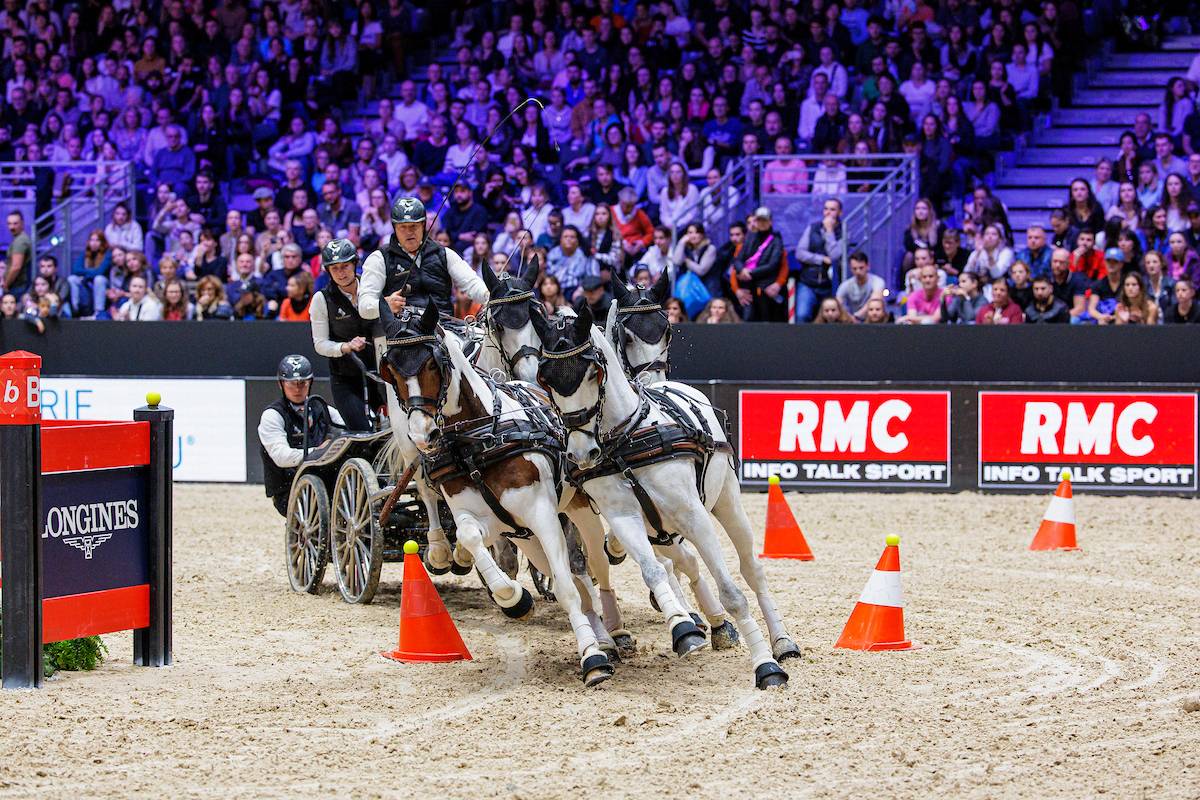 IJsbrand Chardon in Lyon
Photo:
DigiShots
Copyright reserved. Acquisition without acknowledgment and permission from info@hoefnet.nl is not allowed.