31 August 2019
National anthem for winning horse at FEI Driving World Championships for Young Horses
From 4th to 8th September, the National Stud Farm in Mezőhegyes, Hungary, is host and organiser of the FEI Driving World Championships for Young Horses for the fifth time. A total number of 35 horses from 11 nations presented by 26 drivers will compete against each other for the medals in the classes for 5, 6 and 7 year old horses.
National anthem winning horse
Drivers and horses from Austria, Czech Republic, Germany, Greece, Hungary, Italy, Latvia, Poland, Romania, Slovakia and USA will be represented. New this year is that on Sunday during the Medal Ceremony, the National Anthem of the country of origin from the winning horse instead of the winning driver will be played.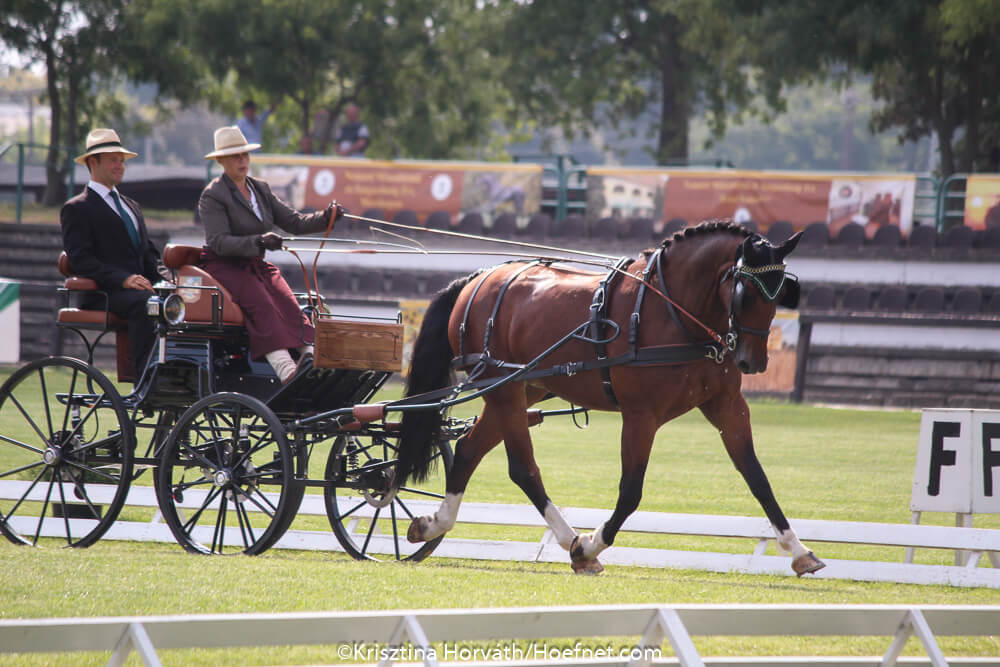 Photo:
Krisztina Horváth
Returning horses and drivers
The best 5-year-old horses from 2018, Adele M, representing Germany, Frombork from Poland and Finesse from Austria are competing this year in the 6-year-old age group. 2018 bronze medallist in the 6-year-old category, the Polish Renesans, returns and competes in the 7-year-old class.
Successful Polish drivers and frequent medal winners Bartlomiej Kwiatek and his sister Weronika have competed in every edition of the Championships so far and will also compete with a number of horses in the various classes this year.
Newcomers
For the first time, USA and Latvia are represented in Mezőhegyes. Leslie Berndl from the USA is presenting her 6-year-old Dutch warm blood gelding Impressive. Latvian driver Dzintra Bluma competes with her 6-year-old Latvian warm blood Gold Boy and her compatriot Anita Tasina presents her Mokka in the 5-year-old class.
Provisional programme
Wednesday 4th September
11:00 Horse Inspection
15:00 Opening Ceremony
Thursday 5th September
Dressage Qualification – all categories
Friday 6th September
Dressage Qualification – all categories
19:00 Open air concerts
Saturday 7th September
Dressage Final – all categories
Sunday 8th September
Combined obstacle driving for 5-year-old horses
Combined marathon for 6 and 7-year-old horses
Prize and award giving ceremony
Click here for more information
Copyright reserved. Acquisition without acknowledgment and permission from [email protected] is not allowed.