27 October 2023
World Cup-worthy Four-in-Hand Show at Indoor Friesland
The world's top Four-in-Hand drivers formed the spectacular finale of Thursday night's show at Indoor Friesland, the Netherlands. In a beautiful course, the seven world class drivers, World Champion Boyd Exell, European Champions Bram Chardon and Koos de Ronde, Glenn Geerts, Edwin van der Graaf and Daniel Naprous, battled it out for the highest placing, which went to Belgium's Dries Degrieck.
It was just a Thursday evening in October and the stands were packed. Many feet stomped along and throats were shouted hoarse to encourage the drivers. The audience was already warmed up by the harness horses that populated the arena for the first part of the evening. Together with the always enthusiastic announcer Bert de Ruiter, this dress rehearsal of the world's best drivers was a party for all present and viewers of the live stream.
Dress rehearsal World Cup 

The first place went to Belgian driver Dries Degrieck. Second place remained in the Netherlands and was for Koos de Ronde. Third place also stayed in the Netherlands, but was of course actually for Australia. Boyd Exell was the lucky one. For many of the drivers, the show in Leeuwarden was the dress rehearsal for the World Cup season, which starts in two weeks in Lyon, France.
Everything perfect

Koos de Ronde tells: "I had never been here before, but I think it's great here! World Cup worthy even. The arena was good in terms of size and the facilities for warming up were also good. Finally, the footing was also perfect. We really hope we get to come back."
Sand should be flying over the VIP tables
Koos continues: "What I also found special was the crowd. They were present in such large numbers on a Thursday night and they were so enthusiastic. I understood that a lot of locals attended the show and I really appreciate that. Entertaining people, that's what us, Four-in-Hand drivers, like. Good music, an enthusiastic announcer and the sand should be flying over the VIP tables."
"The entourage of the event, the decoration of the arena, it was worth to make the trip. The same goes for my colleagues. I understand that the Belgian drivers who still have much further to go, are the same opinion. Yes, the Driving World Cup to Leeuwarden, that would be great. Partly because the date Leeuwarden always has would also fit perfectly in the World Cup calendar, Indoor Friesland would then be the first of the World Cup series."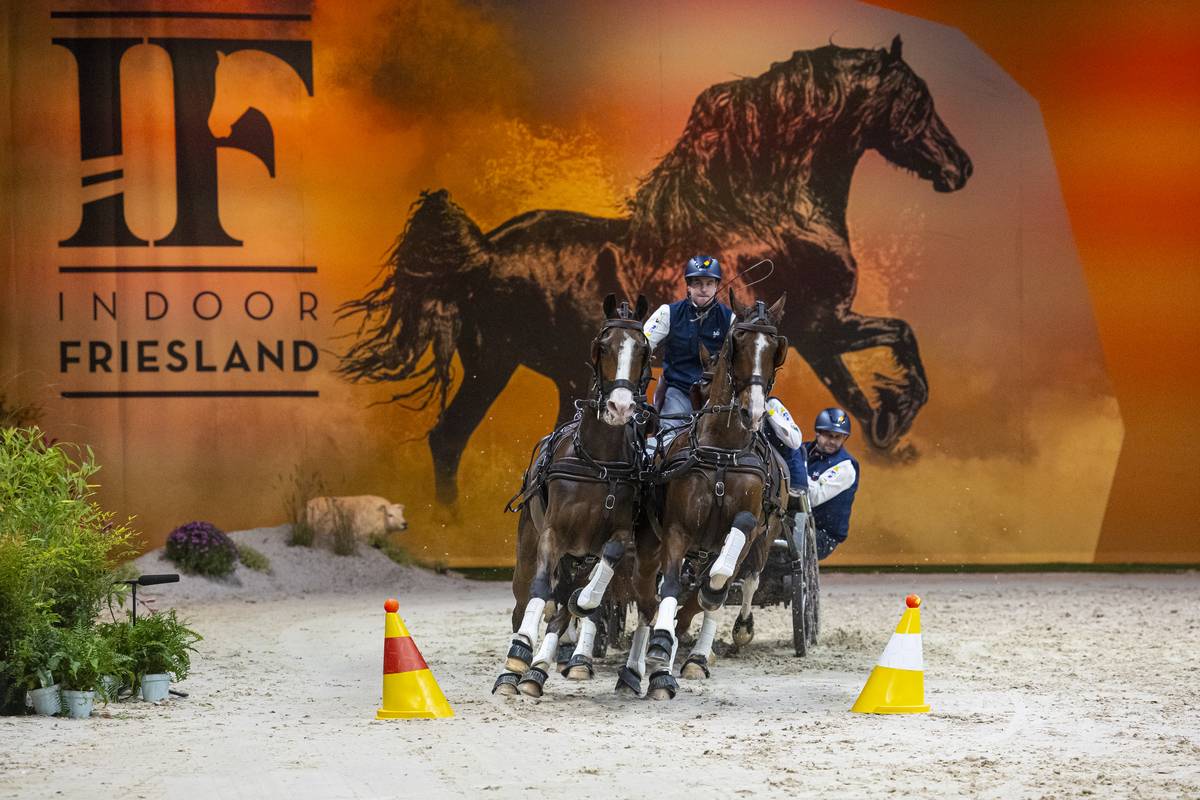 Foto Dries Degrieck: Indoor Friesland