9 May 2019
Windsor 2019: Jan de Boer and Boyd Exell in the lead
Today's dressage in the Land Rover International Driving Grand Prix saw pony and horse fours do battle in this first phase of the competition. Eleven nations are represented by the 27 contenders in horse fours while the much smaller field in pony fours - just seven competitors - has representation from five nations.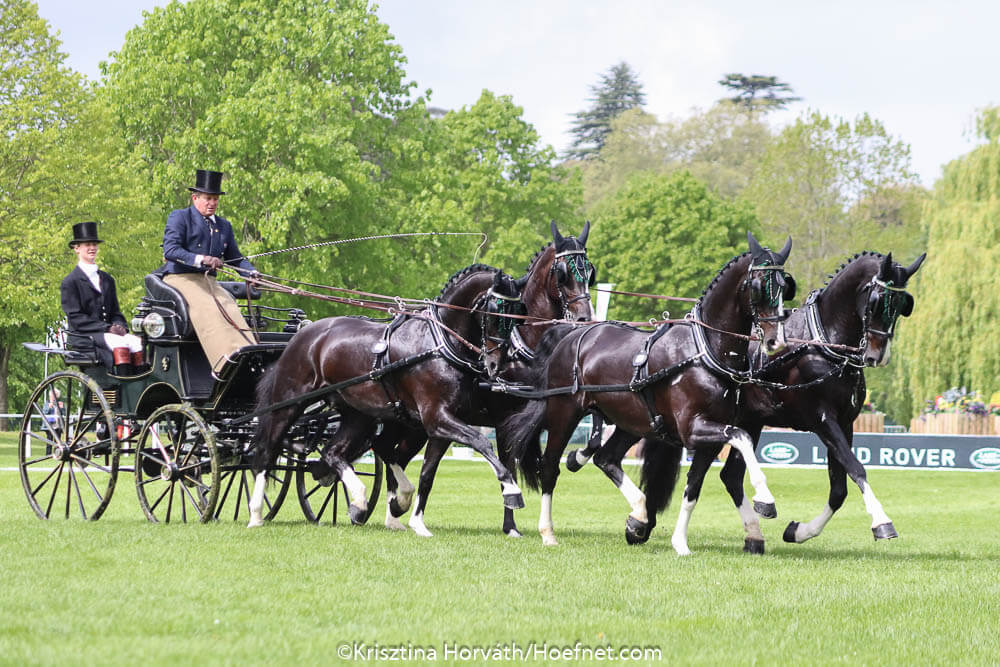 Photo:
Krisztina Horváth
Horse fours
World horse four champion, Boyd Exell from Australia, was in the first ten to drive the test and quickly set the bar high, his team of mixed warmbloods going sweetly to record a score of 31.06. Also impressing the judges and just 5 points behind, is Bram Chardon, son of the Netherlands's most successful four-in-hand driver over the last three decades, IJsbrand Chardon. In third place, another 5 points adrift, is France's Benjamin Aillaud driving his beautiful team of black Arabo Friesian horses, owned by Dutch owner Eric Bouwman
IJsbrand Chardon is lying in fifth place, their combined scores putting them at the top of the Nation's Leader Board, with USA in second place and France third.
The highest placed of the home nation is experienced driver, Wilf Bowman-Ripley, in tenth place.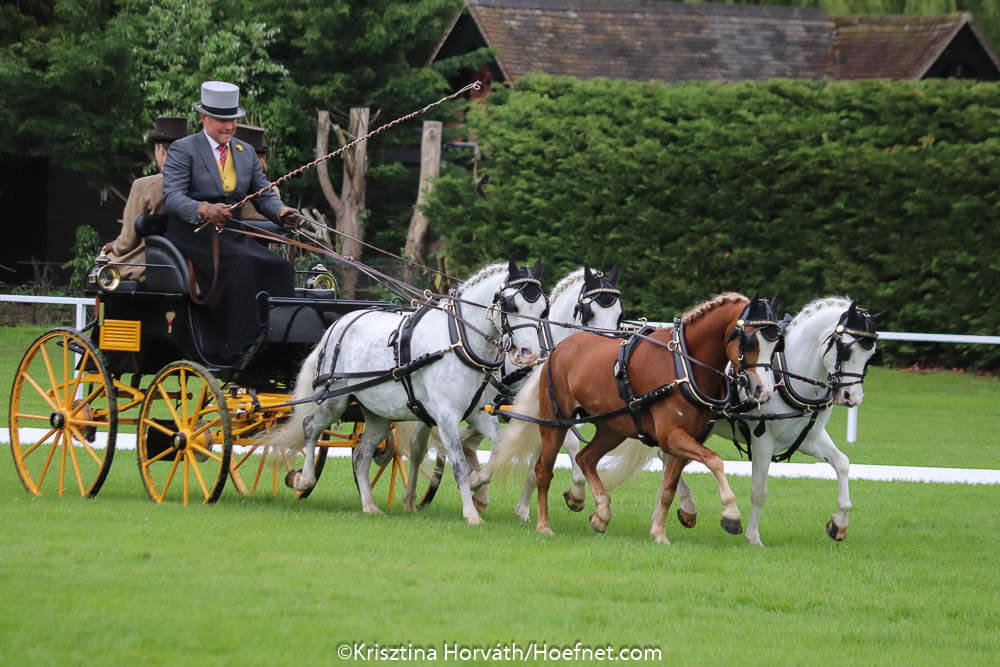 Photo:
Krisztina Horváth
Pony fours
In the pony fours, seven times Royal Windsor winner, Jan de Boer from the Netherlands is heading the dressage with his Welsh ponies, but challenging him closely, less than 2 points behind, is Tinne Bax from Belgium. Friendly rivals, these two took first and second here last year. Jaqueline Walter from Germany is in third place, some ten points adrift of these two.
Highest placed representative from Great Britain is Roger Campbell, the Welsh ponies he drives belonging to his fellow competitor and partner Jaqueline Walter. Roger, who is based in Germany, won the marathon section with these ponies last year.
President of the Ground Jury Andrew Counsell, remarked, "It was a very good day in which we saw some really lovely horses. Those with the good basics were the ones that got the good marks today. It is very encouraging to see this standard so early in the season."
Click here for the starting orders and results
Source: Royal Windsor Horse Show