24 August 2023
ECH & WCH Exloo: Germany leads World Championship para driving after dressage
The dressage tests of the Para drivers are over. This morning the drivers from grade 1 went first and then those from grade 2. The level of excellence was striking. The differences in scores are not extremely large and therefore Saturday's marathon will be exciting.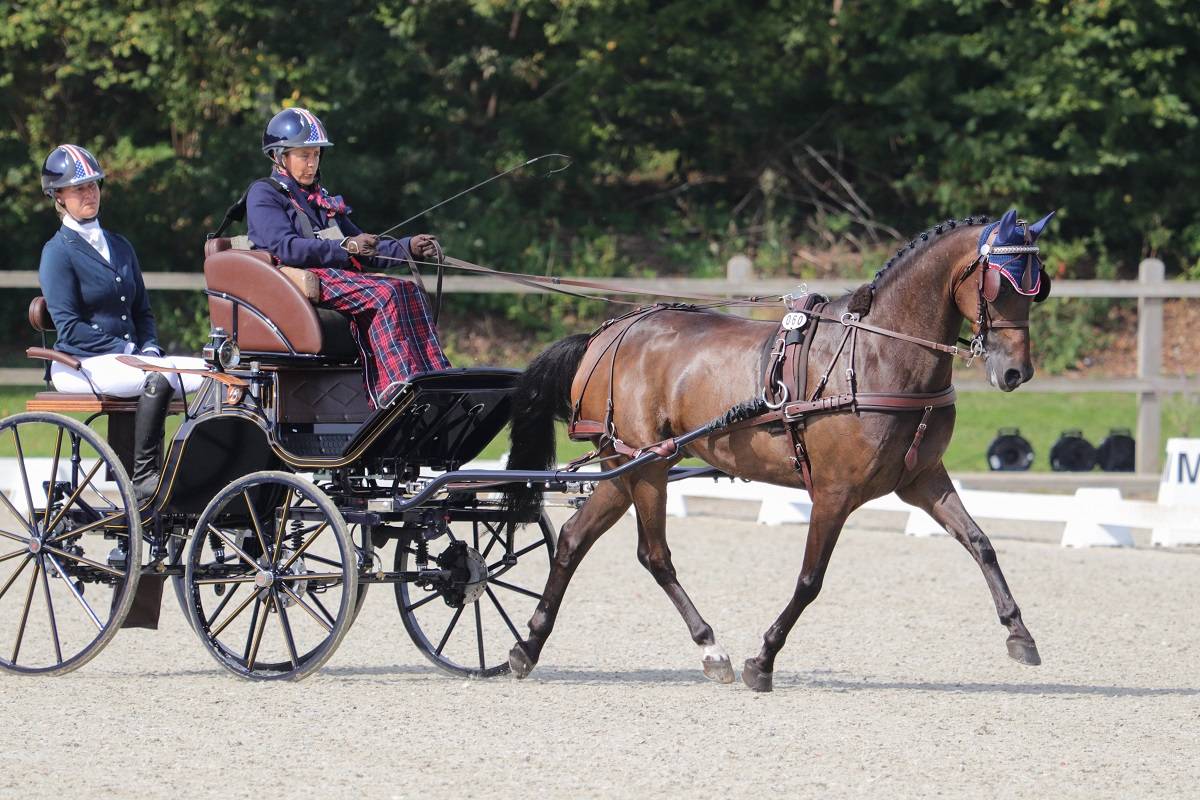 Tracey Bowman won de dressuur grade 1
Photo:
Krisztina Horváth
The best score was for defending champion Tracey Bowman (USA). She drove a nice harmonious and smooth test with Albrechtshoeve's Lars and received 46.80 penalty points. "Lars is very special," Tracey beams. "When we went from the training ring to the main area, he saw the obstacles (obstacles 1 and 2 are next to the dressage ring and the drivers drove past them to the entrance of the dressage ring) and then he got very excited and got a little big. So I had to explain to him that that is for Saturday. Luckily that wasn't a problem, he understood what to do, so I'm very happy. Of course you always want to improve, but he was great again."
The German Patricia Grosserichter scored just shy of the American. Her pony Gentle Man stayed nicely in contact and was driven smoothly. Her score also remained below 50 points. When the last starter Alexandra Röder drove the winning test in Grade 2, the German success was complete. The judges were unanimous on a first place for Röder, who was the only one in grade 2 to score under 50 points. Germany is in the lead in the Nations Cup ranking, followed by the Americans.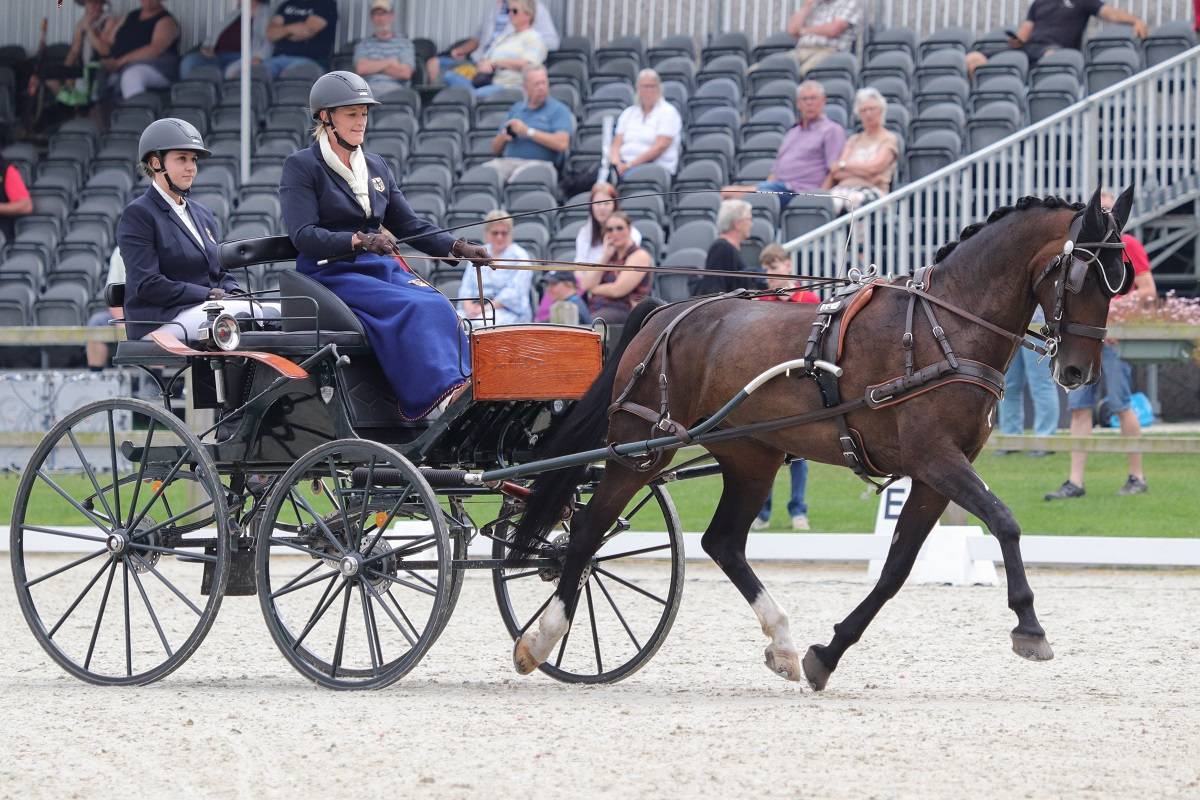 Alexandra Röder won the dressage grade 2
Photo:
Krisztina Horváth
Good start for The Netherlands
The Netherlands is now third with only 2 points difference. Jacques Poppen drove a strong test in grade 1 and finished fourth with 55.44. His horse occasionally had a piece of his tongue out, which undoubtedly cost some points. "You always think 'it could have been even better'. But the owner of the horse also said to me 'you are the best Dutchman'. So I just performed well given the circumstances", Jacques evaluates. "I have only been working with this horse for 2 or 3 months, so what more could you want?" And that tongue? "Well, he even does that with the halter on the trailer. We've already tried different bits, but he just does that. The only annoying thing is that on your protocol it is classed as a form of resistance. So the points match the test. It was already much better in the corners, although it could really be a bit straighter. But I am super satisfied and especially very grateful that I can be here! And proud and happy that one of my friends selflessly makes his horse available."
In grade 2 Ingmar Veneman was the best Dutch. She daringly drove her gray Liena forward and finished 3rd with 58.32.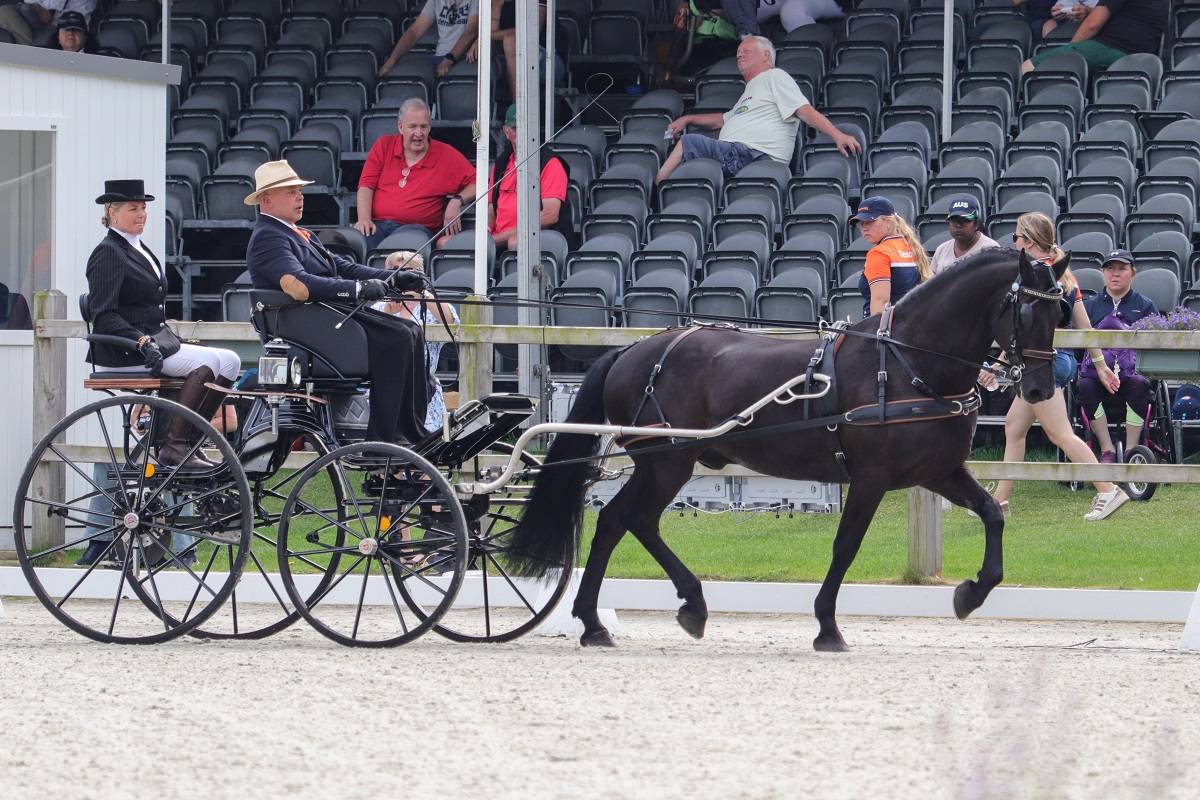 Jacques Poppen
Photo:
Krisztina Horváth
Marathon
Defending champion Tracey Bowman knows what to do on Saturday. She has already studied the obstacles well. "They are beautiful obstacles. The numbers 1 and 2 are very inviting for us, and we can drive forward there. The same goes for obstacle 6, which I really like. The others are really technical and obstacle 7 is difficult because it is also tight and I find that really difficult. Lars prefers to go fast rather than through tight corners, so I should probably drive in 7 like I'm with a four-in-hand. But it will definitely be fun!"
Click here for the photo album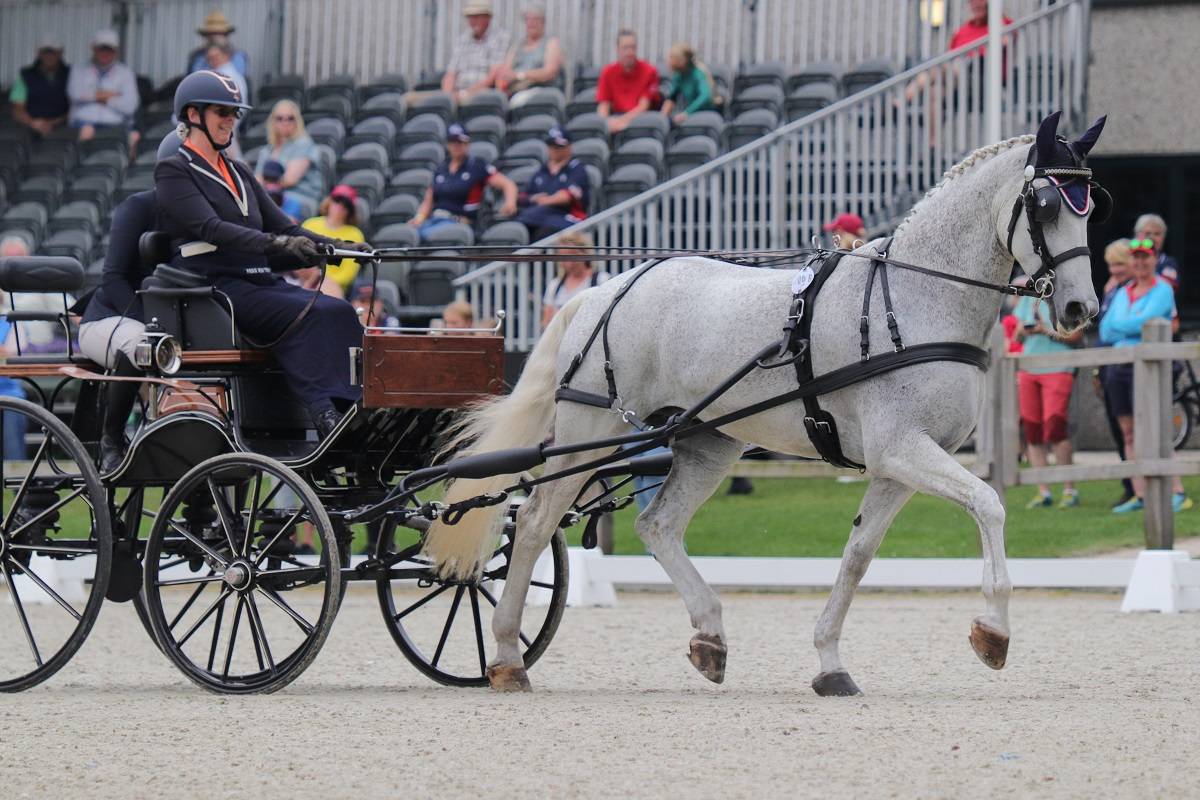 Ingmar Veneman
Photo:
Krisztina Horváth