16 September 2021
FEI Driving World Championships for Ponies: Rene Jeurink wins dressage pony pairs
Today the pairs rode their dressage test at the World Championships for ponies in Le Pin au Haras. Rene Jeurink (GER) finished before defending champion Rodinde Rutjens. She became second in the first part of the competition.
Rodinde was in the lead for a long time today, but got overtaken by the German René Jeurink at the end of the day. The difference in points is small: 0.4. Rodinde scored nice points with four of the five judges. Only Mrs. Mihok had a considerably lower rating for Rodinde's test, bringing her total score to 47.71.
Phille-Riin Roossileht is on the third position. The judges' opinions on her test did differ. Her scores ranged from 149 to 178 points.
Tomorrow the four-in-hand dressage will drive and after that the national ranking will be made.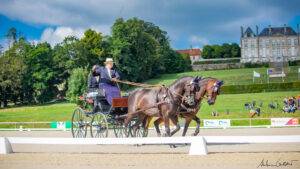 Copyright reserved. Acquisition without acknowledgment and permission from [email protected] is not allowed.