1 October 2023
World Championships for Pairs Le Pin: Gold again for Martin Hölle and the Hungarian team
It was a super exciting battle today during the cones at the World Championships for Pairs in Le Pin au Haras. Time was tight and many mistakes were made. Yet Martin Hölle's almost twenty penalty points lead over his competition was enough to win the fourth world title in a row.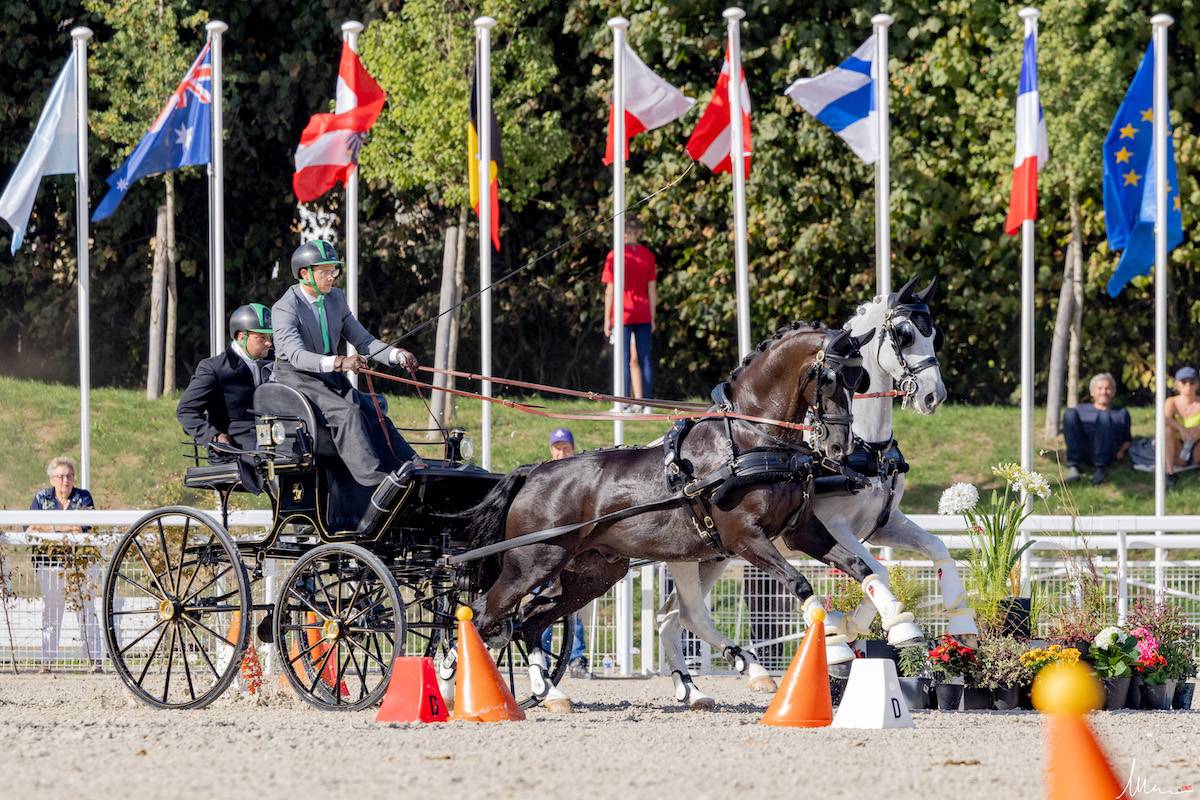 Photo:
Melanie Guillamot
In addition, the Hungarian Nations Cup Team also won gold again. They have held this title since 2013, making it the sixth time in a row that Hungary has won gold at the Pair Driving World Championships.
The cones course was difficult today and the results showed that. No one remained double clear, Marcel Luder (SUI) achieved the best result today with 0.37 penalties.
Martin Hölle
"I am obviously very happy, I couldn't even dream of having such a great weekend. Everything went according to our plans, the horses did a great job. There were two new horses: Juventus and King, compared to the last world championships who made our pair even stronger than it was. There is one horse, Eppie, who is our superstar who is now a four times world champion. Without him I would have a much more difficult job."
"Even if it is a medal for me, it is a real team succes. There are many dedicated people around me, who work a lot since the last world championships to be able to defend this title. All of them would deserve a gold medal. Last but not least I would like to congratulate to all the other drivers and their teams, especially to Marcel Luder and Erik Evers."
The nations podium
Photo:
Melanie Guillamot
Silver for Marcel Luder
Yesterday Luder had the fastest time in obstacle 1, 2, 3, 4 and in obstacle 8. "Yesterday my entire team, including myself and my groom, had amazingly good focus. We knew we had to open the throttle to full throttle. I knew in advance that the water obstacle wasn't really our thing, so it wasn't so bad that it went a little less well than the rest. The horses had a lot of power and speed right up to the end, so we were able to set the fastest time even in the last obstacle. In addition, I am happy with the lines we chose. I would like to thank my coach Koos de Ronde for his help. We are a great team!"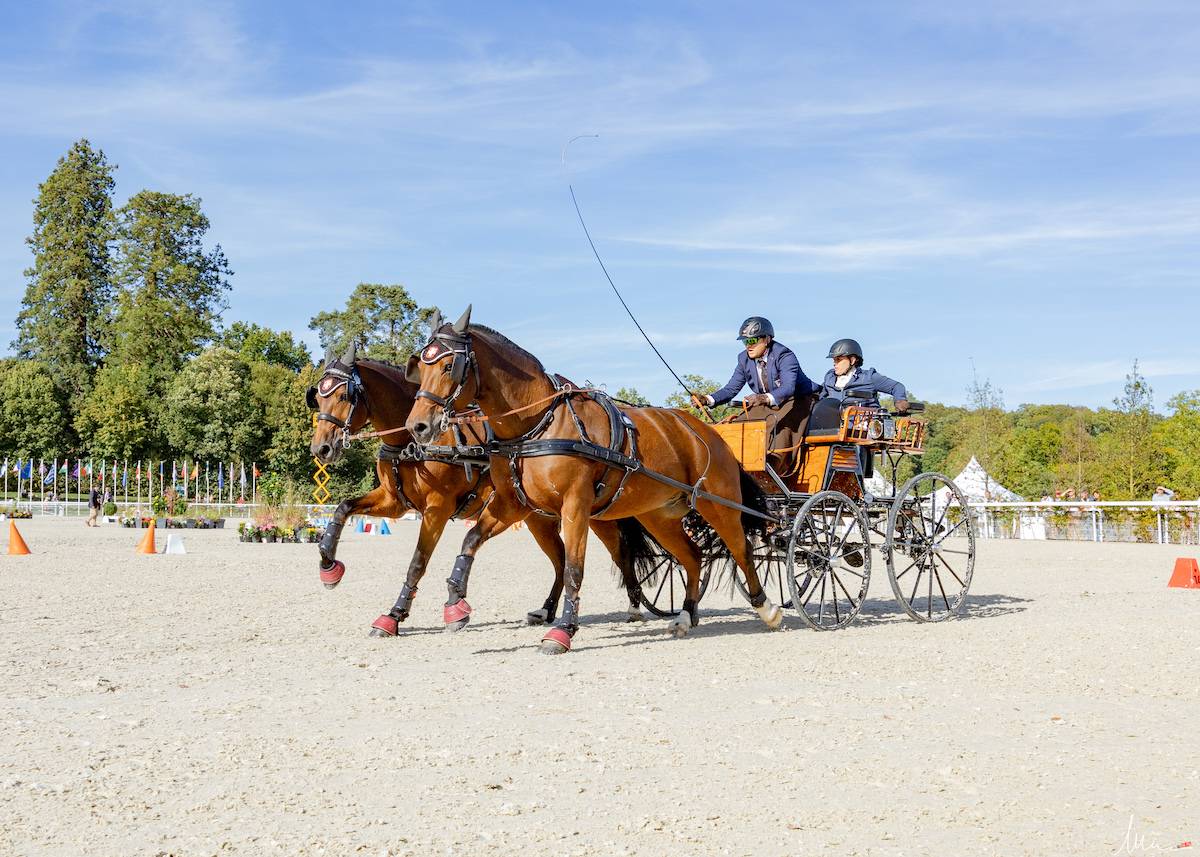 Marcel Luder wins silver
Photo:
Melanie Guillamot
Bronze for Erik Evers
The bronze medal goes to World Cup debutant Erik Evers. He drove a super tight cones, with only 2.39 penalties for exceeding time. Erik was still in eighth place in the final rankings, but his result later turned out to be improved only by Marcel Luder. He thus made a leap to the bronze medal. Stan van Eijk was seventh at the start of the skill, but time was too tight for him too. He incurred 5.44 penalties and thus climbed to fourth place in the final rankings.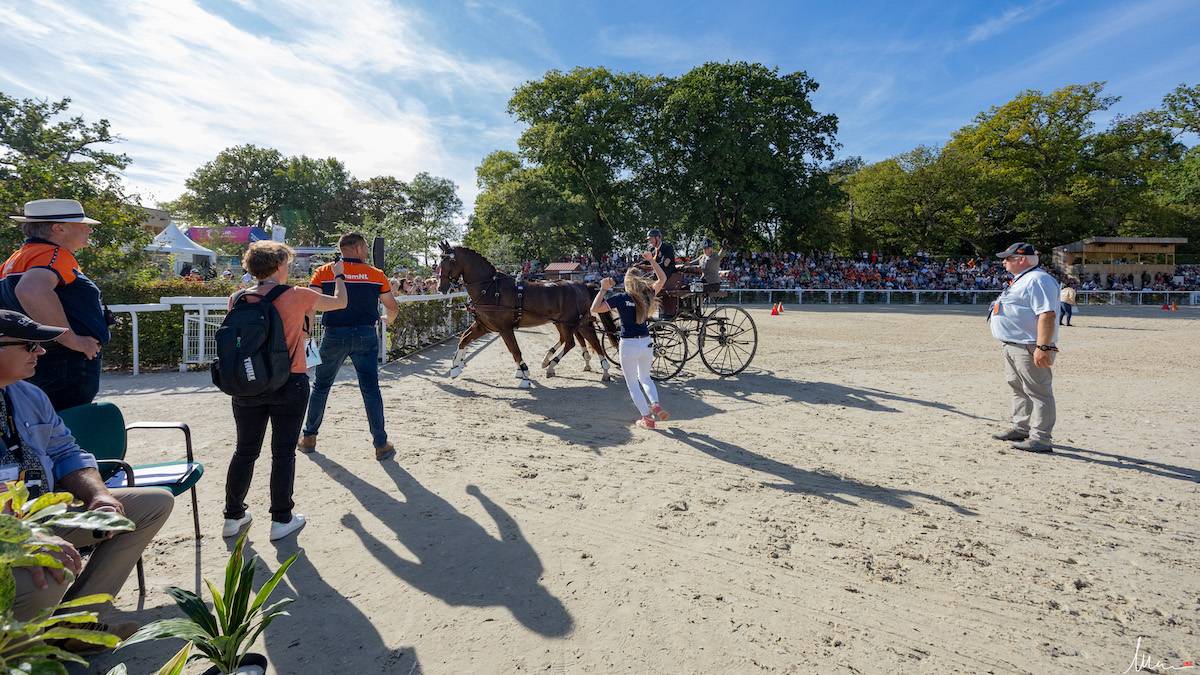 Erik Evers wins bronze
Photo:
Melanie Guillamot
Response Ad Aarts
The Dutch team defended the bronze World Cup medal from 2021 in France, but fell just short of winning the medal this time. Led by national coach Ad Aarts, the pair drivers finished fourth. "Despite narrowly missing out on the team medal, I am still very satisfied. If you achieve third and fourth place out of 90 participants, I am quite proud of that," reports Ad Aarts after the award ceremony. "Obviously I would have liked a team medal, but we fell just a few points behind the podium. The team complemented each other well, so we can certainly be satisfied with fourth place."
Aarts also quickly looks ahead again. "I now had five drivers with me who were driving a World Championship for the first time. The fact that Erik won a medal is very nice. The younger drivers have learned a lot and are certainly drivers for the future. This World Championship was a great stepping stone for a new generation of drivers and horses. The World Cup will be in Beekbergen in two years, so we can work towards that."
Click here for the photo album
Copyright reserved. Acquisition without acknowledgment and permission from info@hoefnet.nl is not allowed.