22 november 2009
IJsbrand Chardon switches to Lipizzaner horses
Dutch driver IJsbrand Chardon will from now on compete with Lipizzaner horses in the FEI World Cup Driving competitions. The four times World Champion bought three horses of his fellow competitor Jozsef Dobrovitz from Hungary right after the World Cup competition in Stuttgart this weekend.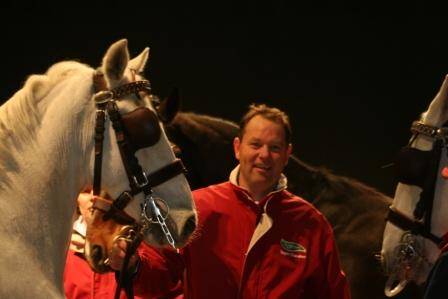 Chardon explains his spectacular purchase: "I have competed in two World Cup competitions in which I came third and fourth. The current level is so high and my horses, amongst which one 19-year old gelding, have trouble keeping up with the rising speed. I had already planned to start looking for a different solution next April because I cannot make it to the top with my current horses. I got the chance to buy these experienced horses from Jozsef Dobrovitz. I rather invest time in these horses now in order to be able to compete competitively again next season. Boyd Exell is currently in such good form, that I do not have the illusion to beat him this season. I don not mind losing, but I don't like to loose when I don't have a fair chance!"

It is not the first time however that Chardon competes with these very same Lipizzaner horses: "I still enjoy the experience I had at the try out World Cup competition in 2007 in Budapest, where I drove the borrowed team of Dobrovitz for the first time on Thursday. On Sunday I won the competition and that was a wonderful experience. The Hungarian spectators are tremendously enthusiastic which contributed to one of my best wins ever. I then already said that I would come back to Budapest with Lipizzaner horses; I am just waiting for the invitation!" says a laughing Chardon, who feels very comfortable with his newly purchased horses.

The sale came at the right moment for Jozsef Dobrovitz: "I did not have the horses for sale, but when IJsbrand asked me I started to think. I have many good horses at home and I could use the space. IJsbrand was the only one I would sell my horses to; he takes just as good care of the horses as we do. I was at his home last summer and I have seen how well his horses are treated. And furthermore we get to see the horses often at the World Cup events so we don't really have to miss them."

Photos IJsbrand Chardon with Dobrovitz' team in Budapest 2007 by Hippoevent.