28 juli 2010
Lipizzaners voor Brasseur
After his Spanish sponsor withdrew his horses from the sport, it has been quiet around the double World Champion Felix Brasseur from Belgium. But Brasseur has now received an offer to drive a team of Lipizzan horses.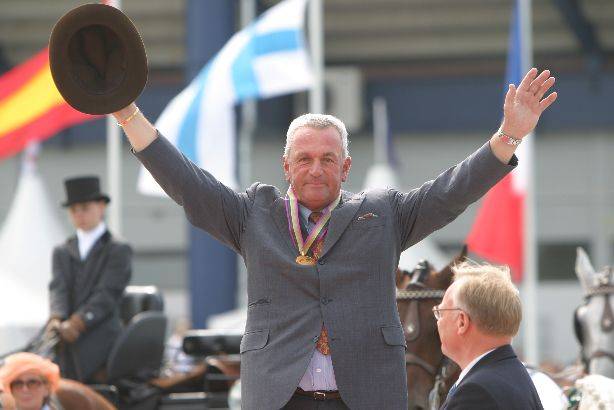 Foto:
Marie de Ronde-Oudemans
"De nationale stoeterij in het Hongaarse Szilvasvarad stelt mij een compleet vierspan Lipizzaners ter beschikking. Ik bepaal zelf welke paarden mij passen en beschik in de stoeterij over een ruim aanbod. Nu staan de paarden nog in Hongarije maar deze komen naar België voor verdere training en opleiding. Lipizzaners liggen mij wel, het zijn betrouwbare paarden. Wij hebben een onafhankelijke, internationale sponsorvereniging opgericht die mij voor de komende zes jaar een stabiele toekomst moet garanderen." Zo vertelt de tweevoudig wereldkampioen. (Waregem 1996 en Aken 2006).
Bron: Galop.be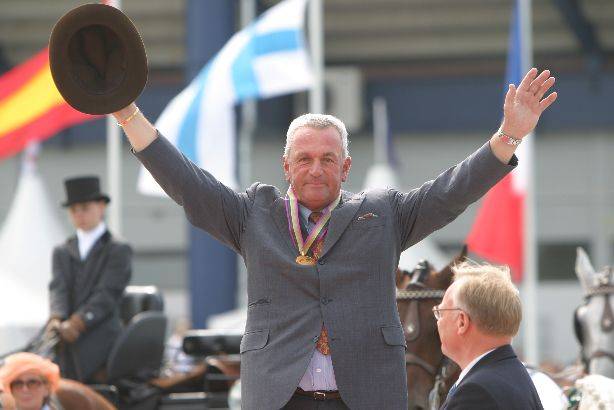 Foto:
Marie de Ronde-Oudemans
"The national Stud of Szilvasvarad in Hungary puts a complete four-in-hand team at my disposal," tells Brasseur. "I can decide which horses are suitable and I can choose from a large number of horses from the stud. The horses are still in Hungary but they will move to Belgium so I can train and school them. I like Lipizzan horses, they are very reliable. We have created an independent international sponsor association which will guarantee a stabile situation for me for the next six years."