13 maart 2010
Lipizzanerspan Chardon eindelijk compleet
After four times World Champion IJsbrand Chardon bought three Lipizzaner horses from the indoor team of Jozsef Dobrovitz last November, he was searching for the perfect number four to complete his grey four-in-hand. Chardon finally found the right horse.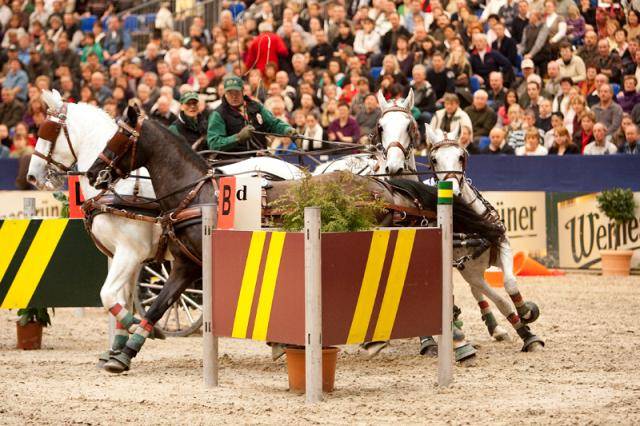 Foto:
Rinaldo de Craen
De 12-jarige ruin Inci, halfbroer van Illem, maakt het Lipizzaner indoorspan van Chardon compleet. Jozsef Dobrovitz heeft opnieuw zijn beste paard afgestaan aan de succesvolle vierspanrijder uit Den Hoorn. "Ik ben er heel blij mee," vertelt Chardon. "Een paar maanden geleden was de aankoop van Inci nog onbespreekbaar, maar 'Dobro' is toch overstag gegaan. Het is een van zijn beste paarden die hij ook tijdens het outdoor seizoen gebruikt."
Chardon neemt de ruin als reservepaard mee naar de Wereldbekerfinale in Genève in april. "Het is een veelbelovend paard en hij kan zowel voorop als achterop in het span lopen. Bovendien heeft Laszlo Juhasz Inci in alle onderdelen ingezet tijdens het WK in Beesd 2008 en is hij dus automatisch gekwalificeerd voor het WK in Kentucky. Wie weet waar ik Inci nog voor ga gebruiken!" grapt Chardon.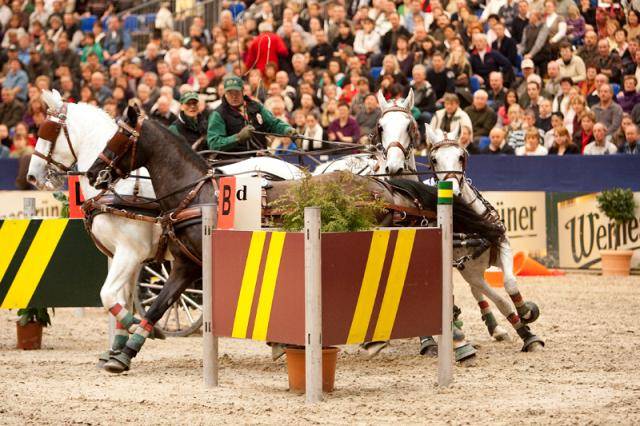 Foto:
Rinaldo de Craen
The 12-year-old gelding Inci, half brother of Illem, completes Chardon's Lipizzaner indoor team. Jozsef Dobrovitz has once again sold his best horse to the multiple Dutch Champion. "I am very happy with this horse," says Chardon. "A few months ago it was impossible to discuss Inci's sale, but 'Dobro' changed his mind. It is one of his best horses which he also uses in his outdoor team."
Chardon will take the gelding to the FEI World Cup Driving Final in Geneva as spare horse. "It is a very promising horse and he can go in the lead and in the wheel. Laszlo Juhasz used Inci in all three phases of the World Championship in Beesd 2008 so he is automatically qualified for the World Championship in Kentucky. Who knows what I am going to use Inci for!" says a smiling Chardon.