29 december 2009
Mechelen: Bad start for De Ronde
Dutch driver Koos de Ronde started off with bad luck in the fifth leg of the FEI World Cup Driving competition in Mechelen, Belgium. The 2008 golden team member received 20 penalty seconds for taking the wrong gate in one of the marathon obstacles. De Ronde will now have to start first in tomorrow's World Cup competition.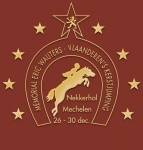 Boyd Exell from Australia, who competes in the Nekkerhal with a wild card, claimed the victory. Exell was the first driver to start and set a very fast time which none of his six colleagues could beat. Stockholm-winner Tomas Eriksson came second, ahead of IJsbrand Chardon, who made his World Cup debut with his new Lipizzaner team. Second wild card driver Gert Schrijvers came fourth, ahead of Christoph Sandmann and Theo Timmerman.
Before the warm up competition, the spectators in Mechelen were treated to a special show in which World Champions IJsbrand Chardon and Felix Brasseur and multiple Belgian Champion and medal winner Gert Schrijvers took up the reins of a team of draft horses. Chardon drove the impressive PALM horses of the Diepensteyn Stud fast through the indoor marathon course and won this show element ahead of Schrijvers and Brasseur.