29 december 2009
Mechelen: starting list warm up & course plan
All horses passed the vet check in Mechelen this afternoon and the competition can begin!
The warm up competition is scheduled for this afternoon at 15.15 hrs, the World Cup competition takes place tomorrow, Wednesday 30 December, at 22.15 hrs.
Before the warm up competition, Ijsbrand Chardon, Felix Brasseur and Gert Schrijvers will compete against each other in an indoor course with teams of draft horses.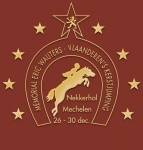 1. Boyd Exell (Aus) wild card
2. Gert Schrijvers (Bel) wild card
3. Tomas Eriksson (Swe)
4. Koos de Ronde (Ned)
5. IJsbrand Chardon (Ned)
6. Theo Timmerman (Ned)
7. Christoph Sandmann (Ger)
The course designer is Johan Jacobs from the Netherlands, the Ground Jury is led by Dutch judge Peter Bonhof and Belgium's Bert Jambon.
Click here for the courseplan
Live results via Sport Computer Graphics