10 november 2008
More harness horse stallions to Riant Stables
Several years ago Talos (v. Manno) was the first one, two weeks ago Wodka HBC (v.Roy M) went to Beekbergen and today it was announced that Torino (v.Jonker) of the HBC Stables and Vulcano (v.Manno) of Stal Kwarten have been purchased by Mieke van Tergouw of Riant Equestrian Centre.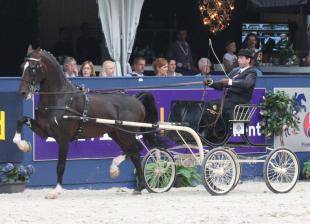 Torino is an 8-year-old son of Jonker and was reserve- champion at the stallion show as a 3-year-old. He covered around 30 mares and there will be frozen semen available for the breeders who would like to make use of him.
Mieke van Tergouw: 'We are very happy with Torino. It is a truly beautiful horse with an excellent head/neck balance. We will most probably use him ourselves. He can be used in many positions such as next to Patijn, who is driven by Claudio Fumagalli (driver Riant Stables) but also next to Wodka and my Lord Sinclair offspring Lord. Ijsbrand Chardon was at our place recently and he was very impressed by Torino.'
Vulcano is a 6-year-old son of Manno from the keur preferente Izandra (Renovo x Proloog.
'We bought Vulcano initially for the single driving sport. He has a lot of white marks, which makes it more difficult to find a suitable companion. We believe he is very suitable as a single driving horse.'
On Saturday 15 November and Sunday 16 November, Van der Wiel Harness and Riant Equestrian Centre organize the unique Driving Forum themed 'Where do I have to pay attention to when I buy a carriage driving horse?'
It is Mieke's intention to bring some of the recently purchased harness horse stallions to Hamont Achel to show the public.
Mieke confirms the increasing demand for good harness horses for the combined driving sport: 'There is a lot of demand, but we would like to focus at the top level and we only want the best of the best, some exclusivity. That is why we choose to buy these harness horse stallions. Looking at their exterior and at their movements they belong to the top and that is what we are looking for.'