24 oktober 2008
New look for Hoefnet!
It has taken a bit longer than planned, but today, the new English version of Hoefnet finally went on line! Hoefnet.com, the well-known carriage driving website of the Netherlands and abroad, has a new look! Thanks to the much-appreciated support of Van der Wiel Harness, Van den Heuvel Carriages and Riant Stables, Hoefnet has a complete new layout.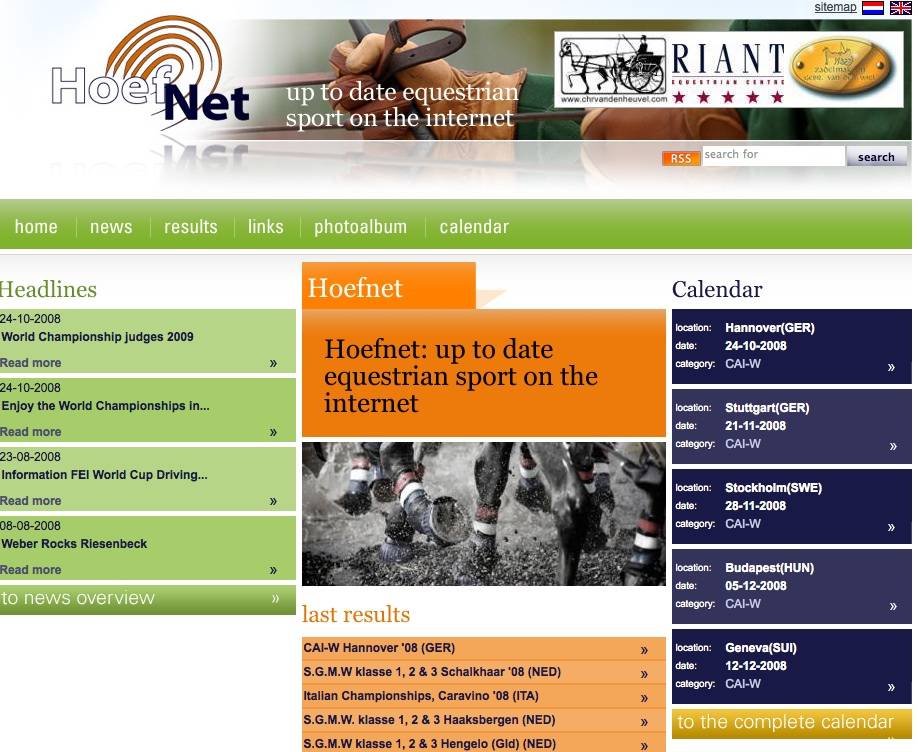 Hoefnet started in 1996 and has become one of the largest and most popular carriage driving websites of the world. Because of its up to date news reports and results in both Dutch and English, Hoefnet has become the starting page of many carriage driving fans on the internet.
Over 25.000 unique visitors from e.g. the Netherlands, Belgium, Germany, the United States of America, Great Britain, Sweden, Austria and Switzerland monthly visit www.hoefnet.nl or www.hoefnet.com and this number is still growing.
Because of the close co-operation with scoring office specialist Philippe Lienart and various partners like Decraen.com, Hippoevent.at, Attelage.org and Fogatsport.hu, Hoefnet offers its international visitors up to date photos, results and news items.
If you have any suggestions or comments, please do not hesitate to contact us at info@hoefnet.nl
Enjoy the new Hoefnet!