5 juni 2009
Nine nations in Giethmen
In three weeks time, the first edition of the new Pony Driving Salland in Giethmen, the Netherlands, will start. The organising Committee is finalizing the last details to ensure the success of this unique international driving competition for singles, pairs and teams of ponies. Fifty-five competitors will start from 25 to 28 June on the beautiful site in Giethmen.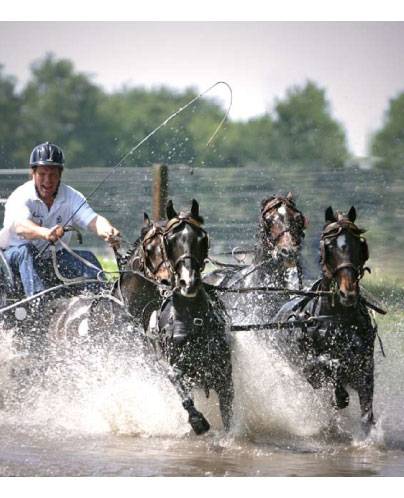 The competition takes place at the home-base of Dutch pony team driver Jan Antonissen. Antonissen and his crew have built 8 wonderful obstacles, supervised by international course designer Johan Jacobs. For Dutch Team Coach Tjeerd Velstra Giethmen is an important selection event for the World Championships in Greven-Bockholt from 13 to 16 August.
The complete Dutch top will compete against competitors from Austria, Belgium, France, Germany, Luxemburg, Sweden, Switzerland and the United States of America. The pony singles class counts 19 competitors, the pony pairs class has 14 drivers. The pony teams are well represented with 22 turnouts.

Click here for the competitors list