21 november 2009
Stuttgart: Boyd Exell Simply The Best
Boyd Exell has won his second FEI World Cup Driving competition of this season. In Stuttgart he drove two excellent rounds and secured his victory. Dutch drivers Koos de Ronde and IJsbrand Chardon came second and third.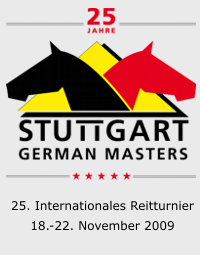 Exell proofed to be simply the best yesterday already by winning the warming up competition and emphasized his leading position again today. Both De Ronde and Chardon had also qualified for the winning round, but since the gap with Exell was so big, the battle went between them for the second and third place. After Chardon drove as fast as he could, Koos de Ronde drove his team very fast through the course and came second despite one knock down.
2008 German Master Jozsef Dobrovitz ended on the fourth place, ahead of Theo Timmerman and wild card driver Michael Brauchle.
More news will follow later.
Results CAI-W Stuttgart
1. Boyd Exell (Aus) 213,88
2. Koos de Ronde (Ned) 227,97
3. IJsbrand Chardon (Ned) 231,22
4. Jozsef Dobrovitz (Hun) 128,40
5. Theo Timmerman (Ned) 129,82
6. Michael Brauchle (Ger) 134,10