22 november 2008
Dobrovitz steals the show in Stuttgart
Hungary's Jozsef Dobrovitz has won his first ever FEI World Cup™ Driving competition in Stuttgart this weekend. The multiple national champion and World Championship medal winner drove his homebred team of Lipizzaner horses to victory, cheered by the ever-enthusiastic crowd in the Schleyer Halle. Four times World Champion Ijsbrand Chardon came second, ahead of Germany's Christoph Sandmann.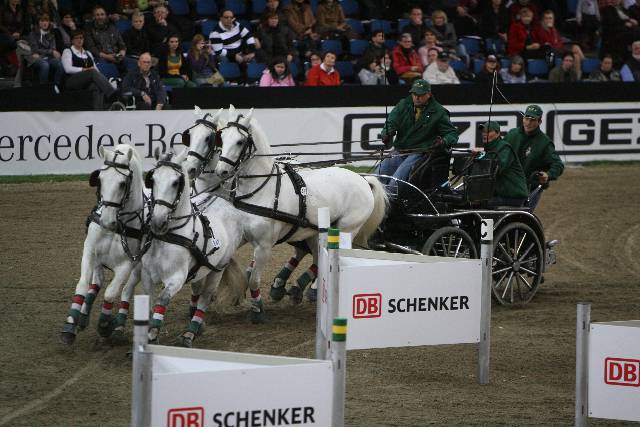 German World Cup course designer Falk Böhnisch had built a technical course with tight turns. The gates were set a little wider in the FEI World Cup™ Driving competition, which resulted in more fluent and fast rounds of the seven drivers.
Wild card drivers and World Championship competitors Christian Plücker and Michael Brauchle received tips from World Cup Champion and multiple German Master Michael Freund, who initiated the indoor driving concept many years ago in Stuttgart. Christian Plücker drove very well and just missed the winning round by the blink of an eye, but was very pleased with his fourth place. Aachen marathon winner Michael Brauchle came fifth, ahead of Switzerland's Werner Ulrich and Hungary's Zoltan Lázár who both drove their first World Cup competition of the season in Stuttgart.
Dobrovitz drove a very fast first round and Chardon was only less than two seconds faster. After Christoph Sandmann had two balls down in the winning round which took place over a shortened course, Dobrovitz went full speed and let his horses accelerate and turn amazingly. As Dobrovitz left the arena with a very fast and clear round, Chardon knew what he had to do. But the winner of the FEI World Cup™ Driving competition in Hannover knocked a ball down and decided to finish safely to ensure his second position.