14 oktober 2009
Wild cards for Rainer Duen and Michael Brauchle
Saturday 24 October is the take-off of the nineth season of the FEI World Cup Driving 2009-2010 in Hannover. The organization has given the wild card to Germany's international four-in-hand driver Rainer Duen, while Michael Brauchle will start with a wild card in the second competition in Stuttgart.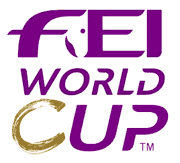 Duen will compete during the German Classics in Hannover against a very strong field of competitors, existing of several of this year's finalists: IJsbrand Chardon, Koos de Ronde, Boyd Exell, Jozsef Dobrovitz and Tomas Eriksson.
Four weeks later is the second leg of the FEI World Cup Driving in Stuttgart. As last year, the OC has allocated the wild card to the young and successful marathon driver Michael Brauchle. Brauchle is facing strong competition as well on 20 and 21 November in the Schleyer Halle where he will compete against IJsbrand Chardon, Koos de Ronde, Theo Timmerman, Boyd Exell and Jozsef Dobrovitz.